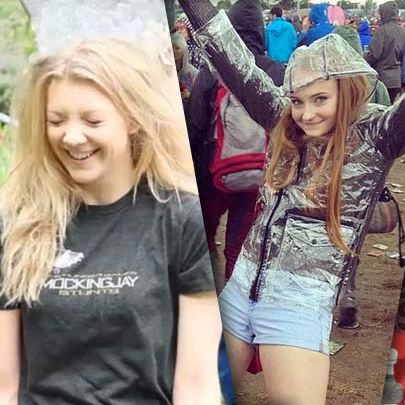 Photo: Buzzfeed, Sophie Turner/Instagram, LeeJayUK/Youtube
The air is getting crisper, the leaves are changing color, and dozens of gruff, bearded men are descending on the film sets of Croatia, Northern Ireland, and Spain — yes, that's right, production on the fifth season of Game of Thrones is in full swing. The show's been shooting intermittently since late July, and this week, the cast and crew returned to Dubrovnik to film King's Landing exteriors. To mark the occasion, let's see what each member of the show's sprawling cast has been up to since we saw them last. Who got a new look? Who made some new friends? Who did the Ice Bucket Challenge? (Everyone did the Ice Bucket Challenge.)
(We restricted this list only to actors who appeared in season four, because Jesus, there are a lot of actors on Game of Thrones.)
Peter Dinklage (Tyrion Lannister)
He didn't win that Emmy, but with this image from the set of the upcoming action comedy Pixels, he did win August 5's internet news cycle, and who's to say which is more important? He also starred in a remarkably composed installment of the Ice Bucket Challenge.
Emilia Clarke (Daenerys Targaryen)
Clarke spent the summer playing Sarah Connor in Terminator: Genisys, a role she inherited from Thrones castmate Lena Headey. Her Ice Bucket Challenge video ended with a very posh "Mother of crap!," which is just delightful.
Kit Harington (Jon Snow)
After Pompeii, Harington tried his hand at another action film, staying closer to home with Spooks: The Greater Good. (It's a feature-length sequel to a long-running spy show, sort of the British equivalent of that 24 movie they were always talking about doing.) He also sullied his beautiful mane with a very special version of the Ice Bucket Challenge, which he recorded alongside co-stars Lena Headey and Nikolaj Coster-Waldau.
Lena Headey (Cersei Lannister)
Besides doing the Ice Bucket Challenge, she also dressed up for this wonderful picture, the backstory of which remains unknown.
Nikolaj Coster-Waldau (Jaime Lannister)
He traveled to the Toronto Film Festival to support the Danish drama A Second Chance, and played the part of Horus, the falcon-headed sky god, in the upcoming Gods of Egypt. No images have appeared of him in costume yet, but if someone wants to Photoshop a bird's head on Jaime Lannister, that would make our day.
Charles Dance (Tywin Lannister)
As long as he keeps working, Charles Dance's services as a villain will be in high demand. He spent the summer shooting the drama The Woman in Gold before making the promotional rounds for Dracula Untold, in which he plays the Roman emperor Caligula. (In this telling, Caligula is a vampire.)
Sophie Turner (Sansa Stark)
In what was possibly the best summer ever, Sophie Turner went to Glastonbury, did the Ice Bucket Challenge, became friends with Hailee Steinfeld, and discovered a town called Shartlesville. We don't need to tell you why that's funny.
Maisie Williams (Arya Stark)
Maisie Williams also went to Glastonbury and also did the Ice Bucket Challenge, and as a bonus, she passed her driver's test!
Gwendoline Christie (Brienne of Tarth)
Hollywood came calling for Christie this summer. She replaced American Horror Story's Lily Rabe in the final Hunger Games movie and took a role in an upcoming J.J. Abrams film.
Rory McCann (Sandor "The Hound" Clegane)
As this Rory McCann fan's Twitter account states, Rory McCann spends most of his time in the remote Scottish Highlands, so that's probably what he did this summer, too.
Hafþór Júlíus Björnsson (Gregor "The Mountain" Clegane)
The Icelandic strongman had his strong-ness officially verified when he won the title of Europe's Strongest Man. After his victory, Björnsson ripped off his shirt and bellowed, "I am the future of strength! I am the king of the stones!" either of which would make a fine House motto.
Pedro Pascal (Oberyn Martell)
After his one-season appearance on Game of Thrones, Pascal was suddenly everywhere. He signed on for a new Netflix series, played Jenga with Elizabeth Olsen, hung out with Llewyn Davis, and played Don John in Shakespeare in the Park, all while remaining the personification of #chillsitch.
Indira Varma (Ellaria Sand)
Varma didn't get a break after that head-crushing scene — she went back to London to play Tamora in a famously bloody version of Titus Andronicus.
Jerome Flynn (Bronn)
Ripper Street was saved from cancellation thanks to a deal with Amazon, which meant Flynn spent his summer shooting the show's third season. Will this be the one where they finally catch Jack the Ripper?
Natalie Dormer (Margaery Tyrell)
Hollywood's favorite side-talker wrapped up her role in the Hunger Games franchise, shot a music video with her fiancé, and took part in a slightly flirty installment of the Ice Bucket Challenge alongside her friend Katie McGrath.
Dame Diana Rigg (Olenna Tyrell)
No Turn Unstoned isn't just a great quasi-Spoonerism, it's also the name of Diana Rigg's one-woman show at the Edinburgh Fringe Festival, in which she read from a collection of scathing theater reviews.
Iain Glen (Jorah Mormont)
Who knew Jorah the Andal was a cricketer? Glen took part in this year's Words and Wickets festival, in which actors and authors face off on the cricket field. His team lost, but his daughter got some cute face paint, so it likely all evened out.
Nathalie Emmanuelle (Missandei)
Emmanuelle is joining the Fast and Furious franchise for its upcoming seventh installment, which wrapped up its long and emotionally intense shoot in July. After that, she relaxed by seeing Queen and Adam Lamber, and wearing a fake monocle at a wedding.
Ian McElhinney (Barristan Selmy)
McElhinney is directing the touring performance of the Tony-nominated play Stones in His Pockets, which was written by his wife, Marie Jones. This news failed to kick off a nepotism scandal in the U.K. theater scene.
Michiel Huisman (Daario Naharis)
He took the role of an extreme swimmer in the upcoming Swimmer, a role that used to be Ben McKenzie's.
Jacob Anderson (Grey Worm)
Playing a warrior eunuch on Game of Thrones is just Anderson's side gig. He's also an up-and-coming R&B singer under the name Raleigh Ritchie. This knowledge finally gives us the formula for finding our British R&B star name: It's your favorite college town, plus your favorite British director. (Ours is Athens Hitchcock.)
John Bradley (Samwell Tarly)
As this photo outside of Tesco proves, 2014 was the summer Bradley became a fan of the Brooklyn Nets.
Rose Leslie (Ygritte)
For some reason, the actors who play Wildlings on Game of Thrones all had very busy summers. (A sign they won't have much screentime next year?) Leslie wasn't going to be coming back anyway, and she's been all over the place, shooting The Last Witch Hunter (with a very bearded Vin Diesel) and Sticky Notes, and promoting the indie horror Honeymoon. On top of all that, she supported the winning "No" campaign in Scotland's independence referendum. Everything's coming up Leslie!
Ciaran Hinds (Mance Raydar)
Hinds has entered the stage of a character actor's career where it seems like he's always bubbling up somewhere or another. This summer alone he's earned good reviews for his role in The Disappearance of Eleanor Rigby, acted in the Olyphant-less Hitman sequel, and signed on to play Miles Teller's father in the boxing movie Bleed for This.
Kristofer Hivju (Tormund)
He's stayed active in the Norwegian film industry, shooting the comedy Wendyeffekten (The Wendy Effect) and children's action film Operasjon Arktis (Operation Arctic). The bearded ginger also maintains a fairly active Facebook presence, posting mostly about gingers and beards.
Isaac Hempstead-Wright (Bran Stark)
When not promoting The Boxtrolls, he offered up his thoughts on modern art on Twitter.
Kristian Nairn (Hodor)
He's got next season off, so it's been all DJing, all the time.
Ellie Kendrick (Meera Reed)
Outside of a few Comic-Con appearances, we've found nothing about how Ellie Kendrick spent her off-season. She's the kid in your class who, when you ask her how her summer went, mumbles "Fine" and then shuffles away.
Thomas Brodie Sangster (Jojen Reed)
 He talked to Vulture about The Maze Runner and drove a tiny train. Which do you think was more fun?
Stephen Dillane (Stannis Baratheon)
Dillane might be starring in a second season of The Tunnel (based off the same Swedish series as FX's The Bridge), but we're far more interested in this website someone made full of fake stories about him, including "Stephen Dillane, TIME's Person of the Year 2014?" and "Stephen Dillane Highest-Paid Actor in the World." Why would a human do this?
Carice Van Houten (Melisandre)
Van Houten's Twitter is a magical wonderland. Since June, she's been caught in a Soho rainstorm, campaigned for the lead in a hypothetical Kate Bush biopic, and launched a campaign against the word bae.
Liam Cunningham (Davos Seaworth)
Cunningham was also very active on Twitter, but the content was somewhat different: He spent his summer tweeting (and retweeting) messages against the U.S. campaign in Syria and Israel's offensive in Gaza.
Conleth Hill (Varys)
Hill acted alongside Imelda Staunton in the TV movie That Day We Sang, a project we're hoping let him show off his spectacular head of hair.
Aidan Gillen (Peter "Littlefinger" Baelish)
He played a charity rugby match against racism. Racism lost.
Alfie Allen (Theon "Reek" Greyjoy)
Allen broke up with girlfriend Jaime Winstone in July, but he also posed in this awesome tiger shirt. Rawwrrrr!
Iwan Rheon (Ramsay Bolton)
This summer, Rheon indulged his artistic passions by Instagramming dazzling pictures of the sky. His filter game stays tight.
Michael McElhatton (Roose Bolton)
He's currently filming the Irish horror movie The Hallow. Of course, with a voice like his, every movie is a little bit of a horror movie.
Hannah Murray (Gilly)
Murray went on the international promotional tour for Stuart Murdoch's God Help the Girl, in which she plays a band member named Cassie. Skins fans will likely be very confused.
Daniel Portman (Podrick Payne)
He went to Boston (and loved it). He saw Guardians of the Galaxy (and loved that, too).
Sibel Kikeli (Shae)
She did the Ice Bucket Challenge without the ice, then challenged the three men who killed her: Peter Dinklage, David Benioff, and D.B. Weiss.
Finn Jones (Loras Tyrell)
He saw Boyhood and called it "a perfect film."
Dean-Charles Chapman (Tommen Baratheon)
He saw Boyhood and called it "soooo boring." 
Jack Gleeson (Joffrey Baratheon)
He's still retired.