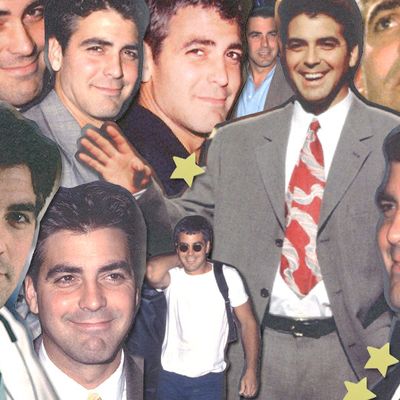 Welcome to the final day of our survey of the hugely influential 1994–95 network-television season, which found Friends, ER, and My So-Called Life hobnobbing on the same schedule with Seinfeld, The Simpsons, and The X-Files. We've counted down the season's 100 best episodes, presented an oral history of the first season of Party of Five, heard crazy tales from the season-three writers' room of Melrose Place; talked to the NBC executives behind Must-See TV Thursday, and much more. Up now: an examination of how George Clooney's celebrity ballooned after ER debuted on September 19, 1994.
Before George Clooney landed the role of Dr. Doug Ross on NBC's ER, the actor, then 33 going into the fall season, was known primarily for his stints on Roseanne, Facts of Life, and Sisters. Closer TV-watchers knew that he'd also suffered through a string of misses over the previous decade, in stuff like Baby Talk, Sunset Beat, Knights of the Kitchen Table, and even a CBS comedy named E/R. The string of failures prompted Clooney to joke, "I'm bad luck, don't drive with me."
Everything changed after ER debuted. Co-produced by Michael Crichton, the show was fresh and electrifying with its fast pace and wonkish obsession with medical terminology. In its freshman season, the show became TV's most-watched drama and snagged 20 Emmy nominations, including one in the lead-actor category for Clooney. It wasn't exactly a show that made its cast household names or set off debates over which doctor triggered the most heart palpitations, but the answer would have been Clooney anyay. Throughout that first season, the American public grew to love the wisecracking hunk, with his pot-bellied pig and ever-changing red-carpet arm candy. As we close out our look back at 1994–95 TV, Vulture tracks the actor during the year he went from a TV journeyman to an American obsession.
May 16, 1994
This is what he wore to an early promotional event for ER. Business casual .. hold the business.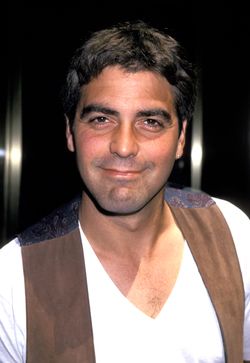 July 1994
Talking to a reporter about shooting ER (here he is in a press photo for the show), Clooney said, "I'm really happy about this. It's such a good show. I have a really good feeling about it."
August 26, 1994
His father, Nick Clooney, was a broadcaster, and at the time was writing a column for the Cincinnati Post. In a column about his son, he writes about how George got his cousin and best friend Miguel Ferrer a brief appearance on the pilot, and later his aunt, the chanteuse Rosemary Clooney (and mother of Miguel). In an interview with the Austin American Statesman, Nick said, "I spent the first half of my life being Rosemary Clooney's brother. I'm now going to spend the last half of my life being George Clooney's father."
September 1994
NBC began running promos for its freshman drama. That year CBS was doing its own hospital drama, David E. Kelley: Chicago Hope starring Mandy Patinkin and the two were facing off against each other in the same time slot.
This one starts off with a Seinfeld promo. The ER part starts at :30.
September 16, 1994
Clooney makes his first appearance on The Tonight Show with Jay Leno to promote the show.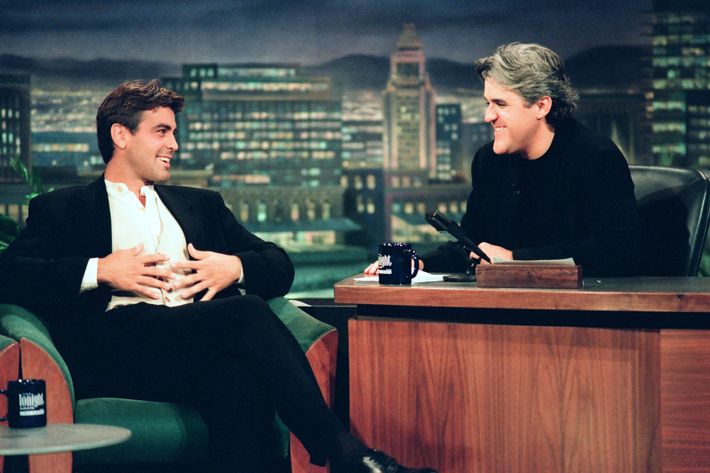 September 19, 1994
ER premieres with a two-hour episode and it's huge. It scores a 17.6/27 rating, and then pummels Chicago Hope in their head-to-head show three days later: ER has a 16.3/27 rating to Hope's 11.1/18. ER would only get better from there to become the highest-rated drama on TV, and become part of NBC's famed Must-See TV Thursday lineup with Seinfeld and Friends. Here are the now-familiar opening credits:
Around this time, Clooney also does an anti-child abuse PSA for The More You Know series that works in conjunction with the pilot episode in which Dr. Ross confronts a well-heeled woman whom he suspects of child abuse.
September 29, 1994
His aunt Rosemary Clooney guest-stars in the first of a two-part arc on ER (she returned for the December 15, 1994 episode) as an Alzheimer's patient who wanders the halls singing classic songs like "Have Yourself a Merry Little Christmas."
October 8, 1994
For a few weeks, you could see Clooney on another NBC show, Sisters. On the episode "I Only Have Eyes for You," he ends his run as Detective James Falconer, introduced the previous season as the love interest of Sela Ward's "Teddy" (they get unironically married on a plane when they think they're going to die). They kill him off in a three-episode arc in the fifth season. Before the premiere of ER he told a reporter, "I just shot three episodes that take care of my little problem on Sisters."
October 27, 1994
In an interview with a reporter from the Star Tribune in Minneapolis, co-star Anthony Edwards responds to a question about the secret of ER's success by saying, "I think it's George Clooney. He's the best-looking man on television."
November 18, 1994
There was a brief controversy when an extra, Thea Perkins, accused Clooney of making a racist joke to a black actor who plays a nurse on the show, Deezer D. Both Deezer D. and Clooney denied the allegations, saying that it was actually Deezer D. who had cracked a joke that Clooney looked like a KKK member when the actor had put on a burn mask. Other actors present corroborated the story, and the whole thing was dropped.
November 24, 1994
Clooney makes another appearance on Jay Leno.
December 1994
Here's a blooper reel from the first season that also features the cast trying to wish viewers a happy holiday and includes Clooney tossing away a present.
December 7, 1994
Clooney pulls out his tux for the Fire and Ice Ball.
December 9, 1994
The cast of ER poses together during a photo shoot for the cover of Entertainment Weekly.
December 11, 1994
Clooney appears with then-paramour Kimberly Russell, the 27-year-old actress from Head of the Class, at the Hollywood Women's Press Club's Golden Apple Awards where he was nominated for Male Star of the Year, and lost to Arnold Schwarzenegger.
January 9, 1995
Clooney attends NBC's Winter TCA Press Tour at the Ritz-Carlton Hotel in Pasadena.
January 21, 1995
Clooney attends the Golden Globes with his castmates.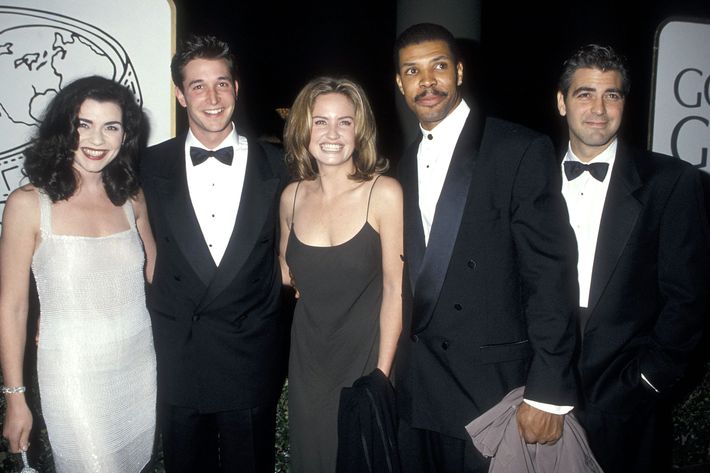 Are you swooning yet?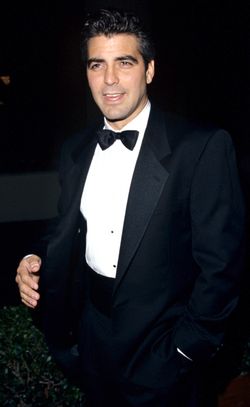 February 21, 1995
Clooney meets David Letterman for the first time on The Late Show the week before he appears on SNL. He chats with him about all of his failed TV shows and getting mistaken for an actual doctor before the show had aired.
February 23, 1995
In a sort of meta, wink-wink guest spot, Clooney and Noah Wyle appear as two hot doctors, Dr. Mitchell and Dr. Rosen, who take Rachel and Monica out on a double date on the Friends episode "The One With Two Parts." Rachel sees them and says what all of America is thinking, "Aren't you too cute to be doctors?"
February 25, 1995
This Saturday is a big day for Clooney. He's on the cover of TV Guide, and his aunt Rosemary pens an article with the title "My Nephew, the Hunk." He hosts SNL for the first time (with another awesomely ugly tie), performing a liver transplant on someone in the audience, with new castmember Molly Shannon as his assistant, during his opening monologue.
That night the cast of ER was nominated for Best Ensemble in a Drama at the inaugural Screen Actors Guild Awards where they lost to NYPD Blue.
March 1995
He's on the cover of GQ in a very non-GQ-looking suit.
March 1, 1995
George Clooney helps out with The Late Show's Top Ten list of that episode: "Top Ten Celebrity Nicknames for Dave." He does No. 9, "Nurse Dave."
March 4, 1995
He's in attendance at the Museum of Radio & Television Festival alongside his fellow fake doctors.
March 5, 1995
Clooney has a handsome-off with Noah Wyle at the People's Choice Awards. That year ER wins the People's Choice Award for Best Drama (as well as the one for Best New Drama). He also doubles as a presenter and presents Favorite Male in a new television series to his co-star Anthony Edwards. You are thinking, of course, that he should be presenting that award to himself.
March 10, 1995
Clooney attends the opening of the Las Vegas Hard Rock Hotel. He seems both happy and surprised to be there.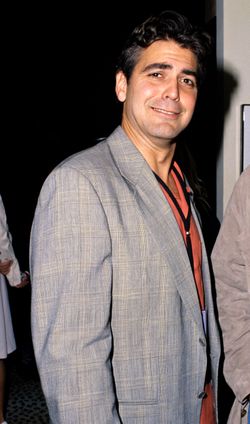 He perks up when he hangs with actor Jason Patric, but that might be the tray of food talking.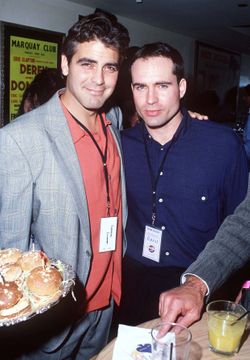 Later, he poses under the watchful eyes of Iggy Pop with three extremely unlikely people: Patric (right), Kelsey Grammer (far left), and Tommy Lee.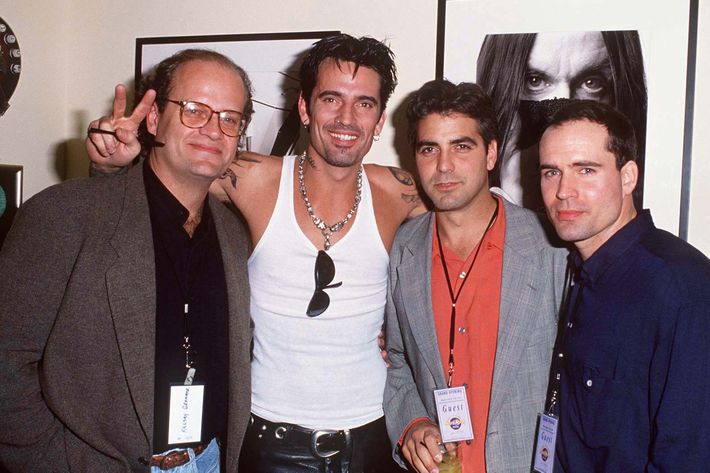 March 15, 1995
Clooney attends Us magazine and E! Television's First Annual Breakthrough Awards Party.
March 25, 1995
Another red carpet, another beautiful woman: He steps out with supermodel Vendela at the opening of Planet Hollywood in San Diego.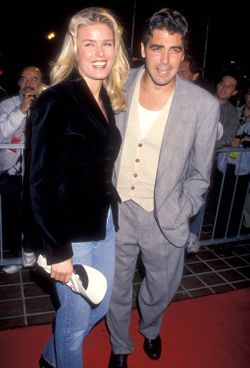 March 29, 1995
Clooney wears dad-jeans at the premiere of Tommy Boy, proving that he got a two-decade head start on the whole normcore thing.
March 31, 1995
He appears on Politically Incorrect with Bill Maher where the topics of the night are moral degeneracy and celebrity harassment. It mostly ends up becoming a conversation between the loquacious late-night hosts Jay Leno and Maher. Clooney is relatively quiet and seems to have a bit of trouble getting started. It's probably a good strategy: You don't want to alienate any fans with "opinions." He talks briefly around 9:45.
April 1995
He's on the cover of the April issue of Us back when the magazine was a respected industry monthly, not the weekly gossip rag it is now.
April 1, 1995
Clooney poses in arguably the greatest photo ever, with MTV Sports stud Dan Cortese and MTV-era Jon Stewart, at MTV's 6th Annual Rock N' Jock Softball Challenge. (Here's another of him with Atlanta Braves' David Justice.)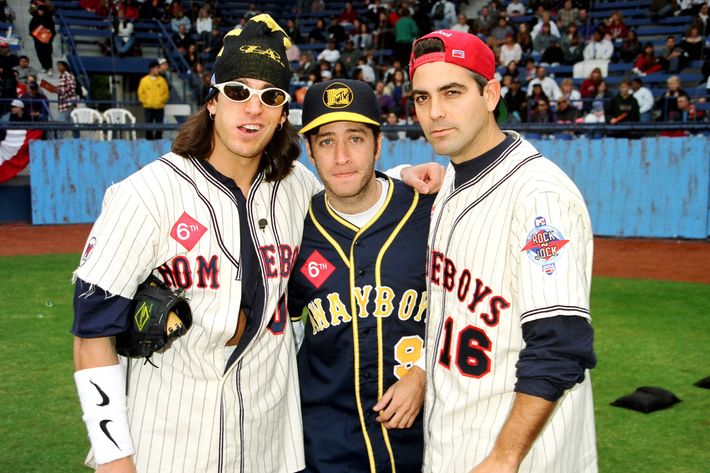 April 17, 1995
Clooney gets tapped for his first feature film: Robert Rodriguez's From Dusk Till Dawn, in which he would co-star with the movie's screenwriter, Quentin Tarantino. Around this time it was also announced that Tarantino was directing the penultimate episode of ER's debut season, "Motherhood." Of the movie, Miramax's Bob Weinstein said, "We're planning From Dusk Till Dawn to have one of the widest openings in Miramax history and we're thrilled to have George and Quentin, two of the hottest names in the business, in starring roles."
May 6, 1995
Happy birthday, George! He turns 34.
May 8, 1995
Clooney didn't yet have the profile to be contend for People magazine's Sexiest Man Alive (it went to Brad Pitt earlier that year), but he does get spotlighted for the magazine's "50 Most Beautiful in the World," which described him thusly, "ER's Dr. Feelgood, George Clooney, for instance, buries his dimples in a 5 o'clock shadow." The article also quotes him as saying:
May 13, 1995
It looks like this shot of Clooney at the NBC Fall 1995 scheduling announcement might be the first photographic evidence of George Clooney's Caesar haircut. When he lost the shaggy fluff he had been sporting everyone freaked out. It is dubbed "the Clooney."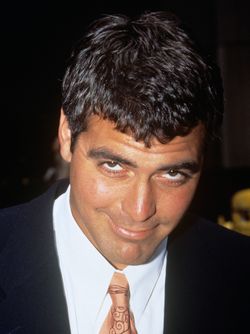 May 25, 1995
Just like us, George Clooney once carried his suits in a garment bag on the plane.
May 28, 1995
Clooney participates in the National Memorial Day Concert alongside World War II veterans and another actor John Cullum. He reads a letter from a young lieutenant written during the Philippines campaign against Japan.
May 31, 1995
While he was in town for the national holiday, the Washington Post "Style" section reported that the "ER heartthrob" had "heads spinning" when he got a steak at Morton's in Georgetown. See? Serious newspapers were obsessed with celebrity sightings back then, too.
June 3, 1995
George Clooney attends the first annual Blockbuster Entertainment Awards (remember when renting VHS tapes from the store was a thing?) at the Pantages Theatre in Hollywood. He's sporting stubble and posing with his future Gravity co-star Sandra Bullock, along with Bill Pullman. (And what's happening here, George?)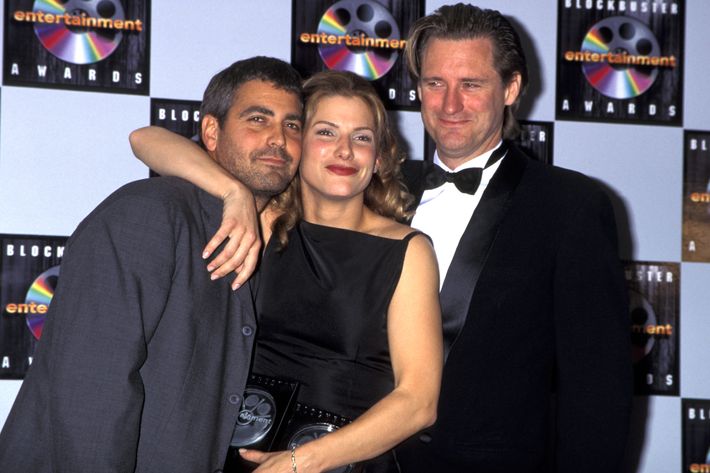 June 8, 1995
Now that Clooney is famous, we get to hear more about his bedmate Max, a Vietnamese pot-bellied pig. He originally gifted Max to his girlfriend Kelly Preston, but kept the pet pig for himself when the pair broke up. He recounts a story to the Herald Sun about when he woke up during an earthquake:
June 9, 1995
He attends the L.A. premiere of Batman Forever with Anthony Edwards. And where he's also hanging with Cindy Crawford.
June 10, 1995
He attends the MTV Movie Awards with Juliette Lewis and Quentin Tarantino. Do you have Clooney fever yet?
Clooney is part of a montage on another cover of TV Guide's "Summer Preview."
June 18, 1995
Clooney teams up with his dad Nick to host a Jimmy Stewart movie marathon on AMC for Father's Day. The segments were shot at aunt Rosemary Clooney's house, which was down the street from Stewart's. Rosemary told the Los Angeles Times, "They have exactly the same sense of humor. I don't know how to describe it … It can be absolutely annoying at times. But you just go along with it if you are in the mood or if you're not, you shut the door to your bedroom."
June 28, 1995
The Screen Actors Guild Foundation, which does educational and children's literacy programming, appoints Clooney to its advisory board.
July 20, 1995
ER leads the pack with 20 prime-time Emmy nominations including one for Clooney as Best Actor in a Drama.
August 21, 1995
Clooney attends the premiere of Desperado with Wyle.
September 7, 1995
Clooney presents Madonna with Best Female Video at the MTV Video Music Awards, but not before the host Dennis Miller introduces him as such: "This next presenter's currently seeing more ass than a rental car." Yuk, yuk!
September 10, 1995
He attends the Emmys as both a presenter and a nominee. Here he is on the red carpet chatting with Dick Clark.
He's nominated for Lead Actor in a Drama alongside Anthony Edwards, so naturally the two of them present Outstanding Lead Actor in a Miniseries together.
The two of them lost to their competitor, Mandy Patinkin for Chicago Hope. But don't feel too bad for Clooney; he did pretty well for himself afterward.