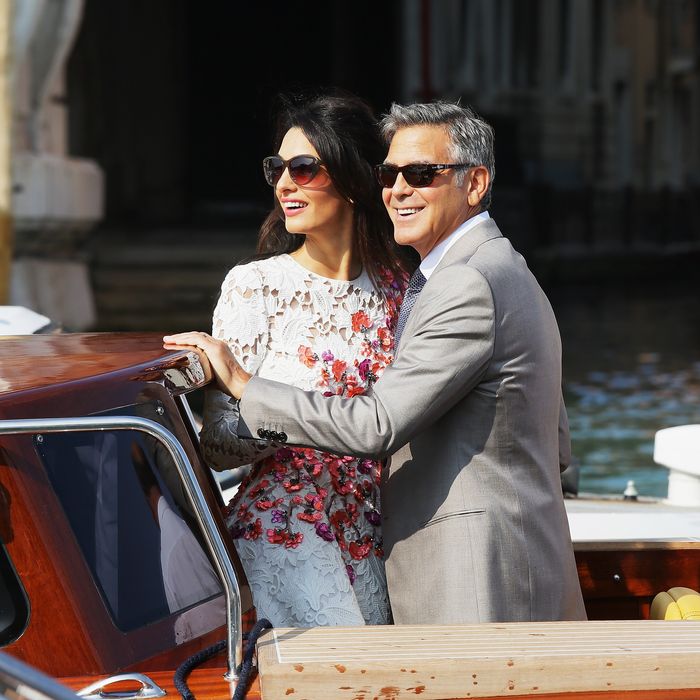 VENICE, ITALY - SEPTEMBER 28: Actor George Clooney and Amal Alamuddin sighting at Canal Grande on September 28, 2014 in Venice, Italy. (Photo by Ernesto Ruscio/GC Images)
Photo: Ernesto Ruscio/GC Images/Getty
George Clooney and Amal Alamuddin had by all accounts a small and intimate wedding — or, at least, as small and intimate as a ceremony that featured a motorboat procession down Venice's Grand Canal could be. But as photos from Clooney's dream day continue to emerge, the wedding's guest list gets stranger and stranger. It's easy to see why Matt Damon was invited, but what were Anna Wintour and the dude from Toto doing there? That's what we're here to find out.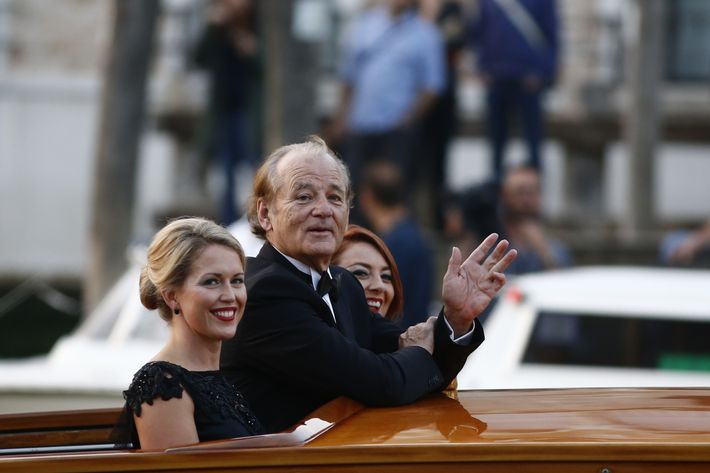 Bill Murray
Who he is: The almost universally beloved star of Scrooged, Garfield, and Garfield 2.
How he knows the groom: They were in both Monuments Men and The Fantastic Mr. Fox together, but their friendship really got started at the Venice Film Festival, when they bonded over their shared love of pushing people in wheelchairs into swimming pools. (By all accounts, their victim was just sitting in the wheelchair, but still.)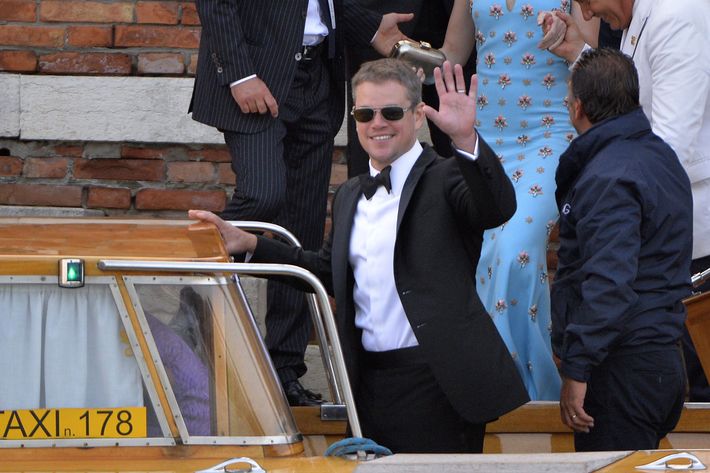 Matt Damon
Who he is: An Oscar-winning screenwriter, a critically acclaimed actor, and a big fan of Benedict Cumberbatch. 
How he knows the groom: They've starred in a whopping six movies together, which means he has likely accepted his fate as Clooney's official pranking pet.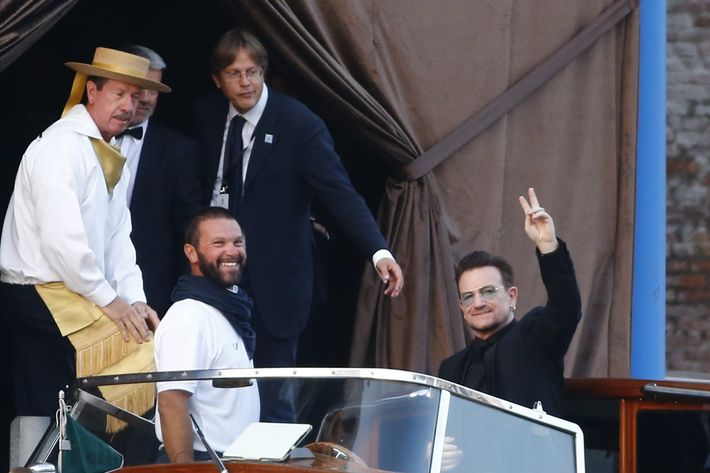 Bono
Who he is: The man from the "Recently downloaded" playlist in your iTunes.
How he knows the groom: Clooney is a longtime supporter of Bono's charity efforts in Darfur, and the pair have collaborated on a number of fawning magazine profiles and TV interviews.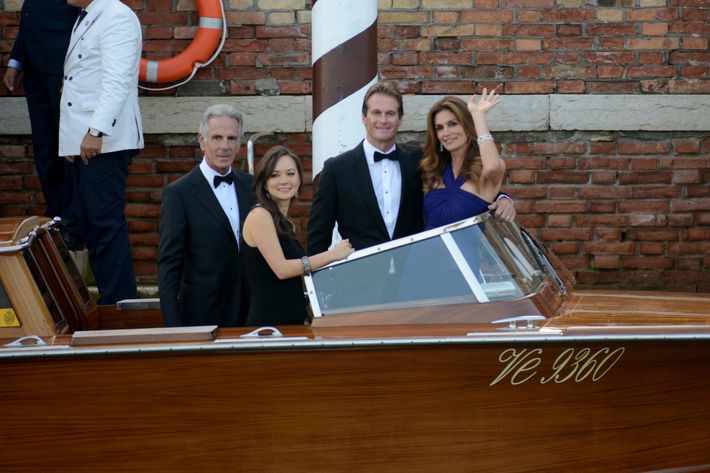 Rande Gerber
Who he is: Clooney's best man is best known for being Cindy Crawford's husband, but he is also a nightlife entrepreneur (the actual kind, not the reality-show euphemism for "unemployed"). 
How he knows the groom: Clooney was a regular at Gerber's hotel bars in the '90s, and the pair soon became best bros. They even bought vacation homes next to each other so they would have more room for activities.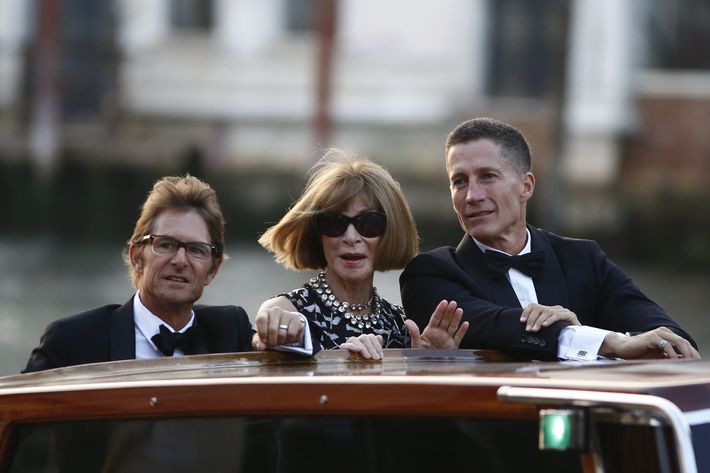 Anna Wintour
Who she is: The editor-in-chief of Vogue and the inspiration for Meryl Streep's roles in The Devil Wears Prada and The Iron Lady.
How she knows the groom: They both have the same taste in super-exclusive celebrity events. Clooney co-chaired the 2008 Met Gala, and being prominent Obama donors, the pair have attended the same White House parties.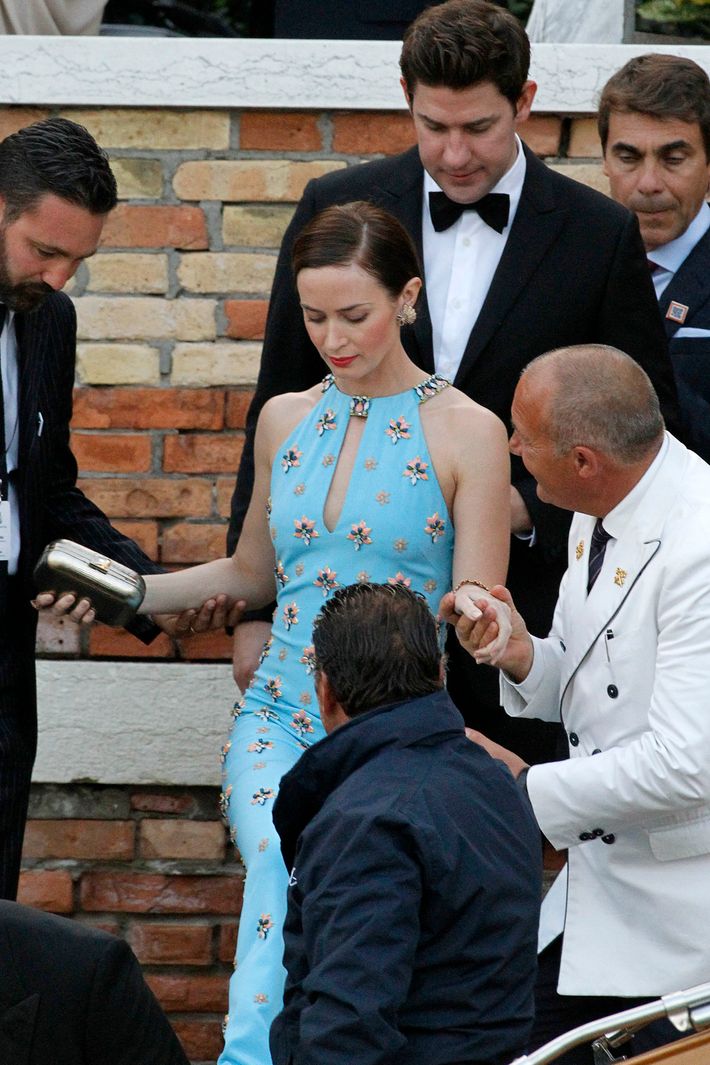 John Krasinski and Emily Blunt
Who they are: The stars of The Office and The Edge of Tomorrow, respectively.
How they know the groom: Clooney gave Krasinski his first movie lead in Leatherheads and then raised the friendship bar by hosting a Lake Como cruise for the pair on the eve of their 2010 wedding.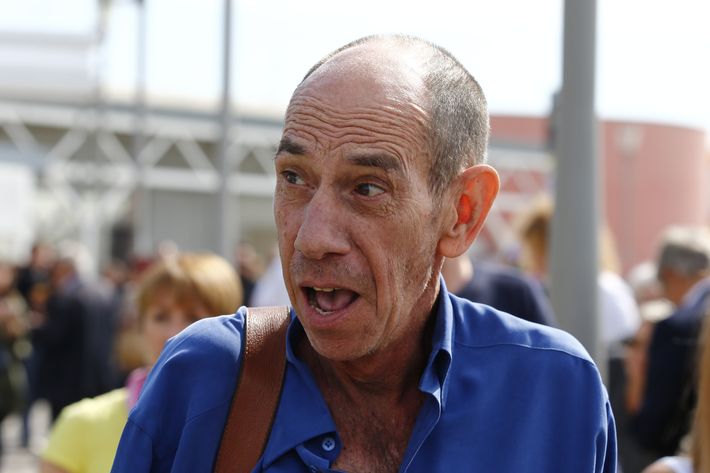 Miguel Ferrer
Who he is: Albert from Twin Peaks. (He walked a strange and difficult path.)
How he knows the groom: They're cousins! First cousins, too, not any of that once-removed nonsense. (Miguel is the son of Rosemary Clooney and José Ferrer.)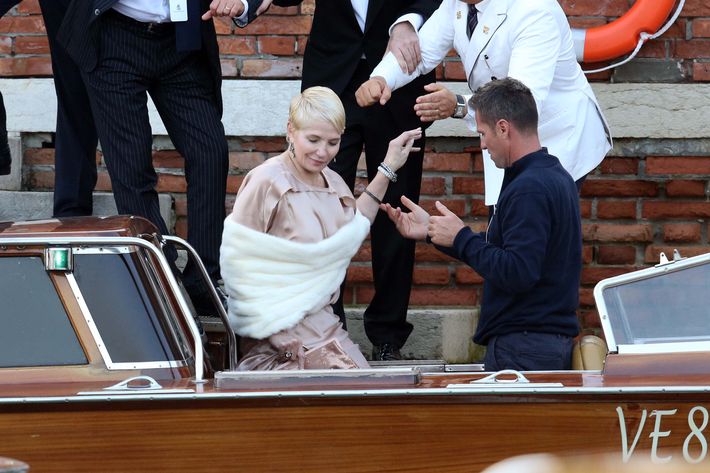 Ellen Barkin
Who she is: The closest thing Clooney's modern Rat Pack has to an Angie Dickinson.
How she knows the groom: They've been close friends since co-starring in Ocean's 13. She claims to have "fucked" him, but he insists she's just "a great friend." Either way, she hosted Amal's bachelorette party, which makes you wonder if Amal maybe doesn't have very many friends of her own.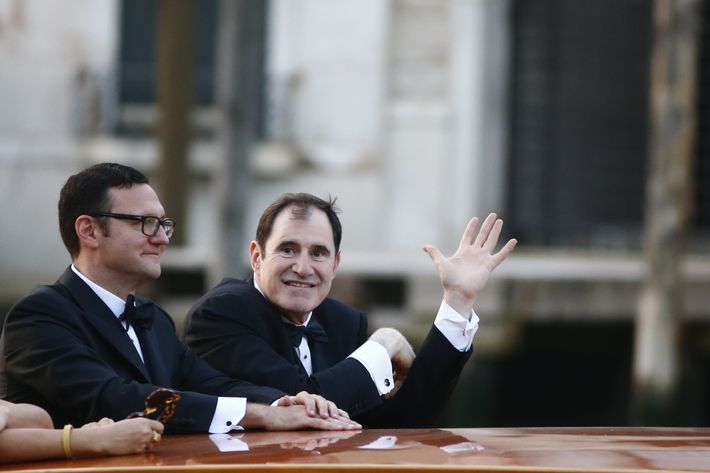 Richard Kind
Who he is: A veteran character actor you probably recognize from Mad About You, Spin City, or, if you're the type of person who doesn't like sitcoms, A Serious Man.
How he knows the groom: They're old friends from Clooney's pre-fame days, and the two lived together after Clooney got divorced from Talia Balsam. As Clooney's roommate, Kind was the subject of the infamous cat-box prank, as well as Clooney's longest-ever practical joke, which lasted "five or six years."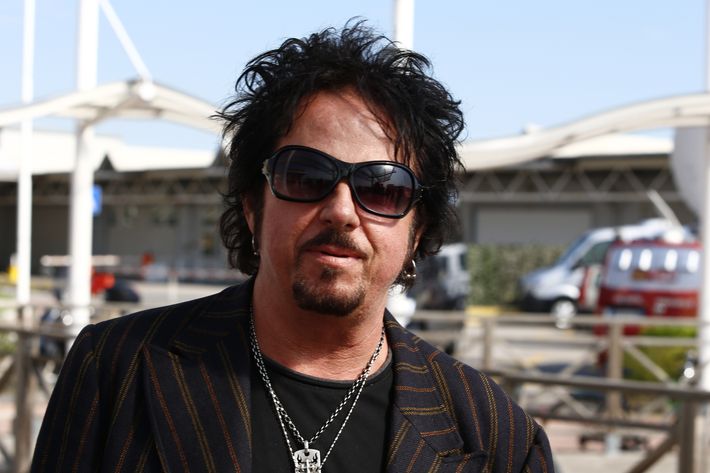 Steve Lukather
Who he is: A prolific session musician, most famous for being the guitarist in Toto. (That's him strumming away in the background of "Africa.") He also played the riff on Michael Jackson's "Beat It."
How he knows the groom: He's another buddy from Clooney's time as a struggling actor. "I knew him when he wasn't famous," Lukather told a Dutch website in 2010. "He couldn't even get laid."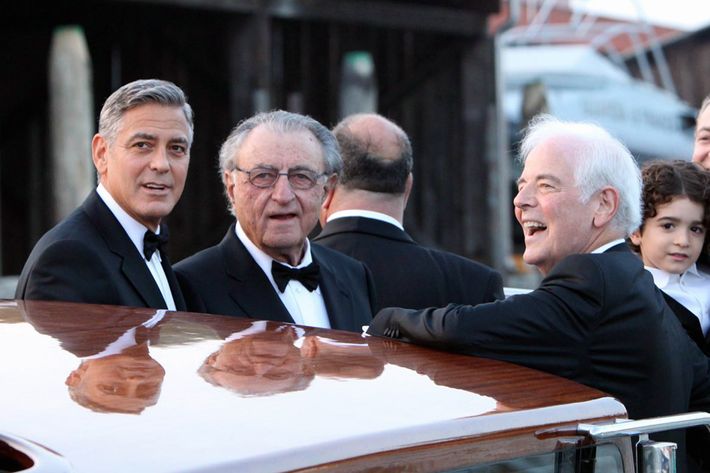 Nick Clooney
Who he is: The brother of White Christmas star Rosemary Clooney.
How he knows the groom: He (seen above at right) likely contributed sperm to the embryo that would become George Clooney, and then fed and clothed a pre-fame Clooney for more than 18 years.