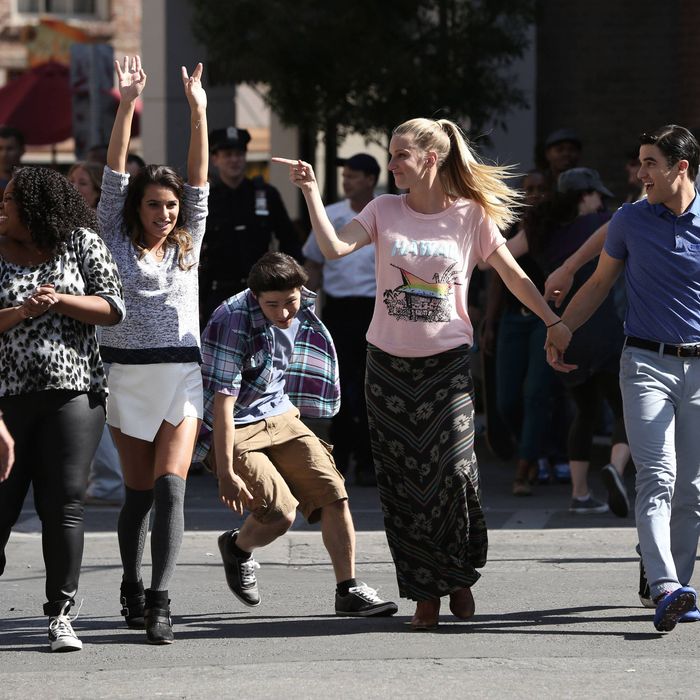 GLEE: Artie (Kevin McHale, C) performs in the "Tested" episode of GLEE airing Tuesday, April 15 (8:00-9:00 PM ET/PT) on FOX. ©2014 Fox Broadcasting Co. CR: Mike Yarish/FOX
Photo: Tyler Golden/FOX
As Glee continues into its second week of production on its sixth and final season this week, the cast and crew will set about cramming tearful goodbyes, memorable musical numbers and satisfying plot resolutions into a 13-episode season, set to air sometime in early 2015. Much of what would have comprised last season and this final one shifted when lead Cory Monteith unexpectedly passed away last summer from a drug overdose before filming began. Last year's changes laid the groundwork for a new vision for how Glee will conclude after a six-year run on Fox, but there's still a lot of time for speculating, frantic fangirling, and poring over any rumors and leaked info to gain insight into what exactly how Glee will wrap up. We've gathered the most important things we know so far about the final season of the series.
We might know a few songs already.
The Glee stars have already been in the studio before heading on set to start recording tracks for the new season. So far we've seen snaps of Lea Michele, Darren Criss, Mark Salling and Kevin McHale all in the booth courtesy of music producer Alex Anders, and now notable spoilers blog MJsBigBlog is reporting a list of songs for the premiere episode including Blaine and the Warblers doing Ed Sheeran's "Sing" and Rachel performing "Let It Go" from Frozen.  Nothing is confirmed, and interestingly no Puck or Artie songs are named in that list so take it with a grain of salt. The songs sound plausible (Criss teased about a Sheeran cover on VMAs night, and there's no way Glee would skip the chance for Michele to cover Idina Menzel's Disney hit at some point, so these seem on track.) The reported episode title, "Loser Like Me," is both a call back to one of Glee's original songs, and also makes sense since the first episode deals with Rachel returning to Lima after her TV show fails, according to a Fox press release.
There's a time jump.
Time has been glitchy to say the least on Glee for the past season. After Season 4 concluded mid-year instead of post-Nationals/graduation like always, and Monteith's death changed filming plans over the summer, Season 5 bent time repeatedly, stretching the end of the year over several months of episodes, then jumping into New York several more months post-graduation. Without the confines of a high school year timeline, the final seven episodes of Season 5 that dealt with the New York lives of the characters, time continued to be flexible, jumping months or mere days between episodes. It concluded with Rachel Berry quitting her Broadway gig for a TV pilot about her life and the rest of the characters achieving their own sorts of independence — Kurt and Blaine moving back in together, Mercedes off on tour, Sam leaving New York for home again. However, Season 6 won't be a smooth follow up to those next-steps. Instead, producers revealed that the show will jump into the future and pick up with our heroes at a new point in their lives, allegedly six months after the Season 5 finale, and in a new (or not-so-new-after-all) setting.
They're going back to Ohio.
After making a drastic shift away from McKinley completely at the end of the fifth season, resulting in some of the best episodes the show has produced since it's first year, the powers that be have reportedly made a u-turn, directing the show back to the confines of Lima, Ohio. "The final season is really its own story and its own location, and while the New York stuff will be alive, the final season is not New York-centric at all," series creator Ryan Murphy told The Hollywood Reporter earlier this summer. Many fans were hopeful this meant an entirely new location like Los Angeles, where Rachel Berry seemed to be headed as the curtain fell on season 5. However, according to TVLine, Rachel and various other gleeks will be returning to Ohio on a mission to relaunch the New Directions, which disbanded after their failure to win another Nationals trophy last season. Reports say that Rachel will captain the New Directions while Blaine will be helping the Warblers and Mr. Schuester will have a surprising new gig in charge of Vocal Adrenaline. 
There will be new high schoolers.
The past two seasons saw a new crop of McKinley kids to replace the graduating bunch, but reactions to these new characters were mixed. Some, like Unique, who had a minor role on an opposing team before, were interesting new additions to the McKinley sphere. Others felt like rehashes of tropes we've seen played out in the high school setting before. That slate of characters was unceremoniously dropped when the show made a switch to New York-only, but with a time jump and a return to Ohio a new batch of teens is needed to populate the school halls. According to casting reports, the characters include a chubby and shy underdog hero, a female Warbler wanna-be who's forced to join New Directions instead, male and female twin cheerleaders (spoiler alert: the male one isn't gay), and a "post-Glee" gay football player. That's a lot to process with only 13 episodes to also say goodbye to the characters people have grown to love, and keeping fans on edge that they won't get enough focus on who and what they really care about.
You'll see most of your favorites at some point.
Nothing is ever guaranteed in Glee, but Murphy has said the final season will focus on finishing up the stories of central characters. Some actors, however, will not return as series regulars. Last year the biggest question mark was Naya Rivera, who departed from the show amidst a swirl of rumors about on-set drama between her and leading lady Lea Michele. Rivera will reportedly return, but will bump down to guest star status at her own request. Such status hasn't stopped other cast members from having large roles on the show, but more than likely the spotlight will remain on the core club members like Rachel, Sam, Kurt and Blaine. But just because fans will find out what happened to their favorites does not mean they'll be happy about how storylines play out. For example…
Dave Karofsky is returning, possibly as Blaine Anderson's love interest?
This is the most confusing and newest of the Season 6 spoilers. We last saw Karofsky, the homophobic bully turned out football player with a crush on Kurt during Season 3's "Opening Night" episode, which dealt with his outing and suicide attempt, although the actor appeared briefly in a dream sequence in Season 5. Even more confusing, we last saw Kurt and Blaine happily engaged and singing adorable duets in the Season 5 finale. Although the info comes via The Hollywood Reporter, it's also attributed to the mysterious "sources" and doesn't say he's an official boyfriend, just "romantically entangled." However, the arc is reported to be "major" and something is rotten in the state of Klainedom. There are more extensive spoilers floating around on sites like MJsBigBlog that purport to make sense of how Klaine comes to their current situation and what plays out in the premiere episode between Blaine and Karofsky, but regardless of how it happens, the pull of the drama is enough to keep the Internet buzzing. Fans, of course, are outraged, as Murphy had offhandedly revealed that Kurt Hummel would be married by 21, which coincides with one year following last season's finale, and a Klaine wedding is one moment they've been begging to see on their TVs. Of course, Glee is known for whiplash plots and relationships, so what's supposed to be a big deal for episode 1 could be forgotten by episode 3.
One thing is for certain, for the first time ever Glee will finish filming an entire season before episodes start airing, meaning regardless of fan sentiment, what happens on Glee won't change with the emotions of their audience, or the pop cultural shifts of the moment. Time will tell if that's a good approach for the series that struggled in the ratings for the past few seasons.