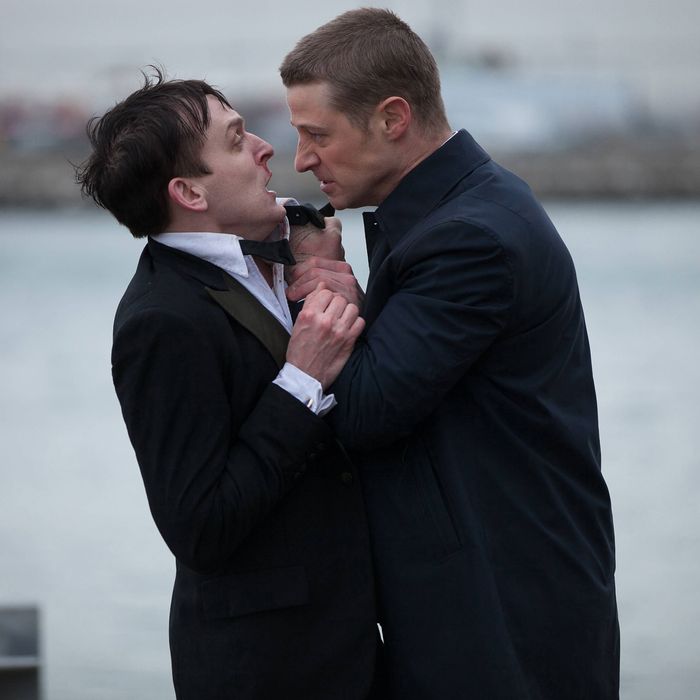 Tonight is the series premiere of Gotham, Fox's serialized-procedural hybrid touting Batman-related characters sans Batman. The show follows young detective James Gordon (Ben McKenzie) and tracks his rise through the Gotham City Police Department ranks, as well as his heroic exploits as the last good man in a treacherous town. Every week the show will dive into a crime element, as well as sub-plot threads that detail the back-stories of Batman's most notorious arch-nemeses. Gotham's creators and writers have undertaken the unruly task of introducing a cadre of colorful super-villains from the DC Comics universe to a mixed audience of fans and newcomers that might be at once uber-familiar and completely out of the loop. Vulture talked to the rogues' real-life counterparts at last week's East Coast premiere of the show to see how their characters' pop-culture backstories compare to those teased tonight on Gotham's first episode.
Carmine Falcone
Known as "the Roman," Don Falcone runs the underground streets of Gotham with deep pockets, an iron fist, and city officials at his beck and call. He's cropped up in Batman shows, comics, and movies as a mob boss with various black-market affiliations. Some narratives tie him close to the Wayne family, while other retellings place him closer to villains such as Catwoman and Scarecrow. In Fox's version, Falcone has a significant history with — and respect for — the Gordon family. Fittingly, John Doman, the Gotham face behind the character, said last week that Falcone doesn't believe he's a villain. In earnest, everything he does is a public service: Sometimes bad things have to happen for a city as torturous as Gotham to maintain a semblance of order (or: organized crime).
The Penguin (Oswald Cobblepot)
The Penguin is Batman's dapper, umbrella-wielding foe. He has a penchant for tuxedos, crime, and all things fowl. In DC lore, Oswald Cobblepot grows up a privileged boy with an unfortunate physique (he's short, he waddles, and he has a beak-like nose) that encourages other children to bully and taunt him. His cruelty is rooted in manic self-consciousness. He's hungry for power, revenge, and respect. In Gotham, actor Robin Lord Taylor plays the conniving criminal amid his ascent to infamy, staying close to the enemy's comic-book origins (yes, he will waddle). A couple minor differences: Cobblepot's mentor is the new lady (and mother figure) on the scene, Fish Mooney. Also, no monocle, umbrella gun, or top hat just yet.
At the Gotham series premiere last week, Taylor said he wants to emulate the evil joy found in Danny DeVito's and Burgess Meredith's Penguins while making the character his own. "I'm personally drawing from certain stories that are in the comics that make sense to the character: the fact that he's a bullied kid and that he gets picked on for the way he looks," he said. Actress Carol Kane will join Taylor on screen as Cobblepot's mother, Gertrude Kapelput, a character to appear later this season.
Fish Mooney
The Penguin's beloved master, this is a brand-new villain. In cahoots with Don Falcone, Fish (played by Jada Pinkett Smith) runs the underground sector of Gotham's Theater District and has an uncomfortably close relationship with Gordon's partner, Detective Harvey Bullock (Donal Logue).
Butch Gilzean
Another new villain, Butch is one of Fish's main henchmen. Played by Drew Powell, he's a jovial fan of cheesy one-liners with a deceivingly warm grin and twinkling eyes. Built like a refrigerator, Butch has been dubbed Butch for a reason: This is not the kind of guy you want to meet in a dark alleyway.
The Riddler (Edward Nygma)
Edward Nygma is the kind of guy who answers a question with a question. Tonight, Nygma steps on the scene with a new back-story: He's a GCPD forensic scientist with misplaced glee and an infinite grin. Nygma's devious alter ego, The Riddler, is steeped in the Batman universe with a variety of — and sometimes conflicting — beginnings.
Cory Michael Smith, who will make a brief appearance as Nygma tonight, said last week that putting The Riddler in the heart of the GCPD was series creator Bruno Heller's idea. Over the course of the season, his character will learn the ins and outs of the police force so adeptly he'll be able to use it against his former compatriots in the future. "Some of the comics talk about the relationship with his parents, which I think we will eventually see and flesh out. We're not there yet, but I think that's a huge theme in what we're doing here," he added. "Parents are going to play a huge role in this."
Poison Ivy (Ivy Pepper)
Another rogue-in-the-making, little Ivy Pepper flashes in the pilot as one of the most intriguing baddies to watch. She's introduced as the daughter of Mario Pepper, an ephemeral threat to the GCPD. Of the villains found in the pilot, her back-story differs the most (at least for now): new name, new parents, new setting. One of the most popular back-stories for Poison Ivy pegs her as Dr. Pamela Isley, a Gotham transplant and botanist-turned-eco-terrorist who attains the power to control plants and generate a deadly venom after being poisoned herself. Played tonight by Clare Foley, the character's love for all things plants is the constant fans will recognize and the quirk newcomers can look for. (Bonus: She's a precocious girl who yells obscenities at detectives!)
Catwoman (Selina Kyle)
The 15-year-old actress Camren Bicondova will scale buildings and pickpocket unsuspecting passersby in Fox's retelling of the Catwoman story. Although Bicondova said last week she was a fan of Julie Newmar's turn as the villainess, the Selina Kyle seen in tonight's show will be much less bubbly and much more mysterious. Another rogue with multiple origin stories, Fox's portrayal looks like it will adhere closest to Kyle's orphan arc (but this could very well be fleshed out in a different way later on in the season). Her character will be decked out in black leather and will even have the trademark Catwoman goggles (why she has these right now, we don't know).