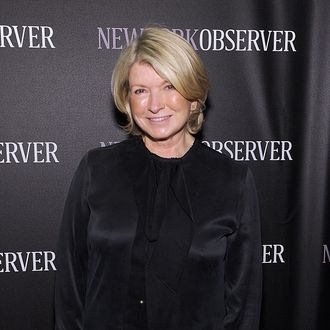 Photo: Jamie McCarthy/Getty Images
Domestic goddess/tycoon Martha Stewart was serving up some tea for the upcoming issue of Net-a-Porter's Porter magazine. On Gwyneth Paltrow's Goop project, Stewart said, "She just needs to be quiet. She's a movie star. If she were confident in her acting, she wouldn't be trying to be Martha Stewart." Burn.
Okay, well what does she think about Facebook COO Sheryl Sandberg's book Lean In? "Isn't 'leaning in' spending a lot of time?… I think being entrepreneurial is something women should strive for, rather than working up the corporate ladder." And what does she think about Taylor Schilling as Piper Kerman in Orange is the New Black? "They could have done that so much better. That girl is not good enough, the lead actress. I met the real Piper. She was in prison either the same time or after me, and I talked to her about it." Do you hear that sound? It's the sound of Martha Stewart's heels clacking away after she dropped the mic.