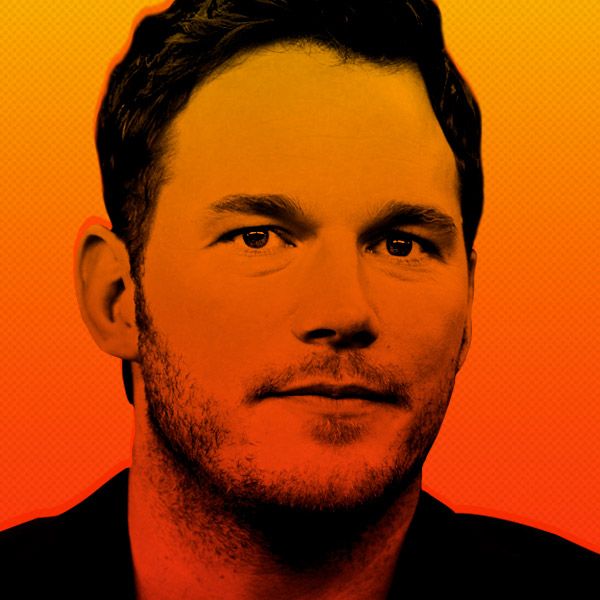 2014: A big year for World Cup and Winter Olympics watchers, something called the Ice Bucket Challenge, and an actor named Chris Pratt. Whether you know him as Parks and Recreation's Andy Dwyer or The Guardians of the Galaxy's Peter Quill, you've got to admit that he's having quite the year. (And that he's the most charming human.) How did he get here? Here's how:
Pratt grew up in Lake Stevens, Washington; he was a wrestler, and won fifth place in the state championships. This is what he looked like in high school: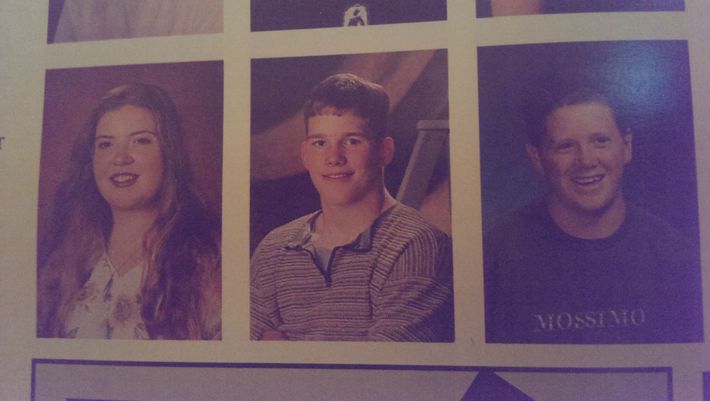 Redditor warped_and_bubbling, who shared that photo (and graduated with Pratt in 1997), recalls:
… For some odd reason the one memory that jumps to mind was how good of a moonwalker he was. Seriously, we had one of those pep rally type assemblies once, and in the course of one of the "rah-rah" type skits that he was involved in a Michael Jackson song hit and he absolutely nailed it.
1998-2000
Pratt leaves community college at 17, dropping out after one semester and instead working selling coupons: "It was one of these multi-level martketing schemes … I did it for two years, from when I was 18 to 20 … I was a good salesman! I opened up my own office in Colorado and put an ad in the paper that said, 'Do you like rock and roll music? Do you want to make money? Call me.'"
Then he moves to Hawaii and lives in a van: "It's a pretty awesome place to be homeless … It would be different if I lived on the streets of Chicago and ate garbage from a dumpster. We just drank and smoked weed and worked minimal hours, 15-20 hours per week, just enough to cover gas, food and fishing supplies. You know, it was charming time."
2000
While working at Bubba Gump Shrimp in Maui ("It's really a terrific place to work. It's a great place to eat. It's maybe my favorite corporation in the whole world"), Pratt is "discovered" by actress-director (and Tommy Chong's daughter!) Rae Dawn Chong. "He is gorgeous and that was the first thing [I noticed], she told the New York Daily News: "Everybody adored him and still does. He belongs on sets."
His first headshot:
2002
After a few commercials and cameos on shows like the short-lived 2001 drama The Huntress, Pratt lands the recurring role of goofy older brother Bright Abbott on Everwood. The show was a hit, running for four seasons on the WB.
His first interview with Entertainment Tonight:
(His dreams for his character: "I wish for Bright to marry Hannah. Marry her, then he can finally get down … No, no. Marry her, hang around Everwood and be a fixture of the community, open a sporting-goods store, coach the football team.")
2006
Pratt plays Ché, an environmentalist do-gooder whom Summer Roberts meets at Brown University, on The O.C. He wears plenty of wonderful hats.
2006-2008
In between TV shows, he takes on projects like 2007's Walk the Talk, 2008's Wieners, and playing James McAvoy's douchebag co-worker in Wanted:
Around this time, Pratt is auditioning for roles in movies like Avatar, Star Trek, G.I. Joe: The Rise of Cobra, and TRON: Legacy. But, unfortunately, to no avail: "I mean, shit, if there was a big movie coming out, I auditioned for it … I auditioned for movies both good and bad. I was willing to do anything."
2009
Pratt lands a role that coudn't be any father from a silver-screen superhero, and yet it will be the one that gets him there: Park and Recreation's Andy Dwyer — a lovable dope who quickly would become one of television's favorite lovable dopes.
He and fellow Parks employee April Ludgate will also become the show's cutest couple. Sorry, Leslie and Ben, it's true:
(Pratt's actual wife is actress Anna Faris: They were married in 2009 after meeting on the set of Take Me Home Tonight, but they also appear in 2011's What's Your Number? together. Weirdly, Faris and Pratt grew up in neighboring towns. Turns out, they are just as cute as April and Andy.)
2011
And now we enter the "Chris Pratt Talks About Gaining and Losing Weight for Movies" era. First, for 2011's Moneyball: "My agent called me and said, 'Chris, they really thought you were good, but they think you're too fat … I was like, 'F*ck, really? That sucks. OK, well, I can lose weight. Did you tell them I could lose weight?' It was another three months before I found out I got the role, but in that three months I think I dropped 30 pounds. I was bound and determined to become Scott Hatteberg whether they cast me or not."
2012
Pratt gets cast as a Navy Seal in Zero Dark Thirty, and he has to buff up again … But, like, really buff. Everyone is still used to beloved schlub Andy Dwyer, so it's a huge topic of contention. He does it …
… Only to put the weight back on immediately after to play the despondent Brett in 2013's Delivery Man:
2013
Pratt is cast in Guardians of the Galaxy, and his "bulking up" process begins once again, but he's gotta lose it all in six months. His workout strategy includes "sessions of P90X , running, swimming, boxing, kickboxing, and he even a triathlon." It works, but per usual: It's celebrated by some and mourned by others.

2014 a.k.a "The Year of Pratt"
Pratt begins 2014 as a really, really successful toy in The Lego Movie, which is a critical and commercial hit. (The sequel is due in 2017.) In May, Pratt confirms his starring role in an upcoming Jurassic Park sequel, Jurassic World. Then it's announced that season seven will be Parks and Recreation's last, which leaves plenty of time for Pratt to become a full-blown movie star. Speaking of: In August, Guardians of the Galaxy is released, becoming the summer's biggest film by grossing over $300 million in just ten days. Pratt is Peter Quill, a.k.a. "Star-Lord," the half-human, half-alien leader of the Guardians.
Meanwhile, everything Chris Pratt does will remain amazing and incredible to the internet. For example, when we discover that he knows how to French braid:
Or that he can easily rap the lyrics to Dr. Dre and Eminem's "Forgot About Dre":
And then take the Ice Bucket Challenge to new … heights:
Thanks to all of this, he'll host the season premiere of Saturday Night Live's 40th season this weekend, just as we all expected:
Happy 2014, Chris Pratt.