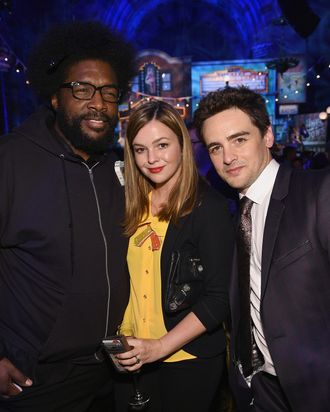 Photo: Dimitrios Kambouris/Getty Images
It doesn't get more (old-timey) gangster than Boardwalk Empire's bootlegging, gun-slinging, punch-throwing brawls. So, at Wednesday night's season premiere and after-party at Cipriani 42nd Street, we asked the cast and other partygoers about the most gangster things they've ever done in real life.
Michael K. Williams (Chalky White)
The most gangster thing I've ever done was walk up to Eve the rapper and ask her out. I said, "What's up? Will you go out with me?" She said no. But I thought that was pretty gangster. Anyway, she's married now, so that ship has sailed.
Kelly Macdonald (Margaret Thompson)
Having babies. That's pretty gangster. You can't get tougher than that.
Vincent Piazza (Lucky Luciano)
Ooooh. I don't know, probably playing Lucky Luciano — that's the most gangster thing I've ever done. Pulling fake guns on people and threatening them and all sorts of other crazy gangster stuff.
Margot Bingham (Daughter Maitland)
In real life? Oh boy. I get really nervous breaking the law. If I skipped a line I'd kind of have a panic attack, so probably, like, skipping a line at a concert or something. My friends think I'm a big wuss. And that's pretty much as exciting as it gets!
Ben Folds
I filmed my bass player while he put his dick in Everclear salsa backstage. Just kidding, I just made that up. So, I guess the most gangster thing I've ever done is made up a bunch of bullshit stories for someone with a tape recorder at a party. Okay, no, let me think. The most gangster thing I've ever done? My father shot a dog one time when I was 15 years old, and I was the driver. I was driving the car, and I was 15. It was a drive-by shooting! I don't know why he was doing it. He hid in the back and shot the dog as I was driving by.
John Slattery
Wow, that's a hard one. I was such a thief when I was a kid! But I stole such bullshit stuff — I stole a pie once from a diner down in the West Village just because I was hungry. But the rest I can't remember! I can't remember. I've blocked it all out.
Questlove
I just spent the last two minutes trying to figure out what the most gangster thing I've ever done [is], and I can't! I rip the "Do Not Remove" tags off of all my pillows and mattresses at home because I'm a rebel to the system. I'm stickin' it to the man. Maybe this is why it's taken so long for the Roots to go platinum. We're all proud, law-abiding citizens. I've never done one rebellious act in my life. I once DJ'ed for 13 hours in a row, though. That was pretty gangster.
St. Vincent
I tipped over a Porta-Potty when I was 12 and then ran from the cops. No one was in it, though.
Alia Shawkat
I used my friend's dad's pee for a drug test once. My parents were drug-testing me … He turned out to be a meth head, and I had only smoked pot.
Danny Strong
Probably write a pilot with Lee Daniels! That's pretty gangster, isn't it?
Adam Busch
Oh, so, so many. Not sure which ones I can talk about, though.
Adam Busch on Danny Strong:
The most gangster thing Danny's ever done? When I was moving into my first apartment, Danny was there. He actually found the place on the street and was like, "This is where you should live." There was a sign outside that said "For Rent," and we went in. We walked in, the landlord was in there, and he was like, "My friend should live in this place." And he said, "It's a thousand bucks a month, plus something-something." And Danny walked around the place, looked in the bathroom, and he said, "Well the bathroom's shit, and he'll put up two months up front, so you should give it to him for $900." And the guy said, "Sold!" It was pretty gangster.
Domenick Lombardozzi (Ralph Capone)
I crashed a golf cart, on a golf course and left it there! I didn't like the people who were part of the country club.
Anatol Yusef (Meyer Lansky)
I saw somebody getting beat up, and I split it up and made the man beating that person up stop it.
Terence Winter (creator and executive producer)
The most gangster thing I've ever done is hung out with Martin Scorsese. When you think gangster you think Marty.