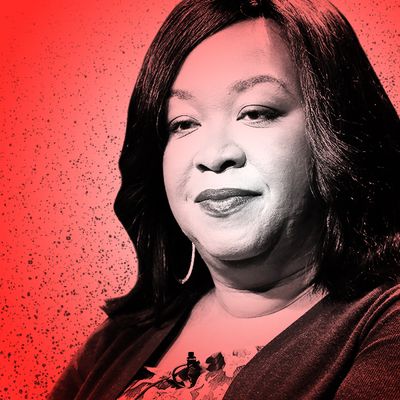 Photo: Maya Robinson and Photo by Getty Images
Thursday nights on ABC now officially belong to Shonda Rhimes: The 44-year-old writer/producer will premiere How to Get Away With Murder next week, an hourlong show starring Viola Davis that will round out a beyond impressive three-hour block of ShondaLand programming. (See also: Grey's Anatomy and Scandal.) But how did she get here? Where did she come from, and what came first? From Crossroads to Scandal, here's a rundown of Shonda Rhimes and how she became television's most celebrated writer.
Pre–Grey's Anatomy
1970
Shonda is born in Chicago, Illinois — the daughter of a university administrator (her mother, who got her Ph.D. after Shonda left for college) and a college professor. She's the youngest of the family's six children: "I always thought that I would end up being a novelist. I was making up stories and recording them into a tape recorder and my mom was transcribing them before I knew how to write … When I was 17, I saw Whoopi Goldberg live on Broadway and George C. Wolfe's The Colored Museum. Both made me absolutely fall in love with the theater."
1980
Ten-year-old Shonda spends all of her free time "in a tree reading books" or "[speaking] only French, pretending her real family lived in Paris and were due any minute now to come whisk her off to the Sorbonne." But she's still a Midwesterner at heart: "Being from the middle of the country … I'm a TV watcher. Growing up in the suburbs, in the middle of the country, my taste might be more normal than someone who grew up in New York or Los Angeles, maybe less snooty. It makes it possible for me to constantly be amazed that I'm doing [Grey's Anatomy]."
1987-1991
Shonda attends Dartmouth, where she'd return to give the commencement address 27 years later, in 2014:
(Meanwhile, a slew of ShondaLand characters will always wear Dartmouth paraphernalia …)
1991
Shonda quits advertising to get an MFA at USC film school — after reading an article in the New York Times that said it was "harder than getting into Harvard Law and [I] thought, 'This sounds like a really competitive thing to do. I'm going to do it.'" After school, she works as a development assistant while working on spec scripts on the side. One called Human Seeking Same is about an older white woman who falls in love with a younger black man after answering the wrong personals ad." It doesn't get made, but it gets her name out there …

1999
… which eventually gets her a gig writing the teleplay for HBO's Introducing Dorothy Dandridge.
Later, she writes scripts for 1998's Blossoms and Veils, 2004's The Princess Diaries 2 …
…and (most notably!) 2002's Crossroads, starring Britney Spears: "I never thought the critics were going to say Crossroads was a brilliant movie. My goal was for 12-year-olds to think it was brilliant … I became a rock star to the preteen set." (Not to mention, that movie also bought her house.)
2002
But after adopting her first daughter, Harper, and spending lots of time watching TV when the baby was fussy, Shonda thinks, "God, television is really good. And I'm really tired of writing about teenage girls and their makeovers." She'll write her first pilot, Grey's Anatomy, a show about a bunch of hot surgeons in Seattle: "There's something very sexy about surgery. You actually have your hands in someone else's body."
Grey's Anatomy
2005
ABC buys Shonda's Grey's Anatomy, slotting it in as a midseason replacement in the spring of 2005. At the end of its first season, it would have an audience of 20 million.
Her heroine, Meredith Grey, is a young white surgeon:
"Meredith is a lot of me. I'm not white or blonde or thin, but she went to Dartmouth; I went to Dartmouth. She's competitive; I'm competitive. We both have very formidable mothers. My mother has a Ph.D in education; her mother is a surgeon." In fact, all of Grey's have a little Shonda in them: "Whenever people say I can't stand Cristina, I'm always a little bit hurt. [But] Cristina says things that I say all the time. Like a line from the script when George is talking about how excited he is about his job, and Cristina cuts him off with, 'Now, Bambi, don't say another word until after the hunter shoots your mother.'"
2006–2007
The drama years: Isaiah Washington is kicked off Grey's Anatomy after using a homphobic slur against a castmate, and Katherine Heigl complains about her job a lot. Shonda perseveres, and her Grey's Anatomy spinoff, Private Practice, debuts in the fall.
2010
Rhimes releases Heigl from her contract in 2010 based on an "agreement"; Izzie is written off Grey's Anatomy. (Heigl will later tell Good Housekeeping that she left "to pursue her family dreams with her singer husband Josh Kelley.) Winner: Shonda.
2011
Shonda's medical drama, Off the Map, about doctors working in a remote South American village, airs on ABC from January to April and is then canceled. She will later be sued by "struggling writer" Debra Feldman for supposedly ripping off her script, The Red Tattoo.
Scandal
2012
In April, Scandal, a show about a Washington, D.C., "fixer" named Olivia Pope, premieres on ABC right after Grey's Anatomy. It's huge: "More than 90 [percent] of Grey's viewers stay tuned for Scandal … a time slot it has owned in the ratings since its debut." Furthermore, the tweets of Scandal fans make it an unprecedented social media coup, causing an estimated "3,000 tweets a minute during broadcasts."
Not only do Grey's and Scandal "pull in more than $13 million in advertising for ABC each week — just shy of $300 million a season, or about 5 percent of the network's total revenue," but Scandal is also "the highest rated scripted drama among African-Americans, with 10.1 percent of black households, or an average of 1.8 million viewers, tuning in during the first half of the season." Shonda responds: "The question was: Are audiences ready to have the stories that we tell on television to be more inclusive? Are we ready for our protagonists to represent people of all different genders and ethnicities?"
Basically, everyone is obsessed:
2014
ShondaLand's latest, How to Get Away With Murder, created by Peter Nowalk, premieres on September 25 — making Thursday nights on ABC a fully stacked ShondaLand lineup. And ABC isn't afraid to shout it from the rooftops: