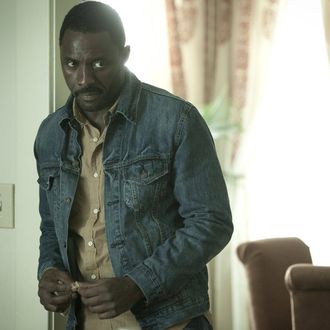 Photo: Screen Gems Productions
While our film critic Bilge Ebiri thought that two exceedingly fine (we mean that in both senses of the word) actors Idris Elba and Taraji P. Henson were "curiously wasted" in No Good Deed, it didn't matter so much to the audience, as the movie pulled in $24.5 million dollars over the weekend for the top spot at the box office. The thriller comfortably beat out the children's movie Dolphin Tale 2, which brought in $16.5 million. Staying strong for like the millionth week in release was Guardians of the Galaxy, which brought in $8 million to bring its domestic grand total to $305.9 million. Coming in fourth and fifth were Teenage Mutant Ninja Turtles and Let's Be Cops with $4.8 and $4.3 million, respectively. The other new release, The Drop starring Tom Hardy and the late James Gandolfini brought in $4.2 million, albeit in just 800 theaters.
In limited release, the tripartite The Disappearance of Eleanor Rigby starring Jessica Chastain and James McAvoy did well over four screens for a per screen average of $19,300 as did The Skeleton Twins starring Kristen Wiig and Bill Hader with the highest PSA of the weekend: $27,400. The final leg of the Atlas Shrugged trilogy faltered despite a Ron Paul cameo with a PSA of $1,467. Maybe the lumpen proletariat just don't recognize individual genius when they see it.