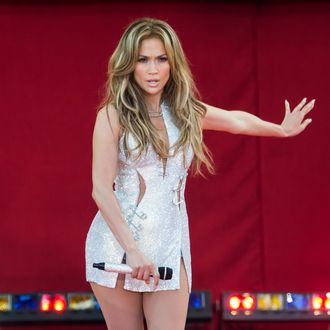 Photo: Gilbert Carrasquillo/FilmMagic/Getty
Jennifer Lopez was in the car with actress Leah Remini when she says that they were rear-ended by a drunk driver yesterday, while Remini was at the wheel. It appears the incident happened with their kids in tow, while heading to see Demi Lovato at the Staples Center. Lopez wrote about it on Instagram, "Sitting at a light, Riding high right before some drunk fool rear ended us in my new whip!!! Thank god everyone ok!!! #GRATEFUL #THANKYOUGOD #DontdrinkandDrive!!!! #cursedthatfoolout #theBronxcameout #dontmesswithmycocnuts #mamabear #leahstayedcalm #thatwasweird." Thankfully everyone is safe and looking fabulous.
And the kids got to meet Demi Lovato!