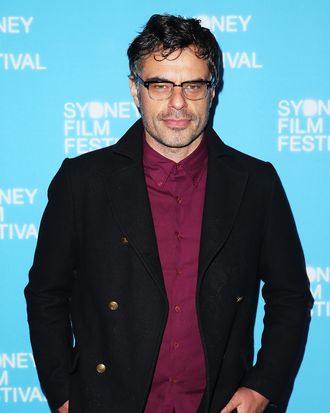 Photo: Brendon Thorne/2014 Getty Images
What We Do in the Shadows, a mockumentary from Flight of the Conchords' Jemaine Clement and director Taika Waititi about vampires living in a New Zealand suburb, won the People's Choice Award for the Midnight Madness program at the Toronto International Film Festival today. Accepting the honor at the festival's awards brunch, Clement was typically deadpan. "The people in the film largely couldn't make it because they're vampires, and unfortunately one of the disadvantages is they can never make brunch ceremonies," he said, before taking a more serious tone. "I'd like to use this forum to bring attention to a more serious matter, the disgusting sport of vampire hunting that's being practiced all around the world including Canada. They are being hunted for their lifestyle choices, for sport, and for their culinary preferences. We want this stopped. We want to name and shame … quite prominent people in the film industry who are vampire hunters — we're thinking of Sir Anthony Hopkins, and the Australian Hugh Jackman. We want vampire hunting stopped."
Vulture pulled Clement aside briefly after the ceremony to congratulate him on the award and figured we should also check in on the state of his new HBO show.
Congrats on the win! How did it feel?
[Whispering] It's a good feeling.

Were you surprised?
Well, they gave us a clue. They sent the email saying, "Could you make the brunch?" So I guess we knew we were going to win.

You screened at Midnight Madness. Was that a conscious decision, given the film's vampire theme?
Yeah. It's a shame when we do get daytime screenings that they can't attend.

Rhys Darby [Flight of the Conchords' Murray] plays a werewolf in the film.
That's right, he's an alpha male leader of a werewolf pack. I thought it was time for Rhys to do more macho roles, or we thought it was time for him to do a more macho role than he has done in the past.

Was there any thought of putting [Conchords co-star] Bret McKenzie in the film?
We asked Bret to be in it but he was really busy. He was in L.A. a lot doing music for Muppets Most Wanted at the time, so we didn't get him. But there were lots of potential roles for him, including another werewolf.

Another alpha male?
Yeah, well, we'd probably have him as part of the pack.
Do you guys still hang out?
Our kids have play-dates. That's when we hang.

The film is getting a lot of comparisons to the work of Christopher Guest. Do you think that's a fair comparison?
I don't know if it its accurate but its a big compliment, because those films are obviously a big influence on this one. Basically we said: What if we did a Christopher Guest film about something you can't make a documentary about, like the supernatural?

What do you think it is about the mockumentary format that so lends itself to comedy?
It's a great way of [doing comedy]. It gets people to listen because it's usually more subtle. This movie's not very subtle at all.

There's a lot of turning into bats and stuff.
Realistically.

Would you ever want a vampire roommate?
I wouldn't, just in case. Sometimes they get a feverish blood-lust and have very little self control, so just for those moments I would play it safe. You know, just hang out in public.

And I hear vampires aren't great at doing the dishes.
Not a lot. The vampires in our film are on a roster system, and that kind of only works if everyone chips in. Just as with humans.

Who are some of your favorite vampires?
Nosferatu. The girl in Let the Right One In. Jerry Dandrige in Fright Night, that was a big one when i grew up. I quite like this film Vamps, which was probably quite bad but I thought it was brilliant at the time.

I know that you and Waititi are doing a new HBO show.
Yeah, me and Taika are writing. It might not even be made, but we're writing it at the moment.

When you announced it there was some confusion, because everyone thought you were announcing more Flight of the Concords. Is that frustrating?
It's happened a few times, so I kind of know what to do now. Luckily, I just started using Twitter and stuff like that, so I could just [debunk it] rather than being asked about it for the next year.

What's the new show going to be about?
It's kind of an anthology, so every episode's different. It'll be a different genre with a set of characters played by the same group of actors.

With music?
Sometimes there'll be music, yeah. It won't necessarily be musical. But we wrote some music for it.

You've mentioned that a Flight of the Conchords movie was a possibility. Have you and Bret been talking about that?
We more talk about touring, because that's how we started, playing live. But maybe!