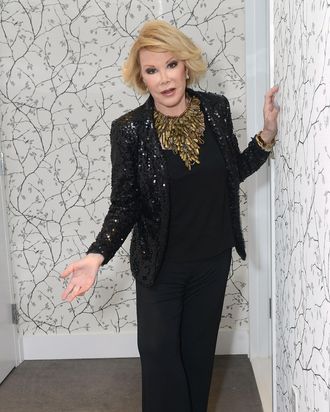 Photo: Shahar Azran/Getty
Comedian Joan Rivers died this afternoon at the age of 81. Jennifer Vineyard spoke to Rivers last year and earlier this year about her childhood in, and favorite parts of, New York.

The first time I was in the city I was about 13, and I went in with a friend to see Where's Charley? with Ray Bolger. I just wanted to get out and get going. Home was Brooklyn, New York. Eastern Parkway and New York Avenue, which was known as Doctor's Row. All doctors, so it was great to get sick. It was wonderful. We were right off of Eastern Parkway, which was all leafy and green. Everybody knew everybody. It was a terrific place. You could ride your bike. You were totally safe.
But New York was the magic city. New York was where you took the subway in and you came out and you were either in Times Square or you were on Fifth Avenue. New York was Oz. All I wanted to do was get out of Brooklyn and get into Oz. All I wanted to do was find that Emerald Road, the Emerald City, the Yellow Brick Road. That's all I wanted.
My aunt lived on Park Avenue. She was very much in the great tradition. She was a very big promoter of theater and music and a lot of Carnegie Hall things. So, I just wanted to be my aunt. I wanted that life. I remember as a child, I wanted that artistic, sophisticated, amazing life. Everybody economically was in just about the same league. We went to private school. We went to Adelphi Academy. The poor or the homeless were not in our neighborhood. It was a very middle-to-upper-class neighborhood, family oriented. It was a great childhood.
Growing up in New York made me know that there was a whole incredible life there, and one that you could get into. I didn't have to come from the Midwest. I didn't need a suitcase to fulfill my dreams. In high school, I just wanted to be an actress. That was all I cared about. I was not very attractive. I didn't date that much. At that point, there was nothing else in my head except to get going, get out, get to New York, and then get to California and be a star. No question.
New York has so many opportunities. You want to be an artist, it's there. You want to go into publishing, it's there. You want to do fashion, it's there. New York gives a child choices; it's not a one-horse town. It's not like Houston: You go into oil, or you don't go into anything. Life is an adventure, and New York is the place to have it. I tape Fashion Police in Los Angeles, and I'm on the red eye home Friday nights because I want the weekend in New York.
This is my ideal day. Saturday morning: I love to get up to go to a museum. I always take a taxi, and only open the door into the bike lane. Because I love to see how many Citi Bike riders I can pick off. I love to spend mornings at MoMA, where I eat M&Ms and I sneeze on Jackson Pollocks, just to see who can tell. I try to get to a Mets game if they're in town, because they have a great ticket plan: If you buy one, you get one free; if you buy two, they let you pitch.
There's nothing like Broadway at night, and I try to go to Mamma Mia! if possible, because I like to watch 15,000 Japanese tourists in the audience trying to sing "Waterloo." If you don't go to Broadway, you're a fool. On Broadway, off Broadway, above Broadway, below Broadway, go! Don't tell me there isn't something wonderful playing. If I'm home in New York at night, I'm either at a Broadway or an Off Broadway show. We're in the theater capital of the world, and if you don't get it, you're an idiot.
Come in a wheelchair, and they'll put you in an aisle. I know how to get around New York! A wheelchair will always get you a good seat. And the cast will come out to you to say hello if you're in a wheelchair. You don't have to go backstage. If you need a wheelchair, I usually just push a handicapped person out of one. And I love to hang around the Broadway area, because I offer the cops 50 bucks. If you offer a policeman 50 bucks, he will stop and frisk you.
If you love offbeat cinema, you've got four places. You've got BAMcinématek in Brooklyn, you've got the Film Forum in the West Village, you've got Anthology Film Archives in the East Village, and I love the Film Society at Lincoln Center, because sometimes, if you're just in the mood to see a revival of Eraserhead or The Honeymoon Killers, they've got it!
On the more straightforward side: Cemetery tours are fascinating. One, I get to see my friends, but two, for example, and usually they give you tours, Brooklyn's Green-Wood cemetery alone, they have Louis Comfort Tiffany buried there, Henry Steinway is buried there, Boss Tweed is buried there, Samuel Morse is buried there, and Horace Greeley, founder of the New York Tribune. It's amazing, when you go back and see who lived in our city, and who decided to be buried in our city.
And I love walking my dogs in New York, because I like making citizen's arrests of people who don't pick up. Oh, I am so on to them. I'm bending over and picking it up — so should you. Just don't go during rush hour. I like walking on Park Avenue mid-morning or mid-afternoon, because none of the rich mothers are out, so you just see the nannies — and I'm thinner than they are! They still haven't lost their weight from Barbados or wherever they came from.
We've got so many ethnic neighborhoods. It's fun to go to Koreatown for dinner on a Friday night, because I sneak into the kitchen and I make sounds like cats screaming. Or dogs screaming, whichever you want. And if you go down to Chinatown, you can get china down there. You can redo your kitchen for 35 dollars, which is so great.
I love supper late, and there are two places, Joe Allen because it's a real place, where Broadway gypsies go (if you're in a Broadway show, that's where you go). And they have the best banana cream pie. You can't even discuss it. I don't like to go to restaurants where it's noisy, and the best place to go where you can talk about everybody, because nobody that you know goes there, is Sarabeth's on Central Park South. Nobody goes there except tourists, so you can sit there and say, "Jennifer Lawrence sucked," and they don't know who the hell you're talking about. It's a great place to go. And they understand that I'm a fat Jew trying to diet. Look at me! No matter what the time, they go, "We know." They have the best biscuits ever, the best biscuits you have ever tasted in your life.
If I'm trying to get a job, though, I go to Michael's for lunch, because everybody in the TV world is there. And always carry a script under your arm. You can do this on a Friday for lunch. Don't do it without a script. Wait for them to approach you. And as they pass your TV, whoever you're with, you go, "Thank you, but it's a bad offer." "Thank you, but I'm too busy. Send it to Meryl. I'm too busy, why don't you try Meryl?" That lets them know you're still viable.
I guess what I'm trying to say is, I'm never bored in this city.