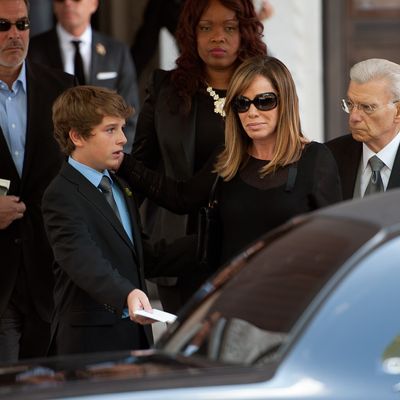 Melissa Rivers and her son Edgar Cooper Endicott attend Joan Rivers' funeral in Manhattan.
Photo: D Dipasupil/2014 Getty Images
Joan Rivers always wanted a big Hollywood sendoff, and she got it. Friends, family, and fellow celebrities gathered today at Temple Emanu-El on the Upper East Side of Manhattan for the legendary comedienne's funeral, while fans lined up outside for a glimpse of the event. Inside, the New York City Gay Men's Chorus sang Broadway tunes before Broadway star Audra McDonald sang "Smile." Howard Stern delivered the eulogy, calling Rivers a "best friend to the world" and joking that he hopes "Joan is somewhere chasing Johnny Carson with a baseball bat."
The guest list brought together Rivers's multiple worlds of fashion, television, theater, and comedy. TV anchor Deborah Norville, friend Margie Stern, columnist Cindy Adams, and Rivers's daughter Melissa also shared remembrances. Hugh Jackman performed at the end, and bagpipers from the NYPD played as attendees filed out. Other attendees included fellow red carpet commentator Kelly Osbourne, Sex and the City stars Sarah Jessica Parker and Kyle MacLachlan, Whoopi Goldberg, theater darlings Bernadette Peters and Alan Cumming, fashion designers Michael Kors and Carolina Herrera, Barbara Walters, Diane Sawyer, Kathy Griffin, and Andy Cohen.
The star-studded funeral is close to what Rivers quipped that she wanted for her funeral, which she wrote about in her 2012 book I Hate Everyone …Starting With Me:
When I die (and, yes, Melissa, that day will come; and, yes, Melissa, everything's in your name), I want my funeral to be a huge showbiz affair with lights, cameras, action … I want Craft services, I want paparazzi and I want publicists making a scene! I want it to be Hollywood all the way. I don't want some rabbi rambling on; I want Meryl Streep crying, in five different accents. I don't want a eulogy; I want Bobby Vinton to pick up my head and sing "Mr. Lonely." I want to look gorgeous, better dead than I do alive. I want to be buried in a Valentino gown and I want Harry Winston to make me a toe tag. And I want a wind machine so that even in the casket my hair is blowing just like Beyonce's.
Rest in peace, Joan Rivers. We hope you're wearing something fabulous.