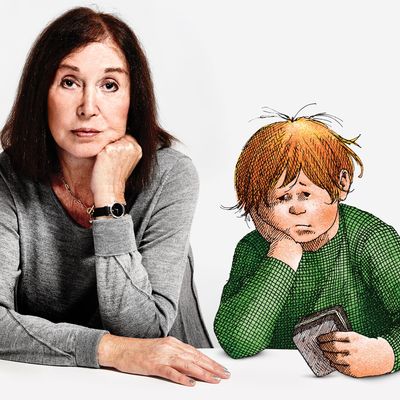 Photo: Bobby Doherty/New York Magazine
My editor told me I could go down to Washington on the train and go meet Judy, and I bought a ticket and went, and I got to talk to her and her husband and we had lunch and they were really nice. I thought I might meet her son Alexander or her other son Anthony or her other son Nick, but they were grown up and had to go to work. The train home was slow and the man at the snack bar was weird and mean to the lady next to me. He was nice to me, though. I got a Snickers bar.
There aren't many protagonists in children's literature like Judith Viorst's 6-year-old Alexander. He's been having a recurringly terrible, reliably horrible, no good, very bad day since 1972, when he slammed into the children's-book universe with a whiny yawp. Alexander is the rare junior protagonist who reads like an actual bright kid, cranky and charming by turns. He talks realistically, too, in run-on sentences that jump from enthusiasm to bleaggh and right back, and he's not shy about saying when his parents are annoying, or his brother is being rotten to him, or he's bored-bored-bored! There are no talking frogs or anthropomorphic mice in these books, and more than 7 million copies of them have been sold. In terms of canonical stature, Alexander has taken his place alongside Eric Carle's ravenous caterpillar and Mo Willems's wisecracking pigeon, and maybe even Maurice Sendak's Max and Dr. Seuss's nameless behatted cat.
Forty-two years into his 6th year, Alexander may be having his busiest stretch ever—and Viorst may be, too. Her fourth book about him, Alexander, Who's Trying His Best to Be the Best Boy Ever, has just landed in bookstores. So has And Two Boys Booed, the second in another line Viorst writes for FSG. A third book, in her Lulu series, arrived last spring. Biggest of all, on October 10 comes the Disney film of Alexander and the Terrible, Horrible, No Good, Very Bad Day, which stars Steve Carell, Jennifer Garner, and a young actor named Ed Oxenbould in the title role. "I don't know how this happened," Viorst says with a chuckle. "I do feel like a wholly owned subsidiary of Simon & Schuster at this point." Good stories don't grow on trees, though, and "I'm running out of children and grandchildren and old friends."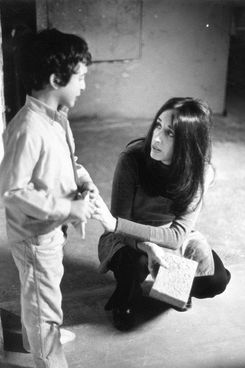 By way of explanation: Viorst's three boys are named Anthony, Nicholas, and Alexander, same as the boys in these books. Versions of the older two boys appear in her books as well. (I'll Fix Anthony is the one I read a thousand times as a kid.) Viorst is cheerful and up-front about raiding their childhoods for plot points. Real-life Alexander has a real-life daughter named Olivia, and "to my shame," she says, not sounding very ashamed, "when Olivia came back from camp, from the talent show, I said, 'How did you make out?' and she said, 'Two boys booed,' and instead of saying 'Poor kid,' I thought, Great book title." Alexander himself, interviewed over the years, has hinted that he's occasionally been a little weary of becoming a boxed set, but there's no Gone Girl situation here.
As for the old friends, they figure mostly in Viorst's books of poems for adults. Her verse is neither Eliot-heavy nor doggerel; it splits the difference, somewhere to the south of Billy Collins. There isn't really a category in the bookstore for this kind of writing: "Light verse with a serious streak? I can't even describe it" is what she says, admitting that she used to call them "my things" because they seemed nearly uncharacterizable. But when she sent a stack of her poems to this magazine's editors in the late '60s, having never had a single one appear in print, "they not only published them but they made me their sort of house poet." Over the next several years, New York readers regularly encountered her wry observations on marriage, affairs, divorce, parties, and urban life in general. Consider "True Love," published on May 13, 1968, which includes this passage:
It's true love because

If he said quit drinking martinis but I kept drinking them and

the next morning I couldn't get out of bed,

He wouldn't tell me he told me.

And because

He is willing to wear unironed undershorts

Out of respect for the fact that I am philosophically opposed to ironing.

And because

if his mother was drowning and I was drowning and he had to choose one of us to save,

He says he'd save me.
The column led to 11 books of poetry, most of them pegged to decades of a woman's life (It's Hard to Be Hip Over 30, How Did I Get to Be 40 & Other Atrocities, et al.). As her Alexander books continue finding fresh audiences with each new generation of children, her grown-up poetry tags along with its fans, who wait for the next decennial collection. One suspects that right now, a lot of grandmothers are enjoying Unexpectedly Eighty: And Other Adaptations as their 44-year-old children are reading Alexander and the Terrible, Horrible to their toddlers, who will turn around and do the same for their kids around 2050.
We meet at the handsome old house in Washington, D.C., where Viorst lives with her husband of 54 years ("headed for 55"), the author and Middle East expert Milton Viorst. Talk to her for five minutes, though, and her sensibility reveals itself to be pretty New York–y, so it's no surprise when she reveals that she was a Greenwich Village gal back in the '50s. "I don't think I shopped above 14th Street until I came back after I was married," she says. When she hooked up with Milton, he was already established in Washington. She moved in 1960 and had a tough couple of years adjusting to D.C. "I was very, very parochial—my friends used to say, when I was getting ready to leave the Village, that I was starring in a horror movie called I Married a Creature From Out of Town."
Through various stints she and Milton held as columnists (for the Washington Post and also the old Washington Star) and going to a thousand Georgetown cocktail parties, she warmed to the place, and now, she says, "I'm addicted." Grown-up, Real-Life Alexander lives close by with his family and is an affordable-housing lender who does triathlons on the weekends; the other boys are both lawyers, one a prosecutor in New York, one a former public defender. As for the movie, Viorst says she's optimistic, though she hasn't seen it or had much to do with it: "I certainly like the stars. And the kid playing Alexander is supposed to be really great." (Onscreen, Alexander is 11, probably because it's hard to find a 6-year-old actor who can hold a movie together.) "You know, it's their version of the movie. I already had my version," she says, referring to a charming stage musical that was produced a few years ago. "So I was able to let it go." But Real-Life Alexander and his mother will of course be at the premiere in L.A. next month. "And we were interviewed, to be put on the DVD," she says giddily. "We're special features!"
*This article appears in the September 8, 2014 issue of New York Magazine.