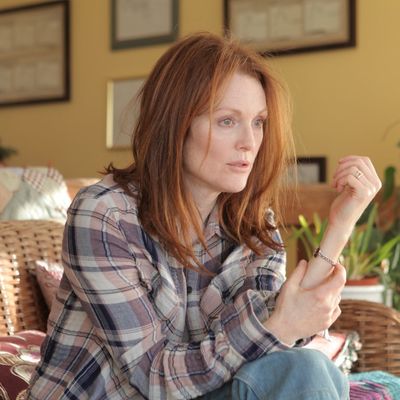 When the world first saw Julianne Moore's amazing off-the-rails performance in David Cronenberg's Maps to the Stars — as an aging actress and raging bitch who gets the role of a lifetime playing her dead, more famous actress mother — at this year's Cannes Film Festival, she seemed like a lock for an Oscar nomination. (She won Best Actress at Cannes.) But then Focus World, a tiny branch of the newly rejiggered Focus Features, picked up the U.S. distribution rights and announced it wouldn't release Maps until 2015. And with that, Moore's chances for an Oscar nomination this year vanished in an instant.
Or so it seemed. That was before anyone had seen her in Still Alice.
The movie, which premiered at the Toronto Film Festival and has been picked up by Sony Pictures Classics for release during this year's awards season, opens on Moore, as Alice, out to dinner with her husband (Alec Baldwin) and three grown children (Kate Bosworth, Kristen Stewart, and Hunter Parrish). It's such a joyous, celebratory gathering that it barely merits notice when Alice calls one of her daughters by her sister's name. A few days later, Alice, a renowned professor, gives a lecture she's clearly given countless times before, and mid-sentence, momentarily can't find her words. It turns out to be early-onset Alzheimer's disease, a rare, familial strand that means if any of her children carry the gene, the chances of them getting it too are 100 percent.
What could have easily turned into a Lifetime Disease of the Month special becomes a spare yet compassionate horror story of the disease in its brutality, anchored by Moore's performance as a brilliant linguist whose brain is dying and whose life's work, and even just base understanding of the world, is slipping away. "I can see the words hanging in front of me, " she says, "and I can't reach them." The Hollywood Reporter called it "a career-high performance." (Kristen Stewart, too, is a standout, showing a depth and kindness in her character's relationship with Alice that impressed even me, as someone who'd never quite understood her appeal before.)
Earlier this festival, Vulture Kyle made strong arguments for the Best Actress possibilities for Reese Witherspoon in Wild and Felicity Jones in The Theory of Everything, as long as Focus Features doesn't put her up for Supporting Actress. Add Julianne Moore to the field.