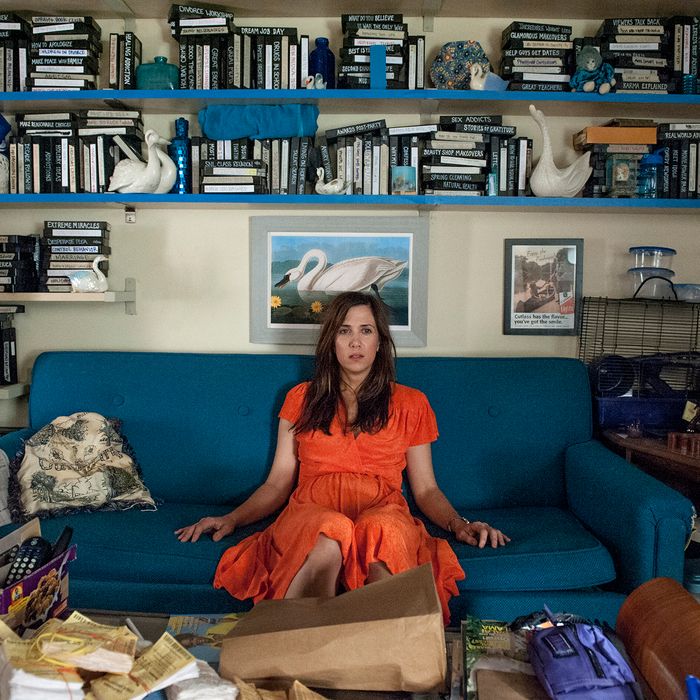 Have you been yearning for a completely bonkers, risk-taking comedy on the level of Weird Al Yankovic's 1989 cult classic, UHF? Well, look no further than Kristen Wiig's wonderfully wackadoo Welcome to Me, which premiered at this year's Toronto Film Festival. Although maybe don't make that comparison to Wiig. I did just that when I ran into her the night of the premiere, and she immediately turned cold and her publicist shooed me away with a dismissive wave of her hand.
Talking to my fellow reporters before the festival, they all seemed to have developed an allergy to seeing Kristen Wiig films at Toronto. I don't blame them; there's been a pattern. The past two Toronto film festivals, still glowing from her post-Bridesmaids heat, Wiig debuted consecutive attempts to branch out into more serious indie fare, with rather dreary results. In Girl Most Likely, she was a failed playwright who moves back in with her parents. In Hateship Loveship, she was a practically mute introvert. Those weren't just bummers for Kristen Wiig movies; they were bummers, period. I'm all for people experimenting, but Wiig seemed determined to eschew everything that makes her such an unique, dynamic, zany screen presence.
So it's been a relief to see her back to her old, funny form this year — without sacrificing the draw she clearly has toward depicting women who are having a rough time, mentally. She's terrific as fellow-ex-SNL-er Bill Hader's suicidal sister in The Skeleton Twins, in theaters this weekend. (Just try watching their epic lip-synching scene to Starship's "Nothing's Gonna Stop Us Now" without grinning from ear to ear.) And then there's Welcome to Me, which manages shocking hilarity while also being a moving and intimate trip into the mind of a woman whose unhinged mind is both a gift and an albatross. Bill Murray agrees with me, and The Hollywood Reporter, that the movie, which is produced by Will Ferrell, among others, and directed by Shira Piven — sister of Jeremy Piven, wife of Adam McKay, and director of 2011's Fully Loaded — is something special. "It's one of the strangest movies I've ever seen," he said at a Q&A the day of the premiere. "The bravery to make this movie is pretty impressive. It's quite a piece of work. I mean, the funny stuff is maybe bolder than anything we've seen in a very, very long time."
Wiig plays Alice Klieg, a former veterinary nurse with borderline personality disorder who's recently gone off her meds in favor of a high-protein diet and obsessively watches infomercials and VHS tapes of her idol, Oprah. Alice hasn't turned her TV off in 11 years, and she imparts her wisdom about nutrition and life to anyone who will listen, so when she unexpectedly wins an $86 million lottery jackpot, she's less excited about the money than the televised speech she gets to make — which gets cut off right as she says she's been using masturbation as a sedative since she was a teenager. Alice soon gets a chance to finish that speech, when she's picked from the audience of her favorite infomercial, featuring Gabe (Wes Bentley) selling some bogus enhanced food product in a safari hat, to participate in a demonstration. Gabe happens to own the failing cable network that's running his infomercials, along with his more business-minded brother Rich (James Marsden). By the end of the day, Alice has plunked down $15 million for 100 episodes of her own talk show, called Welcome to Me, which Rick, Gabe, and long-suffering showrunner Dawn (Joan Cusack) can't refuse. Her only requests are complete creative control and a guarantee that she gets to sing her own theme song and make her entrance on a swan boat.
What follows is a completely transfixing trip into Alice's head as she transfers everything going on in her head onto live TV. Segments include making a meatball cake with sweet-potato frosting, and eating it, in real time; plus countless reenactments of wrongs she's suffered in her life played by actors wearing signs over their necks to indicate who's playing whom. The show starts gaining a so-bad-it's-amazing cult following that sees Alice's emotional venting as performance art (one college kid who's decided to write a paper on her compares her to Cindy Sherman).
Wiig not only carries the movie, she goes further than she's ever gone for a lead role — you've probably heard the spoiler alert that she goes full-frontal nude in a harrowing scene where Alice hits rock bottom and goes wandering through the casino where she's moved since winning the lottery. Welcome to Me never makes fun of mental illness, and it's far deeper than anything in UHF, but I'd argue that the incredibly inventive depictions of Alice's shows are right up there with anything that's come out of Weird Al's brain. And whether or not Wiig agrees, that's the highest compliment I could pay to anyone.