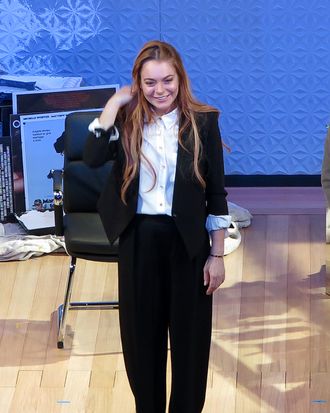 Photo: Splash News/Corbis
Aspiring comeback kid Lindsay Lohan suffered some first-night jitters during Wednesday's London debut of David Mamet's film-industry satire Speed-the-Plow, forgetting her lines on more than one occasion and reportedly eliciting "titters" from the West End audience. Colette Fahy and Bella Brennan described the mishap in MailOnline, writing: "While not an unmitigated disaster, the 28-year-old actress didn't appear to know her lines off by heart, reading some from a book while being fed others from the side of stage and her one main passionate speech only succeeded in causing the audience to burst into laughter, according to onlookers."
Tom Latchem at the New York Daily News called it a "shaky" debut, writing:
Looking pale and nervous, Lohan managed to hang on through her small but critical role as Hollywood secretary Karen — but only with the aid of some crew members offstage who shouted lines at her when she blanked on what she was supposed to say. She also relied on a book she clutched as a prop that had some of her script scribbled in it. A half-full house at the West End theater watched her struggle through the play that was supposed to be her redemption.
And this, from Nico Hines at the Daily Beast:
On the first night of previews, a work-in-progress feel is to be expected. But halfway through the second act of Speed-the-Plow, the audience was openly laughing at Lohan's struggle to grasp Mamet's sharp, trademark dialogue. After her first audible prompt, which came shortly after the interval, the audience sat patiently. The second led to titters in the stalls.
Naturally, audience members — some who no doubt showed up hoping for a Lohan blunder — were quick to share their reactions on Twitter:
Still, not everyone had such negative things to say about Lohan's performance, and it remains to be seen how she will be received once she's gotten more comfortable with her lines (official reviews from London press don't come out until the official opening on October 2nd). As Hines said: "Contrary to some of the Twitter reviews, this was no car crash. If Lohan can nail her lines in the coming days, this somewhat pedestrian interpretation of the Mamet classic certainly could find its stride."
We believe in you, Linds.