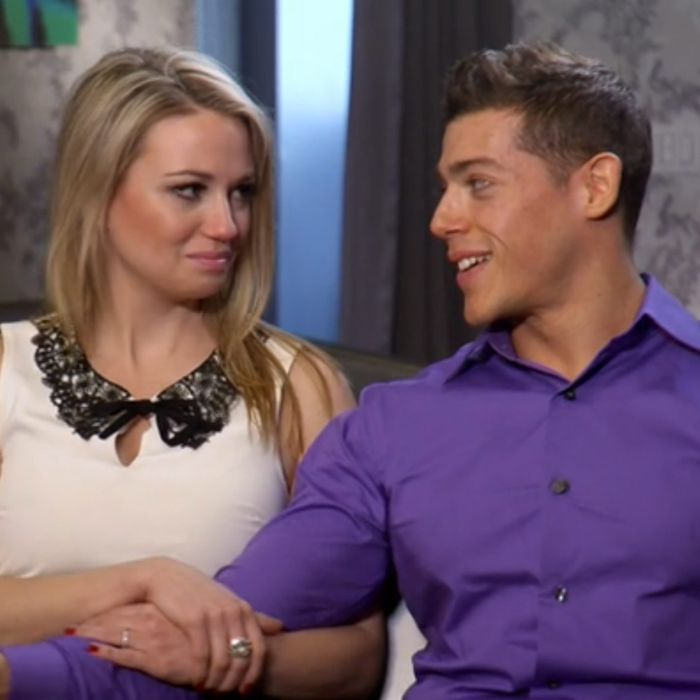 If you've missed Married at First Sight these past couple months, you'll be enthused to know the groundbreaking reality show is currently casting its second season. Or you should be, at least, because the news means you have plenty of time to catch up before season two begins. The FYI Network's (formerly Bio) standout original docuseries debuted in July and wrapped up its inaugural experiment last night. When the nuptials settled, two of three couples who were blindly matched and married by four experts — psychologist Dr. Joseph Cilona, sociology professor Dr. Pepper Schwartz (who does indeed go by Dr. Pepper), sexuality expert Dr. Logan Levkoff, and leather-jacket-favoring humanist chaplain Greg Epstein — decided to stick with their vows, while one pairing called it a divorce.
From the moment our daring participants — Jamie and Doug, Jason and Cortney, and Vaughn and Monet (the latter of whom ultimately parted ways) — met by the altar, through their weeklong honeymoon and four-week spell living together in cramped New York apartments, it was riveting stuff. Married took what could have been a sensational, desperate concept and executed a substantial, touching, and provocative demonstration of what happens when you turn notions of conventional Western romance on their head. And, naturally, it provided plenty of viral moments, melodrama, and voyeuristic fun. So, for the suddenly curious and the loyal viewer alike, here are 37 thoughts that sum up what made it so hard for us to turn a blind eye to Married at First Sight.
About that finale … 
1. Monet may have lost Vaughn as a partner and roommate, but at least she's regained sole domain over her dreary apartment.
2. Jesus, Jason, way to make a girl (and by girl, we mean audience of raptly attuned men and women) sweat.
3. That cramped-kitchenette dinner-date between Doug and serial reality star Jamie was a mighty step down from her Bachelor one-on-ones with Ben Flajnik (down to the handwritten note from Doug's folks in lieu of Chris Harrison).
4. And boy, does Doug love him some Italian-American cooking.
5. Speaking of a certain iconic reality-dating show, this two-hour sendoff certainly featured some Bachelor-worthy recap filler.
6. Although, for whatever it's worth, much of the show's appeal, right up to the end, came from its characters' anti-reality realness.
7. Jamie to Doug, sensitive to the end: "I was contemplating right up until the moment. I was like, 'Should I keep him?'" and, "I feel like if we were both in love that it would be really exciting."
8. But hey, Jamie provides Doug with "everything I hoped for in a wife" — sans sex, trust, and steadfast commitment.
9. Jason has to have a better male analogue for Cortney being his "wifey" than dubbing himself "hubs."
10. The writing was probably on the wall for Vaughn and Monet about the moment he rationalized to a friend that at least she's "not working at the mall."
11. Solid "Mr. & Mrs. Pillow" pillow, Doug and Jamie.
12. Okay, Cortney was pretty sweet blowing Jason that kiss and pledging to be Mrs. Carrion in her testimonial.
13. And Monet's foul mouth couldn't be cuter.
14. Vaughn's Monet-repelling lack of insight in a nutshell: "It definitely was life-changing. My life will never be the same because of it."
15. Surmising that this series has found another path beyond meeting and hooking up in a bar is a bold statement coming from someone named Dr. Pepper.
16. Although, in fairness, it outwits Greg Epstein's observation that moments are momentous.
And looking back on the entire journey …
17. The production choice to refer to Married's premise onscreen as an "experiment" was an interesting and crucial decision.
18. Jamie has incredible teeth for someone who grew up in impoverished, trailer-park environs.
19. Even Prince Valium was more appreciated at the altar than Doug.
20. If anything personifies how thoroughly Jamie has emasculated Doug, it would be naming their dog Lady.
21. Jason is basically the Brooklyn-Italian, bizarro doppelgänger of Sex and the City's Steve (i.e., we love Jason).
22. Something to hopefully look forward to next season: above-infomercial-quality interstitials.
23. Addendum to previous bullet: Perhaps some "Coming up on …" bumpers leading into breaks to avoid pure repetition when returning from them?
24. Okay, with the exception of Greg Epstein, those experts were so not in the same room as the couples during their intervention sessions. (And if they were: wide shot much?)
25. You know this show has some kind of transcendent, winning magic when it's most scandalous melodrama came from Doug fibbing about sneaking in a cigarette and Vaughn reducing he and Monet's rapport to a "civil" chemistry.
26. Your smooth talk can't fool us, Vaughn. We hear the emphatic drawl of that Lawn Guyland inflection.
27. FYI (meaning for the benefit of you, the reader, not as a means to call the so-named network's attention), Cortney's burlesque alter-ego is Aster Ritz.
28. And far as Jason's wrestling pseudonym, Jason Kross, they could have at least shown footage of the guy hitting a sweet finishing move. Then again, since he calls it the "Burning Kross," perhaps it was best left unaired.
29. All along, all the experts kept insisting how compatible Vaughn and Monet were while doubting Jamie's readiness for love. In retrospect, if the outcomes were cannily foreshadowed along the way, those were pretty good tells.
30. Ditto for Jason's less-than-mysterious Twitter feed throughout.
31. Trying to find ways to pick on Jason feels like Andy Samberg roasting James Franco and friends.
32. What really brought Chaplain Epstein's whole look together were the matching leather shoes.
33. It's still hard to understand what Monet was doing on this show, even after her admission once it was over that she underestimated her independence. Monet, call us.
34. Good luck with that whole "Finding a woman who will cook all your meals and not want you to commiserate over brunch with her friends" thing, Vaughn.
35. What this show lacked in viral moments, it more than made up for in almost unprecedented substance for the genre.
36. That said, wait till conservative groups get more of a whiff once FYI starts promoting next season, and cries of soullessness commence. (And now that Married's conceit's out of the bag, expect some truly loony love-seekers next auditions.)
37. Speaking of which, how soon does that second season start again? (Sadly, not till 2015, but in the interim, why not apply?)