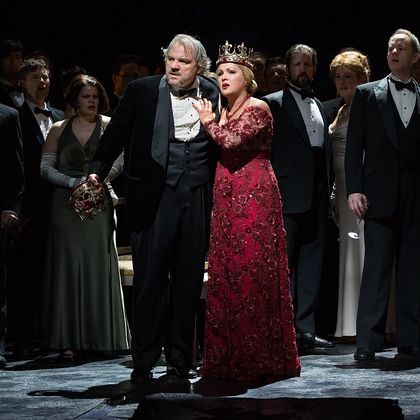 The Met's Macbeth.
Photo: Marty Sohl/Metropolitan Opera
Observed from afar, the opera world looks like a strange, turbulent planet populated by tantrum-throwing, bouquet-catching, window-shattering creatures called divas. Zoom in closer, though, and it's clear that those mythic singers are thin on the ground. Once, they were essential to opera's mystique and economic health. Operagoers revered them, and even non-operagoers knew their names, thanks to a media machine obsessed not only with glamour but also with prestige. Time magazine put Marian Anderson, Nellie Melba, Helen Traubel, Maria Callas, Renata Tebaldi, Beverly Sills, and Luciano Pavarotti on its cover (back when Time's cover also had immense glamour and prestige). Compared to their forebears, today's divas are dwarf stars, still capable of musical miracles but not of quickening a paparazzo's pulse or even of reliably selling out a house. The entertainment world has diversified and fragmented, shoving an art form full of potboilers and tearjerkers into a rarefied high-culture corral where it doesn't remotely belong.
The Metropolitan Opera is trying hard to warm itself by the heat of its cooling celebrities. Anna Netrebko, the current queen of sopranos who has headlined opening night three seasons in a row, is now oxygenating a sparking revival of Verdi's Macbeth. That production also features the magnificent bass René Pape, an artist of vast and staggering talents who had the Met's immense stage to himself on Sunday when he joined the tiny elite who have given a solo recital there. The company deploys both singers' photogenic faces in ad campaigns. Not even these stars have much gravitational pull left, though. It's true that Netrebko crops up regularly on magazine covers, but the titles — Opera Now, Opera News, Gramophone, German Wellness, and Russian Tatler — don't exactly testify to her mass appeal.
Dimmed star power can be a good thing for audiences, because it means that there are still tickets available for Macbeth, whereas in earlier generations it would have sold out immediately. Adrian Noble's production is modern-ish (trench coats, semiautomatic weapons, a chorus of handbag-wielding witches), but the music brims with old-fashioned Verdi, full of blood and iron. Conductor Fabio Luisi herds his premium polyglot cast — the Russian Netrebko, the German Pape, the Serbian Željko Lucic in the title role, the Maltese tenor Joseph Calleja as Macduff — into a genuine Italian style. Tempos relax and tighten as the text suggests, lyric melodies pour in a glistening stream, and the fiercer arias come to a sulfurous boil. The whole cast is strong, but it's Netrebko's show. She incarnates the sanguinary Lady Macbeth with such snarling and elegant savagery that she seems almost to be campaigning for the opera to change its name. I have not always found her onstage antics convincing, but her voice has darkened as her musicality has matured — or maybe she was just born to sing this role. In any case, her performance is an explosion of graceful filigree, scalding arias, and vocal intensity — the kind of astronomical phenomenon that in a different decade would have earned her a halo of pop-culture glitz.