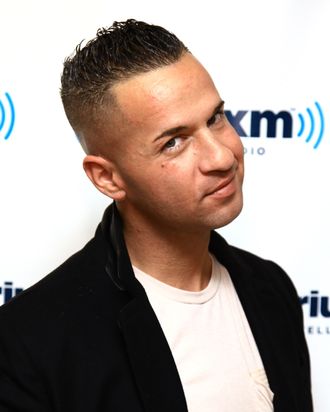 Mike "The Situation" Sorrentino visits SiriusXM Studios on January 11, 2012 in New York City.
Photo: Neilson Barnard/Getty Images
Time to dust off those "bad situation" puns: Jersey Shore's Mike "The Situation" Sorrentino and his brother and manager Marc Sorrentino were charged with tax fraud in a seven-count indictment released this Wednesday for failing to pay taxes on approximately $8.9 million in income. The brothers pled not guilty to the charges, which include filing false tax returns from 2010 through 2012 and conspiracy to defraud the federal government. "The brothers allegedly also claimed costly clothes and cars as business expenses and funneled company money into personal accounts," U.S. Attorney Paul Fishman said today. If convicted, Mike would face up to 11 years in prison, with Marc looking at up to 14 years. GTL: gym, tan, lawyer up, guys.