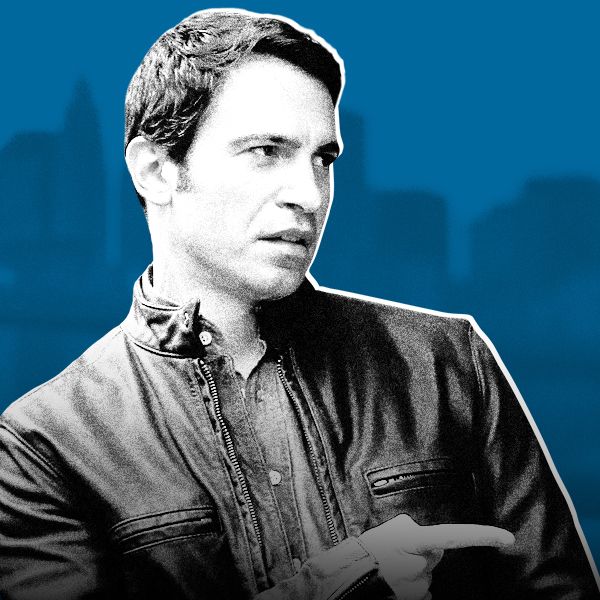 Photo: Maya Robinson and Photos by FOX and Getty
Thank you, Mindy Kaling, for the gift that is Danny Castellano. In an age where every New Yorker on TV is a hot-dog-eating cartoon — plastic housewives, greased-up sleazeballs, gum-snapping Mafia girlfriends — The Mindy Project's Danny feels like a real person. A fast-talking, smooth-dancing, undershirt-wearing mama's boy from Staten Island, he also happens to be played by Long Island's own Chris Messina, who rocks perfect outer-borough pronunciation. This is rare. As Vulture's resident Staten Island native (FYI, Port Dogkill is not a real place), I have taken it upon myself to applaud the Mindy writers for creating such an accurate portrayal of someone born and bred outside of Manhattan.
"Ma? Ma? Ma!"
Danny has a very close relationship with his family. He practically raised his little brother ("Look at him, he's got the Castellano curse! He's got a perfect face."), and every time he mentions his mother, you can just hear the admiration. He swats her away from attending an art exhibit of his nude photographs ("Yeah, I know you've seen it, but I was a baby. It's changed."), and when told by a rabbi that he must make his mother very proud, he smiles and says, "Who knows how to please that woman?" Been there, bro." And I just know that Rhea Perlman will be perfect as Danny's mom with her Brooklyn accent and fierce side-eye. Let's hope she has a collection of terrycloth tracksuits from New York & Company and charges everything on her Macy's credit card.
"I'm so Catholic, I don't even trust this new pope."
If you're from New York, there's a good chance you believe in something. Strongly. If you grew up here, chances are you had been to a christening or a bat mitzvah by the time were 14. On Mindy, Danny's level of Catholicism is somehow made to be one of his most endearing qualities: He goes to church every Sunday, has very strong feelings about the new pope ("Why's that guy so chill?), and has his local priest over for dinner five times a week ("max"). Plus, isn't it nice to see a Catholic TV character that isn't a handsy priest, a cruel nun, or a sexually frustrated housewife? Amen.
"Don't you dare disrespect my pizza oven!"
The No. 1 NYC obsession? Food. We have the best and we know it, and let us tell you all about it. Like any good New Yorker, Danny knows a good meal and has opinions. He's offended when his childhood friend suggests he only eats "fancy" pizza now, and he's even further insulted when his brother implies his pizza stone isn't at the right temperature. And I know you all want his mom's recipe for homemade chicken-noodle "zuppe." Perhaps his most telling food-related moment came as he angrily watched Detective Charlie stir a pot of sauce. For a man like Danny, there is no greater threat to his manhood than a superior marinara recipe.
"It's a Springsteen show. Not a Bruce Springsteen concert."
New Yorkers are all about classic rock. There's a reason Billy Joel has a standing appointment at Madison Square Garden. Danny has a ton of respect for Bon Jovi ("He got us through Sandy"), an Eric Clapton poster in his office, and only allowed his wife to release naked pictures of himself because he was distracted by the Kennedy Center honoring Cream. Have you ever been to a wedding in Brooklyn? We teach them from a young age that dancing is a great way to pick up girls, and Danny's childhood as a "primo ballerino" with a history of dance recitals is practically run-of-the-mill.
"De Blasio's been mayor for a couple of months and now we're suddenly living in Baghdad?"
"Who will explain Colbert to me?" Danny asks when he and his ex-wife split for good in the beginning of season two. He tends to be a bit politically conservative, as most folks from the outer boroughs are ("The city used to be so much cooler when anyone could get mugged at any time."). He has strong opinions on every NYC mayor, not to mention a head shot of Rudy Giuliani in his desk drawer. When Mindy tries to get his attention, she uses this old standby: "Giuliani is running for mayor again." He marks the passage of time with: "I was like 1 year old when Lindsay was mayor." And just like my dad, Danny reads the New York Post. Religiously: "I saw a headline in the Post today, it said, 'Newsflash: You're Staying at My Place Tonight.'" Well, if it's in the Post, then sure.
"Dude, aren't you from here?"
Danny doesn't know where the Empire State Building is. The ESB is the NYC equivalent of the North Star — we all know where we are in the city given our relative proximity to it. You look up, you see it, you're good to go. "Dude, aren't you from here?" Morgan asks. But true New Yorkers don't need the sights; we live here.