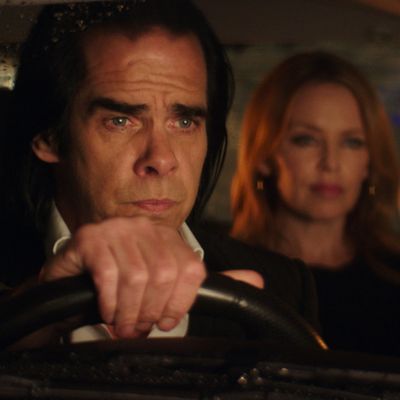 What the heck do we call this one? British visual artists Iain Forsyth and Jane Pollard's film portrait of Australian rocker Nick Cave isn't really a documentary; it's too staged and composed, and too crazy, for that. It's certainly not a concert movie; there's surprisingly little music in it. It's not fiction, either; not really. And yet I'm also hesitant to call it nonfiction — the obvious choice – because so much of it feels like a projection of Cave's own rock-star persona. We're not getting the real Nick Cave in this movie, but nobody's really pretending we are.
The ostensible idea behind the film — to chronicle Cave's 20,000th day on this Earth as and his band the Bad Seeds goes about preparing their latest album Push the Sky Away — is only a loose skeleton around which Forsyth and Pollard create various scenarios that allow Cave to talk about his past. How much of that is a variation on the past that Cave wants us to see? All of it, probably, but no matter: This is a film that opens with a carefully lit, very composed shot of Nick Cave waking up in bed next to his wife, looking pretty much exactly like Nick Cave (huge head of black hair slicked back, eternal grimace on his face, etc.). It clearly presents itself as illusion right from the get-go.
But it's not without moments of touching forthrightness. Intercut amid various bits of rehearsal and recording and riffing are scenes of Cave driving his Jaguar around Brighton and imagining various conversations with figures from his career. Their discussions are candid and fascinating: Actor Ray Winstone, who appeared in the Cave-scripted Western The Proposition, shows up to talk about the nature of performance and of becoming someone else; Blixa Bargeld, a longtime member of the Bad Seeds who left abruptly in 2003, finally explains his departure; and Kylie Minogue, whose duet "Where the Wild Roses Grow" gave Cave one of his biggest hits, has an intimate chat about her fears of loneliness. These artists have a lot to say about the all-consuming nature of performance and of creative work — of the fragile chemistry between performer and fan, and how each feeds off the force of the other in a dangerous, wonderful exchange. Elsewhere, Cave and his close collaborator Warren Ellis have a funny chat over eel pasta about the time they organized a concert with an aging, cantankerous Nina Simone, and how she became something shockingly powerful onstage.
20,000 Days on Earth is at its best when it lets others talk. Throughout the film, we also see Cave's conversation with a Freudian psychoanalyst (in reality, author Darian Leader), discussing his childhood. The room they sit in looks like an office, but is soon revealed to be a set. That the artifice is exposed, however, can't quite cover for the fact that Cave is very consciously still presenting a version of himself; even in the guise of therapy, he is in full-on rock-star mode. Similarly, we also see our man visiting his archive (also, as it were, a set) and looking over old photos of his career, particularly with the seminal Aussie punk band the Birthday Party. ("There's a great photo of Terry being urinated on, do you have that one?")
Throughout, the film tries gamely to avoid becoming the kind of promotional enterprise so many rock-docs turn into. Given the needs of access and modern stardom, of course, it's impossible for this type of movie to entirely avoid that fate (unless reality intrudes on the project in unexpected ways, as in Metallica: Some Kind of Monster). But there's also too much play and invention here for the film to be dismissed as just another glorified DVD extra. Certainly for any fan of Cave's, 20,000 Days on Earth makes for a creative, enthralling journey through the man's world.