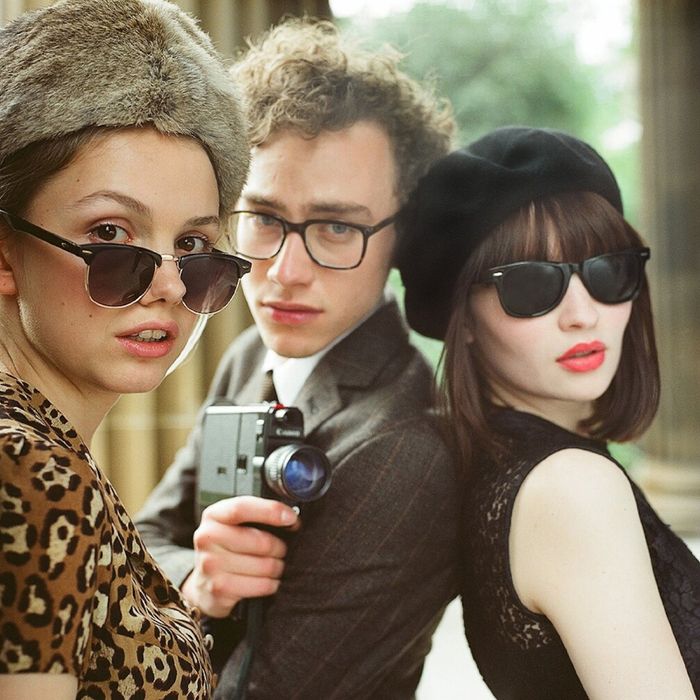 Photo: Courtesy of Sundance Institute
Chances are, if you don't find yourself with an overwhelming need to strangle every single person onscreen, you might actually like God Help the Girl. Written and directed by Belle and Sebastian front man Stuart Murdoch, this emo musical might be the most Belle and Sebastian–y movie imaginable. It tackles subjects such as depression, mental illness, and anorexia — as well as romantic jealousy, coming of age, and the joys of creating beautiful art — and fuses them with adorably ramshackle song-and-dance numbers. And how you respond to those numbers will determine how you respond to the movie.
Our heroine is Eve (Emily Browning, never more luminous), a young Glasgow anorexic who one night runs into James (Olly Alexander, never more nerdy), a guitarist whom we first meet arguing with his bandmates onstage. (A funny, throwaway visual gag: Right before they throw down, he and his drummer take off their horn-rimmed glasses.) This world of musical wonder is exactly what the sad, submerged Eve needs. The warm, inviting glow of clubs, the pleasant domesticity of James's world stands in sharp contrast to the dim, drab institution she comes from. Outside the hospital, it's all kneesocks and porkpie hats and the casual signifiers of hipster perfection. And the dance numbers are noncommittal, adorably dorky, casually sexy — bringing to mind the now-we-care, now-we-don't moves of Godard's A Woman Is a Woman and Woody Allen's Everyone Says I Love You. These people dance and sing the way they live — with a weird mixture of grace and uncertainty, masking shyness and longing.
The lyrics, too, have that same slightly rough, lived-in quality. At one point, the lovesick James sings to Eve as she takes a bath: "Please allow me to scrub, please allow me to rub … Dry you gently, dress you tenderly … You've got a nice face/It is crumpled and creased/from the way that you sleep." Coming from anyone else, it would be creepy and stalkerish. But James is thoroughly nonthreatening: When he talks of running for city council, Eve tells him he's "too feminine."
The plot mostly concerns the attempts of Eve, James, and their free-spirited friend Cassie (Hannah Murray) to write some songs. For Eve, though, this isn't a case of artistic ambition so much as it is a deep, psychic need. Early on, one of her therapists draws her a pyramid with essentials such as food, water, and shelter at the base, and nice-to-haves like art and music up at the top. Eve says nothing, but we understand that, for her, music is as essential — in fact, even more essential — than food or water. Music has become the air she breathes, and she and her friends are willing to devote their lives to it. "Many men and women have lived empty, wasted lives in attics trying to write classic pop songs," James tells Eve, approvingly. "What they don't realize is that it's not up to them to decide. It's up to God." Then, because movies like this aren't allowed to be too earnest, he adds, "Or the god of music. Or the part of god that deals with music."
Well, the music gods have smiled on God Help the Girl, because for all the thinness of its plot and the not-entirely-original quality of its characters, it's blessed with beautiful, perfect, soft pop songs — and I say that as someone who's mixed on much of Belle and Sebastian's work. (In fact, I may have even heard some of the songs from God Help the Girl before and immediately forgotten them.) For all its frayed predictability, the film actually enhances the music, gives it life, definition, and consequence. It's an inviting, approachable world that Murdoch creates for us — still a total fantasy, of course, but one with a veneer of plausibility. Get on its wavelength, and you'll be utterly charmed. Don't, and you'll run screaming from the theater.