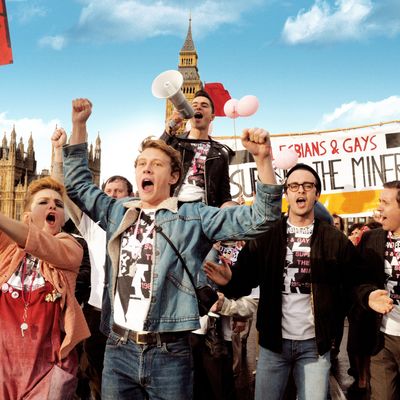 If Pride were a politician, you'd want to vote for it, march for it, and sign up to make calls for it. This rah-rah-union, rah-rah-gay-rights, boo-hiss–Maggie Thatcher ensemble comedy-drama is a dazzler, one of those perfectly engineered crowd-pleasers like The Full Monty and Little Miss Sunshine that proves once again how movies are a great populist art. Is it a great piece of drama? Not really. It's too tidy, too one-sided. But given that the second side is made up of homophobes and Thatcherite Tories, I didn't much give a shite about balance. You?
The film, directed by Matthew Warchus from a script by Stephen Beresford, takes place in 1984 during a nationwide U.K. coal-miner strike that Thatcher set out to break. The hook — a true one — is that way down in the wilds of bohemian London, a gay activist named Mark (Ben Schnetzer) had a brainstorm. The miners are marginalized, he thought. Gays are marginalized. Why not make common cause and raise money for strikers and their families? So he forms an organization called "Lesbians and Gays Support the Miners," or LGSM, which someone says isn't a catchy name and, he says, "It's a support group, not a skiffle band." This is 1984, remember, when there were skiffle bands. Also the Smiths and Bronski Beat. Also, alas, AIDS — before there were treatments.
The first act of Pride follows Mark and the LGSM as they phone one striking mining town after another in hopes of arranging a meeting. Hang up follows hang up — until an elderly woman in an empty hall in South Wales doesn't hang up … because she can't quite hear. The amiable Welsh leader, Dai (Paddy Considine), makes the trip to meet the LGSM and, once he gets over his surprise, confesses that he's "never met a gay." Mark says, "Not that you know of."
What a cast Pride has — some of the best famous actors in Britain and lesser-known younger ones that will (soon) take their place in the firmament. Bill Nighy, Imelda Staunton, Paddy Considine, Dominic West (McNulty from The Wire as a raucous transvestite!), and Andrew Scott — the flamboyant Moriarty from Sherlock — as West's fearful, anti-flamboyant partner. But the younguns hold their own and then some. Schnetzer is amazingly likable as the moon-faced, pompadoured Mark. Faye Marsay is the flame-haired Steph, who becomes the LGSM's first "L." George MacKay — who looks like a young Bruce Davison — is the slender male ingénue, Joe, who sneaks away from his family's house in the middle-class suburb of Bromley to find a more accepting family. They accept him, but also insist on calling him "Bromley."
Considine's Dai is a sweetie, but the filmmakers signal from the start that the alliance will be a tad iffy. Many of Mark's gay friends won't help him; they say that where they came from, miners were the ones who reliably beat them up. And the miners — well, most of them can't abide being in the same rec hall with the "poofters." One of the film's best scenes is set, in fact, in a South Wales rec hall, where plumed gays and lesbians stand awkwardly on one side while ashen-faced men stare darkly at them over their pints. That's when someone has the good idea to put on a disco record and let the poofters dance.
Okay, Pride is sweetened, and its vibe is probably too upbeat. Older Welsh women cluck over the lesbians — they want to hear all about their vegetarianism, etc. They happen on the lesbians' dildos and have themselves a gay old time. There are jokes your grandmom will like, but that's not a knock on the jokes — or your grandmom, who might (who knows?) be a closet lesbian. The movie has plenty of harsh notes — disappointments, rejections, ineradicable bigotry (passersby spit on gay people), even vicious assaults. The South Wales village in which the activists find themselves has one anti-gay widow (with an excruciatingly bad hairdo) who gets the word out to a Rupert Murdoch publication (natch) that fairies and sodomites have infiltrated the union. That upsets the union higher-ups. Again, it's 1984. Neil Patrick Harris is 11.
Pride gives you another chance to marvel at the brilliant minimalism of Bill Nighy. As the miners' shy treasurer, he can break you up just by walking through a door — he seems disconnected from his long limbs, the Frankenstein monster as a dotty uncle. Dominic West nearly dances off with the film: It's not the character's exhibitionism that grabs you, but his mixture of fabulousness and sour cynicism. Andrew Scott's circumspection is supremely eloquent. I could go on and on about the supporting actors, particularly Jessica Gunning as the hefty Welsh wife and mother who evolves into a real leader — but I'm turning into a cheerleader here. It works on you, this movie. Nearly every line makes you cackle or puts a lump in your throat or both — and it's not easy to cackle with a lump in your throat. You end up making weird tubercular sounds.
I imagine that director Warchus and writer Beresford know their story is even more radical now. Gay rights might be on the upswing, but despite the efforts of Bruce Springsteen, Bono, Billy Bragg, et al., unions are more culturally marginalized than ever. What Pride gives them is the gay imprimatur. It gives them fabulousness.