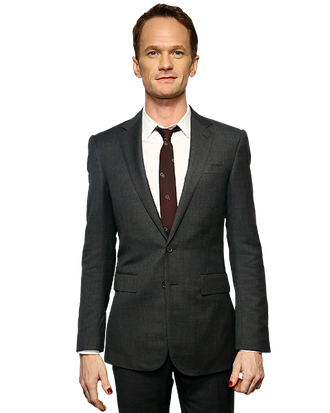 Photo: Astrid Stawiarz/Getty Images
Now that he has wiped all the glitter off his face from his successful Broadway run in Hedwig and the Angry Inch, Neil Patrick Harris is figuring out what to do next. There are a lot of options! His first stop was to team up with LG Electronics to serve as an art ambassador and advisor for a digital arts competition in which students from nine schools use Ultra HD 4K resolution as the canvas for their creations. (The winners will be displayed at the Art of the Pixel Gala at New York's Gotham Hall on September 17.) While he eagerly awaits the unveiling of the winner, NPH took a break to chat with Vulture about the program, passing the Hedwig torch to Andrew Rannells, creeping people out in Gone Girl, and how he'd be a perfect fit for American Horror Story: Freak Show.
Are things finally getting back to normal, now that you're done with Hedwig?
It's so funny — I thought when the show was over that I'd get to sleep in and have my life back, but as it turns out, this week, I'm getting up earlier because I don't get to sleep in to protect my voice. And all the things I haven't been able to schedule because I've been doing the show, now I have to actually do them! So now I'm looking forward to next week, when I can drink all day. [Laughs.] And, oh! Waffles! Waffles and chicken. I'll just have waffles and chicken every day and gain some weight. That sounds delicious.
I'm amazed you did the whole run without an understudy, especially when you factor in how many people you were kissing in the audience and your increased chances of infection.
Right?! I hear you. I ended up making out with 137 people. Which was not nearly as disturbing as the fact that I licked the stage, the floor of the stage, 137 times. That's where most, if any, infection came from. I've never been on more handfuls of vitamins and trace minerals and pills. I think I did five rounds of antibiotics during the show? Just to make sure I was going to get through it. There were thousands of people who wanted to see the show, and I'm only there for a finite period of time, so I didn't want to have to fall out, because that meant they would have to reschedule or not be able to see it, at least not with me.
Were you able to give Andrew Rannells any tips before he started? Or were you just like, "Good luck, dude!"
I honestly … I thought that we would have more of a constant dialogue about the minutiae of the show. But then I quickly realized that Andrew has (a) already performed it once before, in Austin, Texas, back in 2002, I think? And (b) he's super talented in his own right, and has already done Broadway shows. So the learning curve is more individual, and he doesn't really need my help, to be honest! He's going to be great. But he has an open invitation to call and ask me any little things as far as, "Where do you put your hands during that quick change?" and "How do you recover from this quickly?" I think I was blindly assuming that my way was the only way, [chuckles] which I think is a touch narcissistic, and I quickly realized once I wasn't doing it anymore, Oh! I'm sure there's another way to do that fast change, that quick change, without harming yourself. Hedwig, she is one tough cookie, and I will miss doing the show. That's going to be one of the great things I get to take with me my whole life. It was just so physically transformative, and I'm only just now getting the hair back on my arms, and getting some weight back on my frame. You know what I mean? I'm now in recovery! I'm turning back into guy mode.
I can't imagine transforming myself back … unless it was just singing? Some rock 'n' roll gigs? But even doing it, I don't know what the exact tally was, almost 140 shows, the songs never got old to sing. Even if I was stressed vocally or in a bad place in my head, the songs are fantastic. So any opportunity to revisit singing those songs, I would definitely take it.
You can't put songs through this thing, but you had a cute spot where you transformed all these images with LG's Ultra HD 4K Resolution. What do you think it would look like if you put through your nude selfie, or your portrait at Sardi's?
[Laughs.] Well, they'd look infinitely better on those monitors. I'm kind of blown away by that technology and where it's headed. I come from the video-game world of Atari, so I see the pixelization of games and content, and I love watching it grow and flourish. I bought the goggles. I'm into the hologram world. So the nerd part of me was impressed by the technology, and then when I saw what could be accomplished with these screens and was asked to encourage art students to go outside of their normal skillset to create something with that technology, I was onboard from the beginning. I thought it was a great idea.
Well, you had some good advice for them, and some good quips. Your favorite medium — clairvoyance?
[Laughs.] True. Better than telekinesis.
Maybe you'll actually get to play a clairvoyant if you join American Horror Story: Freak Show for the role Ryan Murphy offered?
Ah! Wouldn't that be something?! Originally, I said I didn't want to work for the second half of the year because of Hedwig, and [my husband] David [Burtka] is understandably wanting to hold me to that because I've been fairly busy and incommunicado for most of the last decade. I'm not complaining about it, but I'm not sure when Freak Show films. I just watched the end of American Horror Story: Coven, and not only is the content amazing, the conceit of the show, but the people that they have are extraordinary! Jessica Lange is so good! All of them, they're all uniformly talented. So to get to play in that sandbox would be a great bucket-list moment. Who knows if it's going to happen, but it's cool to think that it might. Even if it doesn't work out, I'll be first in line. I'll probably be the first person to watch it when it comes out. I can't wait.
If you don't have time for a full-on role, perhaps you could do a quick cameo? You could be the Stevie Nicks of Freak Show.
I could be the what?! Oh, right! That's a fantastic idea. That would be awesome. Ooooh … I do have a two-headed cow fetus in a jar in my office. [Laughs.] If that doesn't prove my deep-seated love and commitment to all things freaks, I don't know what does.
And if you did a cameo on Freak Show, it would balance out how people already think you're going to be creepy in Gone Girl.
I think it's funny that people think I'm creepy in Gone Girl when they've only seen the trailer, and I only have one sentence! And it's not even a creepy sentence! I'm just saying a regular sentence! So I don't know if I should be insulted by the fact that my being in a trailer where I just say one line … and I think the line is just, "I wanted to help," or "I just wanted to help." How is that creepy? How is that something? Should I be worried? [Laughs.]
It's probably because they know more about the book character, and they think he's got something weird going on with his mom as well. And they don't know yet whether that quasi-incestuous element is in the film or not.
Agreed. That character is not in the film. But maybe it'll be a spinoff! Desi and his mom! Who turns out to be Jessica Lange! Boom! Full circle!
Were you warned beforehand that David Fincher likes to do a huge amount of takes per scene?
You know who I asked about that before going in? I reached out to Kevin Spacey, during that opening thing I did at the Emmys, "What's up with David's work ethic? What's with all the takes?" And he said while some might find it maddening to do the same thing, the whole scene, take after take, he appreciated that what David was after was the idea of distilling all of the other little things, making everything else less random. He distills it down to the core intentions of the scene and the moment and what he's trying to convey. So often when you really finish the scene, you feel like you got what it meant and you understand the base ideas behind it. I loved hearing that, and it made me more comfortable with it, so I wasn't thinking, What am I doing wrong? Why can't we get it right? It helped me to stay in the flow of the scene. And you don't often to get to feel that in movies! I weirdly got to feel that way in Hedwig, onstage, because I was doing the whole show live, but moviemaking is weird and out of sequence. So I learned to just listen to the master and do what he says. [Laughs.]