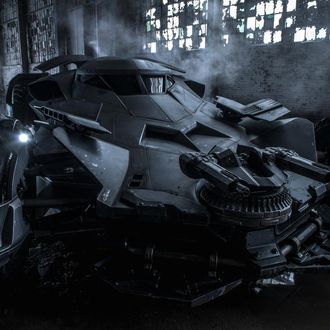 When J.J. Abrams and Zack Snyder signed on for the latest installments of the Star Wars and Batman franchises, respectively, they didn't just inherit billion-dollar brands. They also inherited the Millennium Falcon and the Batmobile. Now, thanks to some leakers and a British guy who accidentally flew over the Star Wars set, we've got brand-new glimpses of the toys.
Here's the reborn Falcon, courtesy of an English flying instructor who located the Episode VII set at the former RAF base Greenham Common. It looks … pretty much like the Millennium Falcon. (The left half of the spaceship, we assume, will be filled in with lens flares.)
To avoid his own leaks, Batman v Superman director Zack Snyder took marketing into his own hands, releasing another preview image of the Batmobile on his Twitter account. The full view is more Nolan-y than Nolan — any Tim Burton influences we might have detected earlier seem to have disappeared completely.
Think of this post as a preview of what the toy aisles of the future will look like.