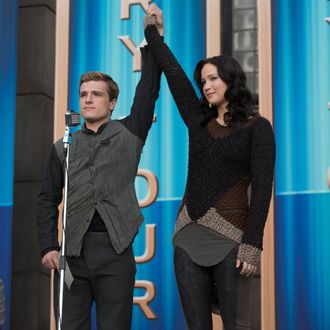 At the beginning of (and throughout) every month, Netflix Streaming adds new movies and TV shows to its library. Here is a quick list of several that you might be interested in. Some of these were added halfway through or near the end of September, but we're going to include them in this roundup anyway, since you may have missed them. Some of these may also have previously been on Netflix, only to have been removed and then added back. Feel free to note anything we've left out in the comments below.
Gilmore Girls (The Complete Series)
We're a little gaga for Gilmore Girls. For as many fans as Amy Sherman-Palladino's WB show wrangled over its seven-season run, there was never enough acclaim. So excuse us for detailing the show's dramatic nuance, revisiting its mother/daughter relationship, arguing about the Gilmore Girls boyfriends, picking Sherman-Palladino's brain, and quizzing those in the know on GG minutiae. Fluff up that couch pillow — it's time to meet Lorelai and Rory and get your binge on.

The Hunger Games: Catching Fire (2013) (Available October 22)
If the thought of this November's third Hunger Games movie (Mockingjay — Part 1!) has you mourning the death of adulthood, suck it up and indulge these YA juggernauts — they're pretty darn good. Joining the 2012 installment, director Francis Lawrence's superior Catching Fire arrives to Netflix as a refresher for what's to come in the threequel (which looks even grander and more frightening than this second installment).

In a World … (2013) (Available October 7)
Slowly creep back from Panem to the real world with Lake Bell's charming dramedy about a voice-over artist vying for a faux-Hunger Games trailer narration gig. That's the most ridiculous element; Written, directed, and starring the Childrens Hospital star, In a World … explores how people deal with expectations — from parents, from siblings, from men, from women, from society, from self. Bell and Demetri Martin make a great rom-com couple.

E-Team (2014) (Available October 22)
Members of the "Emergencies Teams" are like suburban spies. When they're home, they're raising families and paying bills. When they're on the clock, they're jetting off to war zones, embedding themselves with endangered locals and exposing truths the media are busy ignoring. Debuting on Netflix, Katy Chevigny and Ross Kauffman's documentary gives a face to global injustice and the men and women who risks their lives to expose it. Exhilarating and touching.

Bad Johnson (2014)
Today in "wow, okay, sure, if you say so" premises: When a chronic cheater wishes his penis would stop ruining his life, the member untethers itself from his body and takes human form. Like Big, but with a magical dong. (Read our story about the movie's screenwriter, who moonlights as a go-go dancer.)

Kramer vs. Kramer (1979)
Yeah, directors always want verisimilitude and honesty, but how many take the time to mine it? Robert Benton's familial drama is basically 3-D emotional entertainment, its compassion and thoughtfulness drawing the audience into the messy unraveling of a divorcing couple (Dustin Hoffman and Meryl Streep). We know these people, we've seen this situation. In these instances, we pick sides, but Kramer vs. Kramer demands our empathy. Deciding custody is almost as bad as Sophie's choice (okay, maybe not that bad). In Kramer vs. Kramer, everyone's right and everyone's wrong. I'm shedding tears just thinking about it.

Carrie (2013) (Available October 2)
The recent adaptation of Stephen King's debut novel doesn't compare to the De Palma original (also available on streaming, thankfully!), but Boys Don't Cry director Kimberly Peirce has enough of an eye for thrills to make its conclusion a step up in the spectacle department.

Django Unchained (2012) (Available October 25)
The Antebellum South meets the Old West in Quentin Tarantino's most recent genre riff. Jamie Foxx got all the badass lines and fulfilling kills, Leonardo DiCaprio showed off his darker side, and Christoph Waltz won an Oscar, but Django Unchained was really Samuel L. Jackson's movie. No amount of B-movie schlock that can undercut the caustic bravado of his elderly house slave, Stephen.

The Boxcar Children (2014) (Available October 3)
They turned Gertrude Chandler Warner's orphan novels into a straight-to-video cartoon? They turned Gertrude Chandler Warner's orphan novels into a straight-to-video cartoon.

New Seasons of TV:
The 100 (Season 1) (Available October 22)
Arrow (Season 2) (Available October 8)
The Carrie Diaries (Season 2) (Available October 25)
The Following (Season 2) (Available October 7)
Freakshow (Season 2) (Available October 23)
Hart of Dixie (Season 3) (Available October 7)
Hostages (Season 1)
Last Man Standing (Season 3) (Available October 18)
The Originals (Season 1) (Available October 3)
Parks and Recreation (Season 6)
Raising Hope (Season 4) (Available October 7)
Reign (Season 1) (Available October 2)
Sons of Anarchy (Season 6) (Available October 25)
Supernatural (Season 9) (Available October 7)
The Tomorrow People (Season 1) (Available October 9)
The Vampire Diaries (Season 5) (Available October 2)
The Walking Dead (Season 4)
New Specials:
Chelsea Handler: Uganda Be Kidding Me (2014) (Available October 10)
Jay Mohr: Funny for a Girl (Available October 8)
Tim Minchin and the Heritage Orchestra Live (2011) (Available October 15)
Wyatt Cenac: Brooklyn (2014) (Available October 21)

Woody Allen Movies (some of these have definitely been added recently though, as is often the case with Netflix, it's impossible to tell which or when. So here's a list of them all.)
Shadows and Fog
The Purple Rose of Cairo
Alice
Zelig
September
Radio Days
A Midsummer Night's Sex Comedy
Manhattan
Scoop
Stardust Memories
Sleeper
Love and Death
Interiors
Bananas
Everything You Always Wanted to Know About Sex…

Other movies available:
Alfie (2004)
Annie (1982)
Annie: A Royal Adventure (1995)
Bound by Flesh (2012) (Available October 28)
Breathe In (2013) (Available October 11)
Charlie Angels: Full Throttle (2003)
Chicken Run (2000)
The Colony (2013)
Cowgirls n'Angels (2012) (Available October 11)
Domestic Disturbance (2001)
Ernest Saves Christmas (1988)
Finding Forrester (2000)
The Firm (1993)
Galaxy Quest (1999)
Heatstroke (2013) (Available October 11)
Hit! (1973)
Hoop Dreams (1994)
The Inevitable Defeat of Mister & Pete (2013)
Jimmy Neutron: Boy Genius (2001)
Justin Bieber: Never Say Never
Killing Them Softly (2012)
A Long Way Down (2014) (Available October 9)
Liberal Arts (2012) (Available October 18)
Little Man (2006) (Available October 6)
My Father the Hero (1994)
Paths of Glory (1957)
Please Subscribe: A Documentary About YouTubers (2013)
Rain Man (1988) (Available October 31)
Rescue Dawn (2006)
A Room with a View (1986)
Romeo + Juliet (1996)
Shadow of the Vampire (2000)
Shane (1953)
Sleepless in Seattle (1993)
Shivers (1975)
Stay (2013) (Available October 15)
Suddenly (1954)
Swelter (2014) (Available October 11)
The Phantom of the Opera (1989)
Team America: World Police (2004)
Three Fugitives (1989)
Tombstone (1993)
The Wedding Planner (2001)
Witching & Bitching (2013) (Available October 14)
Why Stop Now (2012) (Available October 11)
Under the Electric Sky: EDC 2013 (2014) (Available October 2)