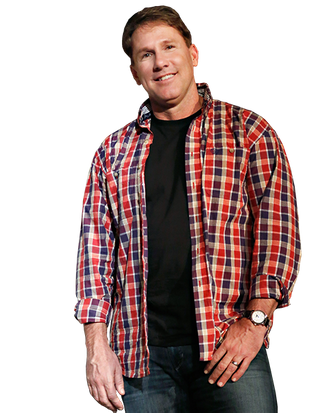 Nicholas Sparks.
Photo: Cindy Ord/Getty Images
Including the release of his debut novel, The Notebook, in 1996, Nicholas Sparks has never published a book that didn't become a best-seller, and nine of them have been adapted into movies. But for his television-producing debut, the author is overseeing someone else's material: Melissa Carter's Deliverance Creek. The Civil War–era revenge tale has been fashioned into a two-hour Lifetime movie starring Lauren Ambrose (Six Feet Under), and it is the first of five TV projects Sparks's company has in the pipeline with cable networks. Two days before Deliverance Creek's Saturday-night premiere, Sparks took a break from his busy schedule to chat with Vulture about his books, overcoming writer's block, and the romance-lit capabilities of Jamaican sprinter Usain Bolt.
Deliverance Creek is a backdoor pilot, meaning it might still morph into a miniseries or something more. Does a green light for additional episodes hinge entirely on ratings, or can you just walk into Lifetime's headquarters and say, "I'm Nicholas Sparks"?
Wouldn't that be nice? I think it comes down to a couple of things: ratings, for starters, and then, of course, sometimes you have executives who might just like the show, and they themselves want to see what comes next. And, so, all I can really say is it's a great project and I'm really proud of it, and it's the best that we could do.
An official press release for Deliverance Creek describes it as a "revenge drama," which isn't surprising, necessarily, for Lifetime, but might not be the phrase people associate with you. What about that concept do you find most appealing?
I think that when you include major scenes — like revenge or betrayal or love, as I general do, and loss — I think major themes allow for major stories. How's that? I just think they allow the viewers, the readers to feel as if they're participating more fully in the characters' lives.
Of all the television projects you considered, why did you decide to executive-produce Deliverance Creek for Lifetime first?
You always have the choice of, "What do we want to do first?" Right? And what we didn't want to [do] was to say, "Hey, let's do something that's similar to [a previous] film." Or, "Let's do something that's similar to my novels. Let's do something wildly different." Because while people might say, "Nicholas Sparks writes love stories," or, "Nicholas Sparks writes southern stories," when I talk about my own work, I like to say, "You know what I do? I try to tell great stories with authentic characters, and I try to genuinely evoke real emotions and make the events as compelling as possible." So, I said, "All right, let's hit those highlights, but let's do it — [laughs] it's not [set in] the north — let's do a different period. Let's do it in a new way that feels the same as my books in the authenticity and genuineness of the characters, but totally different in every other way."
If you had to cast Lauren Ambrose as the protagonist in one of your published novels, who would it be and why? And I'll give you an out to spare you unnecessary drama: Let's assume you're not picking Ambrose over someone who's already played one of your characters onscreen.
Let's see: You know, I think Lauren Ambrose would have done a great job in the upcoming drama, The Best of Me. Close to the same age. I think she could have done that incredibly well. I say that because that's a role that requires a lot of acting talent. You need a broad range of skill, everything from drama to the ability to arouse humor and love. It really takes a talented actress, and certainly, Lauren is that.
Since you finished writing The Notebook, what's been the longest bout of writers' block you've endured, and how did you snap out of it?
I was halfway through a book [once]. You get to the point where it just doesn't go, so to get out of, I don't know, two months [of writers' block], I set a book aside and wrote a different one.
Oh, that'll do it.
Sometimes stories are just not ready to be told.
Speaking of The Notebook, your public Facebook page raved about a Canadian couple whose engagement photos were inspired by that movie. Have you seen those photos, and, if so, how well did they capture the essence of your original material?
Yeah, I believe we posted them on my Facebook page. Of course we've seen them. I think it's great. I'm a big fan of the idea that people were moved by my work. And that's why I do what I do. The greatest joy is to know that someone loved the work that you produced. And they loved it to an extent that they made it part of a very significant event in their own lives. And that's a wonderful thing. I feel honored.
I read that you wrote the final chapter of The Notebook first, but had you ever considered alternate endings? If so, what were they, and what made you change your mind?
No, I never considered an alternate ending. I mean, that was really the first writing that I'd done in years, after I'd written a couple of novels that never got published. I wrote it, and let me tell you, it took a lot of editing to get it to what it is today. That final chapter? It got to the point where I literally had to number the paragraphs — number them! — and say, "Well, these are talking about feeling old, these numbered paragraphs 4, 5, 9, and 16." I said, "Well, you don't want to say it four different times. Let's kind of put these all together." So, there was tons of cutting and pasting. [Laughs.] So, I guess you could say I would never have altered the ending, but the ending was altered in the creation.
Speaking of final chapters: What's your favorite television series finale of all time? I know you love Cheers, but someone you just worked with will be really pleased if you say Six Feet Under.
[Laughs.] Sure. Six Feet Under. I'm very pleased with that ending. Great, great ending.
As a track athlete at the University of Notre Dame, you were one leg of a 4 x 800 relay team that set a school record that stands to this day. Should we expect romantic novels from Usain Bolt in the near future? 
[Laughs.] I don't know Usain. Who knows?