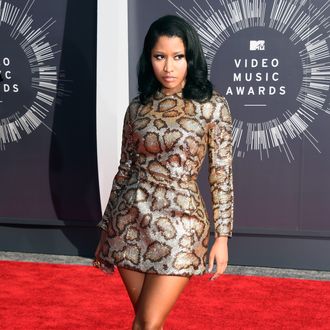 Photo: Frazer Harrison/2014 Getty Images
Nicki Minaj is arguably the most famous alumna to come out of Manhattan's Fiorello H. LaGuardia High School, better known as the Fame school, and yet she won't be coming back anytime soon to drop some inspiration onto the kids. Principal Lisa Mars rejected her offer to speak at the school. Minaj tweeted, "I wanted to go back to my HS and speak to the students but the new principal declined. No need for me to inspire them, I guess. Smh" following that up with, "That school changed my life and I wanted to pay it forward to the students there now. I was really looking forward to it." Young people everywhere were upset.
According to the New York Times, the Department of Education said that Minaj's request had not been denied because of her booty-shaking ways, but because MTV had asked to film her appearance after school and they felt it would be a disruption. Instead they had proposed a weekend date, which they say Minaj declined because of her schedule. (Nicki didn't comment for the article). In response to the decision, some students played "Anaconda" in the halls.
Lisa Mars's Rate My Teacher page has of course become the target for some spammy attacks against her, bringing her rating down to 1.5. However, even before Minaj-gate, Mars, who came to the school last year, has made some unpopular decisions. The New York Times reported in April that the dance faculty complained that she was rejecting highly qualified students (43 out of 92) and favoring test scores over talent. Principals these days.