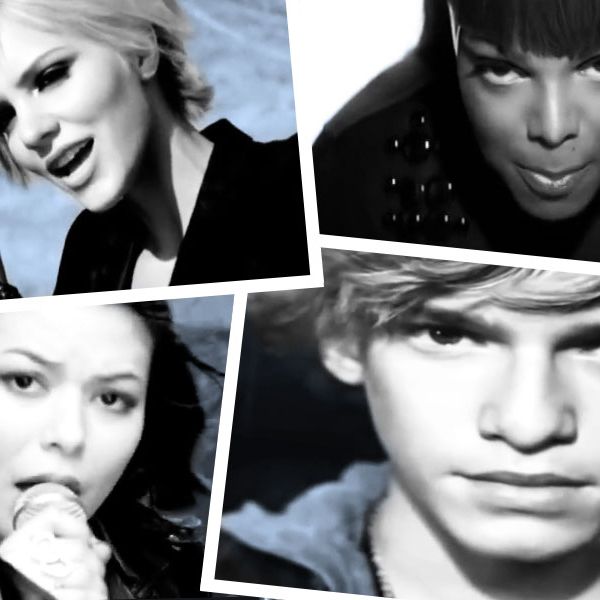 In my previous installment of Somewhere in Time, we took a look at the least-successful songs on each of the first 20 installments of the popular Now That's What I Call Music! series. Regardless of where the songs charted (hint: not high), there were still some keepers in round one, and also many, many skippers. As producers behind the compilation series likely know, predicting hits can't be easy, especially in our ever more rapidly evolving pop-culture landscape; as we move into the next 20 TWICM! albums, we see the franchise trying to put a finger on where rock is going, which rappers will be relevant, and which teen idols' pictures will line the lockers of young American girls and bi-curious boys. Sometimes the song selections are right on the money! But as each of the following entries prove, sometimes they are not. Incidentally, I'm only going up to Now! 41; the ten most recently released volumes of Now That's What I Call Music! are from just the past two years, and even the hungriest pop-culture gourmand among you is not yet nostalgic for Karmin.
21. Relient K, "Who I Am Hates Who I've Been" (peak chart position: No. 82)
Ah, 2006. A year in which a Christian-ish emo band could have a hit song, which Relient K did with "Be My Escape" and then didn't follow up with this one. Bonus points for the joyfully shoddy special effects, the perfect emo camera angle (from just slightly above eye level, the better to savor those cheekbones and highlighted bangs), and the lead singer who looks like he just flew in from Ron Howard's awkward phase.
22. Saving Jane, "Girl Next Door" (No. 31)
This installment of Now! features a lot of artists who charted but about whom I have totally forgotten. Ashley Parker Angel! Teddy Geiger! Even ol' Nick Lachey with "What's Left of Me," which I faintly remember but got all the way to No. 6! Were we that invested in Newlyweds? Anyway, there's also this one, which answers the question, "What if Taylor Swift's 'You Belong With Me' were no fun at all?"
23. Teddy Geiger, "These Walls" (did not chart)
What I knew about Teddy Geiger then was that he was sometimes on CBS's Love Monkey, which I watched because it starred Tom Cavanagh from Ed, which I watched because I was deeply in love with Ed's friend Dr. Mike. This is how I make my viewing decisions. What I know about Teddy Geiger now is that he looks like one of John Mayer's more alarming guitar faces.
24. Red Jumpsuit Apparatus, "Face Down" (No. 24)
We are long overdue for a full system reboot, band-name-wise. We need to hit the reset button and start from scratch. You want to call your band the Beatles or the Kinks? Help yourself; those names are back in play. The one saving grace of this horrific band name is that it hearkens back to a time before bands had to use numbers and punctuation and hashtags in their horrific band names. Also, the woman in this video looks like Teddy Geiger.
25. Boys Like Girls, "The Great Escape" (No. 23)
I'm so confident about this, I'm not even going to do the research to find out whether it's true: This band for sure played the Warped Tour. My boyfriend's old Celtic punk band the Mighty Regis played the Warped Tour a few years ago, alongside Motionless in White, Poison the Well, It Dies Today, and a million other bands whose names sound like titles of Angel fan fiction.
26. The Last Goodnight, "Pictures of You" (No. 70)
There's a Three Days Grace song on Now! 26 which did just a little bit worse than this one, peaking at No. 71, but I had a hard enough time in the last installment trying to think of a first thing to say about Three Days Grace, so let's take a look at this one instead. "Pictures of You" was used in a promo for season two of Brothers & Sisters, and in the trailer for Ghosts of Girlfriends Past. The Last Goodnight toured with Elliott Yamin and Rocco DeLuca and the Burden. Therefore, "Pictures of You" by the Last Goodnight has achieved a complete 2007 royal flush.
27. Janet, "Feedback" (No. 19)
Hey, did you guys know Janet Jackson released a single called "Feedback" in 2008, and that it reached the top 20? Did you also know she wears Ariana Grande's hairdo in the video and jumps from papier-mâché planet to papier-mâché planet before dancing with eight Pulp Fiction Gimps in a pool of semen? I did not know any of this. I must have known it at the time, but I have zero recollection, and in ten minutes I'll have forgotten it again.
28. Britney Spears, "Break the Ice" (No. 43)
This song was released in February 2008, right around the time Britney was placed on emergency psychiatric hold at Cedars Sinai and put under permanent conservatorship, and just about a month before her acclaimed guest spot on How I Met Your Mother. If that's not the most absurd sentence I've ever written, it's in the top ten. Enjoy the video, evidently made of footage from an abandoned Britney Spears anime project.
29. Savage, "Swing" (No. 45)
This song makes a bad noise and I am sorry about it.
30. Miranda Cosgrove, "About You Now" (No. 47)
I fly a lot, and when I'm on a Virgin America or a JetBlue and there are 30 channels of live TV, I am powerless to resist sitting slack-jawed in front of my tiny monitor. It's the one time I don't judge myself for watching hours of shitty television. The trouble is there's never anything on; I don't care about sports, I refuse to succumb to the Real Housewives franchise, and cable news is an embarrassment. What I'm saying is that if in the last few years you saw a grown man drinking airline Syrah and watching back-to-back episodes of iCarly, that was me. And as charming as Ms. Cosgrove is on that show, there is a high level of Olsen twins emptiness in the face here. "Don't make me be a pop star," her eyes plead. We acquiesced.
31. Charice, "Note to God" (No. 44)
Is it fair to call Charice the Filipina Charlotte Church? Is it okay to go one step further and wish she'd get drunk and surly and host a variety show and marry a football player? You Brits know what to do with your vocal prodigies, is what I'm saying.
32. Katharine McPhee, "Had It All" (dnc)
She has barked up many a tree, our Katharine McPhee. She has been a Celine Dion–style belter, a Lacey Chabert–style film actress, a fake Broadway ingenue, and I guess now she's the one dum-dum in a clique of genius secret agents in Big Bang Theory: The Procedural — oops, I mean Scorpion. But for a moment, she was a blonde bombshell pop starlet. It went about as well as the rest.
33. Young & Divine, "Shake That Bubble" (dnc)
Not only did this song never chart, these guys aren't even on Wikipedia. They're barely on YouTube; this one can only be found on Vimeo. Scarcity is not making the heart grow fonder, though; these are some punchable faces. Decide for yourself whether you can take the video. It's your life. Other also-rans on Now! 33 include Ashlyne Huff, Jaicko, and the actually really great song "Wheels" by the actually really great Jamie Cullum. (Also "According to You" by Orianthi, which sounds like a song a fake pop star sings at the beginning of a CSI before she gets murdered.) (Also at this time, the producers of this franchise were making Now That's What I Call Faith, Now That's What I Call Party Hits, and Now That's What I Call a Country Christmas, so their eyes were a little bit not on the ball, hit-prognostication-wise.)
34. Jessica Jarrell, "Almost Love" (dnc)
This is a decent song that becomes a classic about 45 seconds in, when she just starts shouting numbers and letters like some kind of Sesame Street Muppet gone rogue. (This one and three others on Now! 34 were part of a "What's Next New Music Preview" campaign, so it seems ignoble to feature them, but we're going to, because what am I really going to say about Iyaz?)
35. Tiffany Dunn, "Shut the Front Door (Got My Girls)" (dnc)
Now! 35 came out around the same time as Now That's What I Call the USA: The Patriotic Country Collection, which (a) is there any other kind of country, and (b) if there is not enough manpower at Now! Corporate to focus on more than one compilation at a time, don't do more than one compilation at a time, because the inclusion of a song called "Shut the Front Door" indicates a sloppily thrown together batch of songs. One gets the feeling that these days Tiffany Dunn is working on songs called "I Can't Even With You," "Bae," and "That Emoji That Might Be Chocolate or Might Be Poo."
36. Free Energy, "Bang Pop" (dnc)
A breezy, totally unobjectionable piece of power-pop cotton candy from a band on James Murphy's DFA Records. Real question: What percentage of music videos open with shots of bored teenagers in high-school classrooms staring at the wall with a pencil in their mouth? Forty percent, conservatively, right?
37. Greyson Chance, "Waiting Outside the Lines" (No. 12 on the Heatseekers chart)
I missed the whole Greyson Chance moment in 2010, but four seconds into this video, I said, "Ellen DeGeneres is responsible for this." And sure enough: Greyson's brother Tanner wrote Ellen and asked her to watch Greyson's cover of Lady Gaga's "Paparazzi" on YouTube, which she did, and then two days later he was on her show, and then a week after that he was signed to Ellen's new label, which kind of makes you wonder whether anything that came before the signing was just an elaborate feel-good fabrication. Either way, his debut album came out later in the year, and kids who sound this grown-up freak me all the fuck out.
38. Cody Simpson, "All Day" (dnc)
Katharine McPhee plus Greyson Chance equals Cody Simpson. He started as a YouTube sensation and they've been moving Heaven and Earth trying to break him ever since: He had a weekly residency at the Grove — the shopping center out here in L.A. with the trolley and the musical fountain and Mario Lopez filming Extra — his debut single featured a verse by Flo Rida, and last season he was a star on Dancing With the Stars. But for me, it will always be his appearance on So Random! that stands out, mostly because it was the first thing I saw after saying, "Fine, Cody Simpson, I will look at you."
39. Chiddy Bang featuring Icona Pop, "Mind Your Manners" (No. 15 on the Bubbling Under chart)
Chiddy Bang is a totally serviceable hip-hoppy, dancey kind of an act, a benign 3OH!3 for the younger set. Or I guess they were: Xaphoon Jones recently left the band, and now Chiddy is a solo artist who is still using the Chiddy Bang name so as not to confuse whoever still gives a shit. But they do get bonus points for introducing the world to Icona Pop.
40. VV Brown (featuring Chiddy of Chiddy Bang), "Children" (dnc)
He keeps popping up where you least expect to see him, and I'm not entirely sure what he brings to the table. It's official: Chiddy of Chiddy Bang is the Teddy Geiger of the early 2010s.
41. Susan Justice, "Eat Dirt" (dnc)
Looking at the title "Eat Dirt" right next to the name "Susan Justice," I expected this one to be a rootin'-tootin' Gretchen Wilson–style number about packin' a pistol and firin' a warnin' shot at a man who's been cheatin'. But no! It's a breezy pop number wherein Ms. Justice actually extols the benefits of eating actual dirt. Seriously: The whole first verse is about eating a piece of candy off the ground. I am loving it sincerely and ironically at the same time, exactly the way I did the Rocky musical.