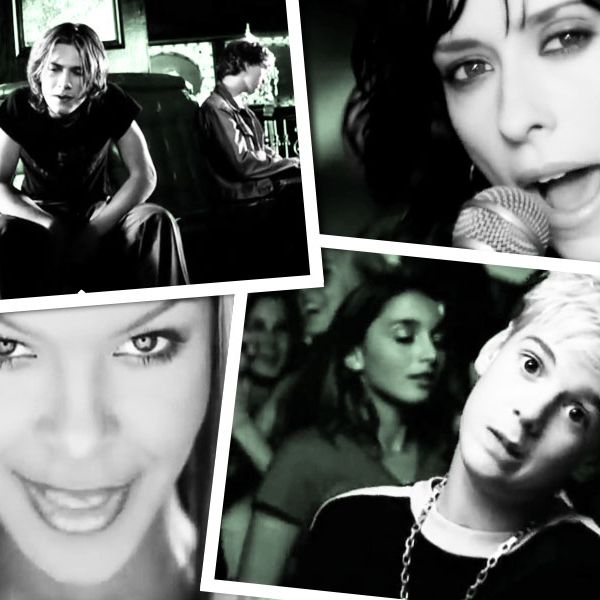 Since 1998, Epic has been pumping out the Now That's What I Call Music! compilations of the biggest pop hits of the moment … and at least one song you skip past and immediately forget. Forecasting pop hits is hard, so it makes sense that there would always be one non-hit, a second single from what turned out to be a one-hit wonder, a comeback that failed to come together, a Next Big Thing That Didn't Pan Out. Pop history is written by the winners, but this week's installment of Somewhere in Time will be all about the losers. So let's hop in my DeLorean GIF as I revisit each installment in the Now! series and pick out the least significant track on each one. We may unearth a pleasant, faded memory! Or we may spend some time with Aaron Carter. Time will tell.
1. Imajin, "Shorty (You Keep Playin' With My Mind)" (peak Billboard chart position: 25)
Timing is everything, folks. Imajin was a teen pop group, a boy band that had a minor hit five minutes before the dawn of the teen pop groups and boy bands. If they had released this single six months later, we might still be talking about Imajin. This song is no "Candy Rain," but it's perfectly fine, the kids are charismatic enough, the dance moves are appropriately tight. Maybe the Keith Murray rap break kept kids away? Maybe it's that the name Imajin makes them sound like an internet start-up? Whatever the reason, please revisit this one, if only to remind yourself that ski goggles and sweater vests with nothing underneath were acceptable pop-wear in 1998.
2. Robbie Williams, "Millennium" (77)
I had just entered the belly of the beast around this time, and I can tell you: In 1999, all of us at MTV were bullish on Robbie Williams. We were certain he was about to conquer America, and we wanted to help. We played the hell out of this video, he was a guest on every show, his face was in every promo, and yet our country never really took to him. Shame on us. He was — and continues to be — every inch a legend. Usher swagger levels in a Tom Hardy body. A monster live act. A character. It's possible he was too British, it's possible he was too grown-up, it's probably both; the mid-pubescent girls who were driving the industry back then had no interest in a pop star who could credibly wear a white dinner jacket. But let's not make the same mistake twice; after you read this, get on the streaming music service of your choosing and take yourself down a Robbie Williams rabbit hole. You'll thank me later.
3. Oleander, "Why I'm Here" (Bubbling Under: 7)
The late '90s and early aughts were a rough time for mainstream rock music. We were in a post-alternative hangover; groggy after a perfectly nice time with Nirvana, we rolled over and realized we'd slept with Bush. And we stayed in this mirthless moment for a good long while: Staind. Cold. Disturbed. Stone Sour. Seether. Saliva. Chevelle. Taproot. Trapt. Vast. This is one of the songs that got us there, and I am therefore unable to give it a fair listen. This fan-made video is made up of fractal clips and scenes from One Tree Hill, which sums it up better than I ever could.
4. Hanson, "This Time Around" (20)
Okay, this one is kind of a banger. It's not the least bit commercial, which is to say it sounds more like what these kids really did before the Dust Brothers got onboard. But the "Mmmbop" Hansonwagon jumpers had no use for a bluesy number, and their label Mercury merged with Def Jam, who had no use for them, so "This Time Around" kind of floundered. (The year 2000 was a time when a single could sell a half-million copies and be said to have "floundered.") (Also, if you told me that a Panic Room–era Kristen Stewart was playing Taylor Hanson here, I would believe you.)
5. Aaron Carter, "Aaron's Party (Come Get It)" (35)
Okay, listen: I enjoyed 'N Sync and the Backstreet Boys as much as more than you did, but there are lines I refused to cross, and this is one of them. There is something about a grown man listening to the music of a frisky, tow-headed 12-year-old boy that is very Gordon Jump in Diff'rent Strokes, so though I was sent promotional copies of his album, they went right in the mail to my nieces. But I know there are those of you for whom this song was pivotal, and so for you, I am about to watch this video and hear this song for the very first time. I am keeping a running diary below. If it stops in the middle, call 911.
0:07 A child has just promised me "something old-school." Is it too early to start drinking?
0:10 Oh! He is now rapping, dressed like a pimp on a tricked-out bicycle. This is already racially troubling in 15 different ways. ThoughtCatalog, where were you when we needed you?
0:37 Okay, so I guess he's going to throw a party, but obviously his parents can't be there for some reason, so he has persuaded them to go visit "Aunt Joan," and they just immediately do his bidding. This might be some kind of Zack Morris origin story.
0:54 In an unsupervised dance-party frenzy, young Aaron has jumped on a table and is now urging his guests to come get it, without specifying what it is. If it is what I think it is, none of this is remotely legal and every adult in Aaron Carter's life should be thrown in jail, including Aunt Joan.
1:25 A black man has come to get it. How racially uncomfortable is this party going to get?
1:37 Oh, never mind, we have breezed right past it and are now talking about juice that has spilled on a cushion and a broken lamp that his idiot parents bought in France.
1:53 A stage has been assembled over the Carter family pool, replete with lighting rig and one sad, solitary disco ball. Did Mr. and Mrs. Carter fail to notice the stagehands as they departed for Aunt Joan's, or is this just always there? Either way, I feel like they know what's going on here and are, by their absence, endorsing it. It's a sick, dysfunctional pattern.
2:09 Oh, now we're breaking it down. Is this where he beats Shaq? I recall something about Aaron Carter beating Shaq.
2:17 Oh, dag! He's in trouble! Are his parents coming home? Did someone call the police? Have more black adults arrived? You guys, seriously: dag.
2:42 It was his parents. He's grounded. This seems reasonable.
3:08 "Here we go, one time, for the rodeo" is what I just heard. I have no idea what's going on anymore.
3:15 Aaron's parents have been home for nearly 45 seconds and this party is still in full swing. Who is in control here? Who stands to gain from Aaron's party?
3:24 Okay, so that's it. He had a party and someone broke a lamp and he's grounded and that's the whole thing. I guess this was kind of "old-school" in that it didn't really say anything; it's like that verse in "Rapper's Delight" where the guy raps about disappointing meals for five minutes. One thing is abundantly clear: This video is the seed from which Rebecca Black's "Friday" sprouted. Anyway, now I have the "na na" chorus stuck in my head, I am gripped with the desire to punch a child, and I sort of understand why Aaron Carter got into meth. Let's move on.
6. ATC, "Around The World (La La La La La)" (28) 
ATC stood for A Touch of Class! ATC was, I'm guessing, Swedish! ATC heard Eiffel 65's "Blue (Da Ba Dee)" and said, we'd like a piece of that action! Fun fact: If you go to your town's worst gay bar, stand there for 20 minutes, and do not hear this song, you will receive a voucher for one (1) free well drink.
7. Evan and Jeron, "From My Head to My Heart" (did not chart)
The second single from the one-hit wonder is a popular feature of the Now! series; there is a Samantha Mumba track on here that I could just as easily have gone with. Evan and Jaron get the edge for being the hottest Orthodox Jews in chart history. These guys are impossibly handsome, and it's a shame that in 2001 there was no Melrose Place for them to move into, because they would have torn that place all the fuck up.
8. JIVEjones, "Me Myself and I" (did not chart)
Hoo, boy. You know, there's no reason why this one never went anywhere. It sounds like what was on pop radio in 2001; if we'd allowed Sugar Ray to continue recording, they would have arrived at something like this sooner or later. I chalk this one's failure up to Mr. Jones himself, whose look and affect answer the question,  "What if the DNA of Shifty Shellshock from Crazy Town were spliced with that of the Noid?"
9. Aerosmith, "Just Push Play" (did not chart)
It's difficult to choose the least essential of all Aerosmith singles, but I have to go with the one whose airplay came almost entirely from commercials for Dodge trucks.
10. Baha Men, "Move It Like This" (did not chart)
You know, here again: It's easy to take a bad gamble on a second single from a group that turns out to be a one-hit wonder, but did anyone think the Baha Men had another hit in them? I can imagine a "Mambo No. 6" before I can picture another Baha Men single. Heads must have rolled at Now! Incorporated! after this one.
11. Jennifer Love Hewitt, "BareNaked" (Bubbling Under: 24)
This song is called "BareNaked," and it's by an actress whose rack is in your face at all times, but the lyrics are just about feeling awkward and klutzy. Wait, you guys thought it would be about sex? Hey, that's your problem. This is what I call the Jennifer Love Hewitt Effect: titillation with plausible deniability. It's like doing a show about a lady who works in a hand job shop and pretending you're making a serious show about Women and Their Choices.
12. Angela Perez, "Angel" (20)
I have no recollection of this song whatsoever, but it reached the Billboard Top 20 in 2002. It is official: 2002 is the year I began to disengage from popular culture.
13. Stacie Orrico, "Stuck" (52)
This is a rare example of the Now! Franchise! taking a gamble one single too early; Stacie would go on to hit the Top 40 with "(There's Gotta Be) More to Life" just a few months after this. Fun fact: The guy in this video is Stacie's cousin, actor Trevor Wright, who appeared as the young James Dean in Paula Abdul's "Forever Your Girl" video and also provided the voice for "Baxter" in the 2012 direct-to-DVD film Santa Paws 2: The Santa Pups. Was that fun? That was fun, right? I had fun.
14. Liz Phair, "Why Can't I?" (32)
Among my more liberal friends, there are multiple ways for you to express your sexuality, no limit on where you can place yourself along the ever-expanding continuum of gender, an infinity of options for how you communicate with or reject the idea of God — but if you defend Liz Phair's 2003 self-titled album, you will be shunned. And I realize I'm on thin ice here, but I actually like this song. Yes, it's too glossy. No, of course it can't hold a candle to anything on Exile in Guyville. But let a person make a glossy pop record if she wants to! You are not the boss of Liz Phair. (Though if I were the boss of Liz Phair, I would have urged her to go with "Extraordinary" as the lead single. That shit holds up.)
15. Fefe Dobson, "Everything" (did not chart)
MTV was all over Fefe Dobson, too. She was on American Dreams as Tina Turner. She had a "Got Milk?" ad, for God's sake. And yet no big pop hits in America! Fefe Dobson, you are officially the female Robbie Williams!
16. Three Days Grace, "Just Like You" (55)
NoJoyCore continues into the mid-aughts. The band does half this video in masks. If you can tell which half, you're a more attentive viewer than I.
17. Crossfade, "Cold" (81)
This song is the previous song and also a million other songs that are currently being played on your town's mainstream rock station.
18. Frickin' A, "Jessie's Girl" (did not chart)
What is even happening here? What early-aughts shit-pop generator did they run this song through? Are they Canadian? Is this real life? Has there ever been a more depressing sentence than this one, from Frickin' A's Wikipedia page: "The group's original numbers have been compared to Fountains of Wayne and Bowling for Soup"? If you're Fountains of Wayne, can you sue Wikipedia? Why is Rick Springfield in this video? Were they afraid that if they didn't put him in an argyle sweater, nobody would understand he's playing a therapist? Is it weird that I'm missing Aaron Carter?
19. Brooke Valentine, "Girlfight" (23)
If you told me this was a parody from Chappelle's Show, I would believe you.
20. Backstreet Boys, "Just Want You to Know" (70)
The official end of Backstreet's reign, duly commemorated with a "comedy video." When a pop act comes with the comedy video, you know they're in trouble. (See: Perry, Katy: "Birthday.") They are referencing Heavy Metal Parking Lot in this one, which nobody in what was left of their fan base could possibly have understood, and I think it's better for everyone if we take a look at the original instead.
Coming soon: the next 21 installments!