In 1955, Truman Capote — already a successful writer, but not yet a household name — rented a basement apartment at 70 Willow Street in Brooklyn Heights. He loved the neighborhood and stayed there for a decade, writing Breakfast at Tiffany's and In Cold Blood there. He also produced an essay, "Brooklyn: A Personal Memoir," published in the February 1959 issue of the great, stylish mid-century travel magazine Holiday. (That monthly is probably best remembered for another essay about this city, E.B. White's "Here Is New York," which first ran there in 1947.) Capote's essay is a florid but charming look at his eclectic neighbors, one that takes a dark turn at the end when he's menaced by a group of young toughs on the street and has to flee. It may be the best appreciation of middle-class Brooklyn life since that other Heights resident Walt Whitman's; its opening line, "I live in Brooklyn. By choice," was both reverse-snobbish and defensive, but today it also seems prescient. A few years ago, the essay was republished in a small book titled A House on the Heights, with an introduction by George Plimpton, and you'll find it in a lot of brownstone libraries. A few of them are even in Manhattan.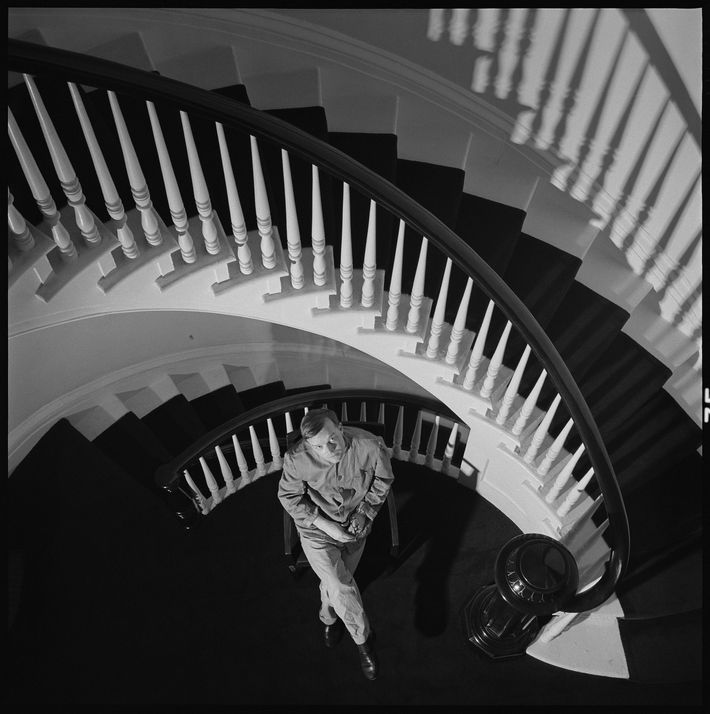 David Attie was the photographer on Holiday's story. He'd shot, or would soon shoot, the playwright Lorraine Hansberry and other prominent cultural figures, and he took these portraits of the blazingly ambitious young writer at home in March 1958. Weirdly, the magazine's editors didn't use them, instead running Attie's (quite good) atmospheric photos of the neighborhood. His son Eli, a TV writer and producer best known for his work on The West Wing, turned up the negatives not long ago while going through his father's work. (David Attie died in 1982.) This is the first time they've been published.
Why didn't Holiday use them? It's a mystery. Capote was growing more famous by the day, Breakfast at Tiffany's had just come out in Esquire and was headed for the movies, and you'd think the editors would have capitalized on his public image. Instead, the magazine's cover touts the essay with a tiny line reading "Brooklyn Heights," and no mention of the author.
Then again, maybe the editors got wind of Capote's subterfuge. In his introduction to the book-length A House on the Heights, George Plimpton writes, "When friends came to call, he often took them on a tour of the entire house (when [his landlord Oliver] Smith was not at home) and said it was his house, all his, and that he had restored and decorated every room." Those casual-at-home poses, on the stairs and on the porch, were as fictional as Holly Golightly.