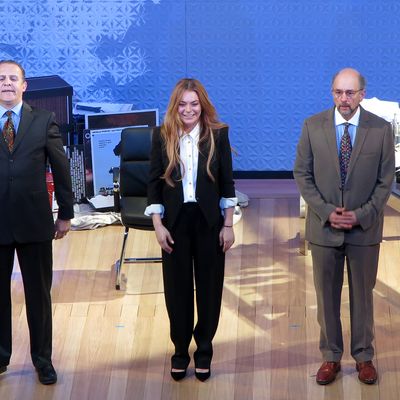 Lindsay Lohan forgot her lines in her first-ever theater performance last night. That's the headline gleefully reported all over the web today, and it's accurate.
But what hasn't been so widely reported is that Lohan wasn't the first to make a mistake during the opening night of David Mamet's Speed-the-Plow at London's Playhouse Theater. Richard Schiff, who has far more experience, called out, "Give me the line, please," within minutes of starting the play. British actor Nigel Lindsay was the only person in the three-actor play to get through the entire performance without an audible prompt, and even he seemed to struggle at times to remember what came next.
Director Lindsay Posner spoke to the Independent yesterday about the process of rehearsing Mamet's fast-paced play. He described how he asked the actors to drill the lines until they internalized them, and told the newspaper, "I'm pleased to say Lindsay has taken to the process faster than any other debut actor that I've worked with."
And it's true that in the first act, Lohan got off to an encouraging start. Her lines as Karen, the temporary secretary to a Hollywood studio's production head, were few — but at least she delivered them on time. She looked great, and she hit every cue. At the first intermission, the audience was firmly on her side. "Don't you think she has a really interesting voice?" mused one woman. "Other actresses look interesting, but she sounds interesting." A few rows ahead of me, a young American and an elderly British lady bonded over their hopes that this would be the role that turned things around for her. It was a crowd that was predisposed to praise.
But the second act, dominated by a complicated speech by Karen, was an undeniable mess. Lohan forgot a line, and then — less forgivably — broke character briefly to laugh when the line was whispered from the wings. By the end of her monologue she had been fed four lines, and a fifth prompt arrived before the act's close. It happened so frequently that it felt like the person calling out the script from behind the scenes had become another character in the play.
The audience was amused, and the second act, which is so crucial to the plot, became farcical. We laughed at Schiff's one-liners, but also at what were supposed to be heartfelt feelings from Lohan, delivered in a triumphant rush when she remembered them. We were watching the actress, not the character. When she gave the line "I know what it is to be bad — I've been bad," she was rewarded with a big, knowing laugh that definitely wasn't meant for Karen.
Let's not overstate this, though: Lohan's performance wasn't all bad. There were moments, especially in the third act, when she was comfortably in her element, and there were glimpses of that instinctive acting style she was once known for.
But even then, it was hard not to feel for the other actors, because her presence is so distracting. There were moments of greatness from Nigel Lindsay and Schiff, working magic with the funniest lines of Mamet's script, but they were performing with an elephant in the room. Lohan's well-known history meant that all eyes were on her. It doesn't help that the character of Karen is styled so much like Lohan, with her long, expensively maintained hair and sexy wardrobe. There's no space for the actress to disappear into the role. The fourth wall just wouldn't stay in place. To be plausible as a real actress again she probably needs to find a way to hide herself.
The theater was comfortably full but not sold out, and there are still tickets available throughout the run. At the curtain call, Lohan's fans gave a standing ovation that was kind but unjustified, before making their way to huddle around the stage door, snapping selfies with the Speed-the-Plow poster. One member of the audience brought a bouquet of flowers and stood on tiptoes to deliver it to her as she took her first-ever theatrical bow.
The production runs until November 29, so there's still time for it to click. It takes self-awareness and good judgment for a former Hollywood star to take a supporting role in a relatively low-budget theater production. Now everyone just needs to learn their lines.