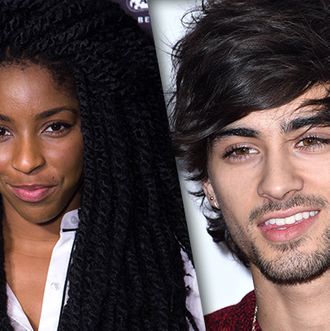 A few days ago, The Daily Show did a pretty funny segment on terrorist groups that seem to be forming overnight and now the show finds itself threatened — no, not by terrorists, but One Direction fans. See, the game of the piece was that new groups were forming — each more dangerous than the next — and they all had funny names. The bit peaked with correspondent Jessica Williams telling Jon Stewart about a "super group" of sorts made up of members of "ISIS, Al Nusra, Al Qaeda, Hamas, One Direction, and the Zetas drug cartel." Watch below.
The problem is One Direction has a Muslim member, Zayn Malik, and One Direction fans believe in their heart of hearts that the Daily Show writer who wrote that joke knows this and is not an adult who spends all his time watching the news and not listening to teenager music. And that means one thing: hashtags!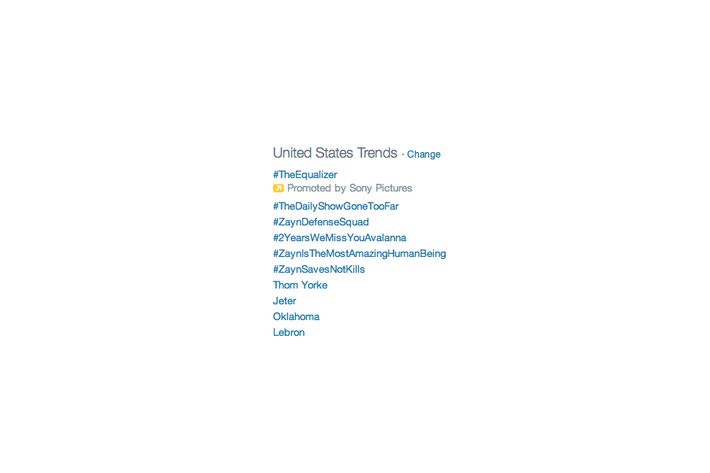 That is, four of the top five trending hashtags on Twitter (if you don't include the sponsored one), each filled with passionately Photoshopped collages of Mr. Malik's good deeds and accusations of racism. Here are some samples:
The Daily Show has yet to comment, but they did tweet this funny joke about mosquitos.
Update: The Daily Show tweeted a comment:
Dear 1D fans: We didn't know the band members' names, religions, hobbies, etc. Just knew they were popular. But not THIS popular. #whoa — The Daily Show (@TheDailyShow) September 26, 2014