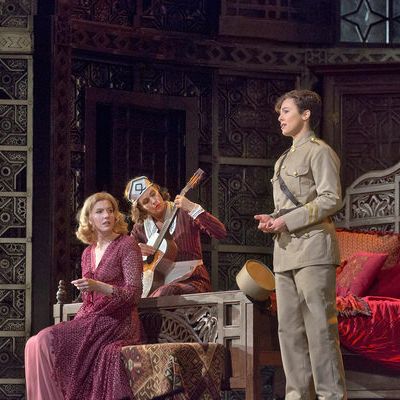 Photo: Ken Howard/Met Opera
If all you knew about the Metropolitan Opera came from last summer's headlines about the labor dispute — if you heard the cries that the whole apparatus was tottering and you wondered why anyone should care — then the answer is: Le Nozze di Figaro. The Met rescued its season from an impending strike and opened it with Mozart's gloriously irreverent romantic comedy, proving to glistening gala patrons that while opera doesn't exist only for them, it sure is up to them to keep it going. The contract negotiations laid bare how expensive it is to put on an opera. Opening night made clear what the money can sometimes buy: a ravishing, intricately wrought evening of music, humor, and emotional depth that isn't available in any other art form. Is opera on a grand scale sustainable in today's ecology of entertainment? It damn well better be.
Thank goodness the Met's new production by Richard Eyre lacks a bold new concept. Eyre is the rare director who approaches the score sympathetically, trusting the composer to get the relationships right without imposing correctives. Yes, he's moved the action to Spain in the 1930s, but that decision seems impelled as much by the glamour of the clothes than by any desire to be trenchant. Amanda Majeski makes her Met debut as the Countess in a crimson satin gown, mezzo-soprano Marlis Petersen wears her brown housemaid's uniform as a come-hither outfit, and Ildar Abdrazakov, in the title role, sports a baby-blue wedding suit. If Rob Howell's designs — or his rotating set of ornate cylindrical cages — are meant to foreshadow Spain's coming social upheaval, that message is lost in the vigorous interplay of complicated people with power and love on their minds.
Like no other composer in the genre's history, Mozart intertwines irony and sincerity, cynicism and romance, and all the elaborate calculations of lust. His characters are not singing puppets, but lovably imperfect humans. Eyre gets this, and so does his cast. Peter Mattei's Count Almaviva has no more self-control than the hormone-addled teenage boy Cherubino. Mattei has a powerful and pliant baritone, and the acting chops to cloak his own intelligence in the character's constant befuddlement. Isabel Leonard is a marvelous Cherubino, squirming and lusting and leering and ducking as if she had been reborn as a teenage boy, but with the voice of a confident woman. Majeski sings the Countess with a slightly acid timbre and a tender manner. She is the only adult in a household full of children, casting an amber glow of melancholy on all the uproarious games. Eyre has wrangled all these singers into a performance that feels at once spectacular and intimate. When Majeski sings her tour de force of wistfulness, 3,800 people can feel as if the Countess were unburdening herself only to them.
An evening like this is the strongest argument for the continued vigor of the Met, and maybe it's the memory of others that kept all parties at the table through the midsummer hostilities. Everyone must have known that, while other companies might field as fine a cast, none have James Levine or the orchestra that he has built, buffed, and built again over nearly 40 years and several generations of musicians. In Figaro, the ensemble sounds liquid, a deep base of rolling waves that the voices plane above like terns. Levine controls those waters with the flick of his stick; once or twice on opening night, a singer bobbled an entrance or took an idiosyncratic tempo, and he instantly nudged everyone back into sync.
After those fractious months, it's marvelous to see the Met's motley armies working in lockstep again. The union chorus, wearing costumes fitted by union tailors, maneuvers through the rotating set crafted by union builders, each specialty subsumed to the greater purpose of putting on a show. Divas tend to think that the point of opera is to make them look good; opera companies tend to think that the point of divas is to help them sell tickets. That's why this Figaro benefits from the absence of superstars. Mattei comes closest but, though he plays a swaggering narcissist, he is a generous colleague, taking his place in the choreography of conflict and contentment. Mozart assembles distinct personalities into hectic scenes, letting them grumble, gloat, irritate, and talk past each other like family members at a holiday dinner. Levine unfurls these passages as richly brocaded ensembles, each detail glistening in the texture. Eyre, too, lavishes love on these complicated moments, sending the characters zigzagging around the stage like billiard balls, knocked by their impulses and affections. It would be hard to find a more accurate portrayal of an opera company than these scenes of purposeful, exquisite chaos.