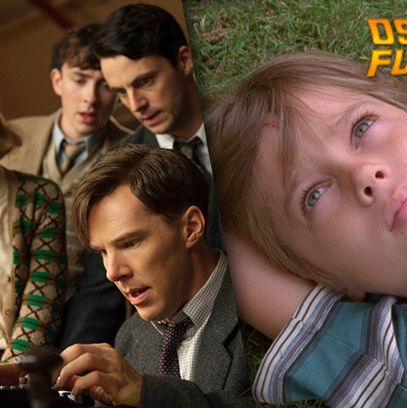 Every week between now and January 15, when the nominations are announced, Vulture will consult its crystal ball to determine the changing fortunes in this year's Oscar race. Check back every Friday for our Oscar Futures column, when we'll let you in on insider gossip, confer with other awards-season pundits, and track industry buzz to figure out who's up, who's down, and who's currently leading the race for a coveted Oscar nomination.
Best Picture

Boyhood
Richard Linklater's 12-years-in-the-making epic is so far the only film released from the first two-thirds of the year with any significant Best Picture heat. (Wes Anderson's The Grand Budapest Hotel has its fans, but like the director's Moonrise Kingdom, I think it's destined to be a Best Picture bridesmaid.) Boyhood's Oscar buzz will only be bolstered by the November release of 21 Years: Richard Linklater, a documentary looking back on the filmmaker's eclectic career.

The Imitation Game
Though it's superficially similar to The Theory of Everything, another British biopic about a tortured genius, The Imitation Game (starring Benedict Cumberbatch as WWII code-breaker Alan Turing) came out ahead at the Toronto Film Festival, where it took home the fest's audience award. The last winner of that trophy? 12 Years a Slave.
Current Predix
Birdman; Boyhood; Foxcatcher; The Imitation Game; Interstellar; Into the Woods; Selma; The Theory of Everything; Unbroken
Best Director

David Fincher, Gone Girl
Gone Girl's chill could work against it with the Academy, but so far, Fincher has been winning rave reviews for his adaptation of the Gillian Flynn novel, which Variety called "intricate and richly satisfying."

Jon Stewart, Rosewater
Stewart's hosted the Oscars before, but I'm not sure he'll be invited back to the ceremony for Rosewater, the Daily Show emcee's first directorial effort. Well-intentioned, this story of a journalist imprisoned in Iran earned only mild reviews in its Toronto and Telluride debuts.
Current Predix
Alejandro González Iñárritu (Birdman); Angelina Jolie (Unbroken), Richard Linklater (Boyhood); Christopher Nolan (Interstellar); Morten Tyldum (The Imitation Game)
Best Actor

Ben Affleck, Gone Girl
Affleck's winning some career-best notices for his work in Gone Girl: Our own David Edelstein says that what Fincher's been able to elicit from him is "remarkable."

Kevin Costner, Black and White
Kevin Costner had hoped to leap into the crowded Best Actor field with his work in the racial drama Black and White, but after a mixed reception at the Toronto Film Festival, the film still hasn't found a distributor.
Current Predix
Steve Carell (Foxcatcher); Benedict Cumberbatch (The Imitation Game), Michael Keaton (Birdman); David Oyelowo (Selma); Eddie Redmayne (The Theory of Everything)
Best Actress

Julianne Moore, Still Alice
Moore's been Oscar-nominated four times but deserves at least double that number (and if you don't believe us, check out this tricky quiz that lists all of her worthiest roles). The Academy will find Moore hard to ignore this year, after her performance as an Alzheimer's victim in Still Alice ignited buzz that she could be heading for her first Oscar win.

Jessica Chastain, The Disappearance of Eleanor Rigby
Jessica Chastain's first Oscar play, The Disappearance of Eleanor Rigby: Them, collapsed in only 136 theaters last weekend. The Weinsteins could continue to push her when they release Eleanor Rigby: Her (which is its own movie focusing on Chastain's character), but Team Chastain may have a better shot at gold when her other films, Interstellar and A Most Violent Year, debut later this year.
Current Predix
Amy Adams (Big Eyes); Felicity Jones (The Theory of Everything); Julianne Moore (Still Alice); Hilary Swank (The Homesman); Reese Witherspoon (Wild)
Best Supporting Actor

Edward Norton, Birdman
After Whiplash debuted at Sundance, the fierce J.K. Simmons became an early Oscar player in this category, and now he's finally got some competition from Norton, who has a helluva comeback role as a self-obsessed actor in the showy Birdman.

Robert Duvall, The Judge
Some pundits think Duvall could still sneak into an unsettled field for his work as Robert Downey Jr.'s addled father in The Judge, but if Duvall couldn't manage an Oscar nod for Get Low, I'm not sure he'll get one for this movie, which was critically dismissed at the Toronto Film Festival.
Current Predix
Ethan Hawke (Boyhood); Miyavi (Unbroken); Edward Norton (Birdman); J.K. Simmons (Whiplash); Mark Ruffalo (Foxcatcher)
Best Supporting Actress
Patricia Arquette, Boyhood
For a while there, IFC flirted with placing Patricia Arquette in the Lead Actress race before wisely dropping her into Supporting, where she's the instant frontrunner (and well positioned this season to cruise to a win).

Julianne Moore, Maps to the Stars
It's a good thing that Moore has Still Alice, because her work in Maps to the Stars (which won her an acting award at Cannes) will get no Oscar push from its tiny distributor. (Truth be told, the film ain't great, but Moore gives it her all.)
Current Predix
Patricia Arquette (Boyhood); Jessica Chastain (Interstellar); Keira Knightley (The Imitation Game); Emma Stone (Birdman); Meryl Streep (Into the Woods)