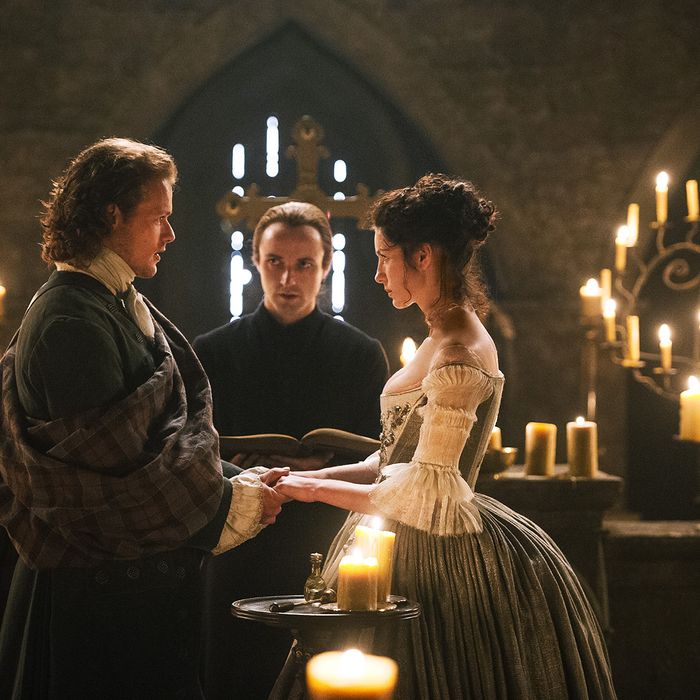 Photo: Neil Davidson/Sony Pictures Television Inc.
One of the biggest influences on Outlander's much-anticipated wedding-night episode was an actual marriage: the one between showrunner Ronald D. Moore and the Starz drama's costume designer Terry Dresbach. Not only is their real-life romance echoed in some of the dialogue, but the structure of the episode was determined in part at Dresbach's suggestion. "I do have a little sway with my husband," she said in a recent interview with Vulture.
Dresbach said that she made a few suggestions to her husband "probably when we were sitting in bed" as he started mapping out the episode. "We could start talking at 10 at night," she recalled, "and then by 1 a.m., the lights are out and we might still be arguing, with one of us going, 'No, Jack Randall wouldn't do that!'" For this particular episode, their argument centered on how much non-wedding plot to pack in, because Moore's thought had been to mix in a few other stories. "So I said, 'No, the wedding night has to be a full episode and nothing else! It can't be Jack Randall and the wedding. It has to be just the wedding,"" Dresbach said.
Her suggestion paralleled how the wedding night plays out in the source material. "In the book, you're with Jamie and Claire throughout this whole night of encounters and conversation and hesitation and everything in between," said author Diana Gabaldon. But Moore knew that depicting it that way wouldn't work on TV. "It's a just a long, long night," Moore said. "In the book, it's fairly linear, and it's a lot of storytelling, a lot of getting-to-know-you, with first sex, second sex, third sex, all of that. But it's a very long, long night until the morning. The show would become a very long night stuck in that room." And Gabaldon agreed with him. "To do that in a visual context would be rather monotonous," she said.
So, Moore and writer Anne Kenney set about trying to find the right balance for the episode that leaned heavily on the wedding night but also advanced other elements of the plot. They settled on tackling it with a non-linear structure, so that soon after the show opened, the wedding was over and the bride and groom were already in the wedding chamber. "The audience would go, 'Oh, shit! We missed it!'" Moore explained. "Fans of the book would be going, 'What?!'" And from there, they came up with the idea of flashbacks to both provide anticipation of the wedding itself as well, and to break up the wedding chamber scenes, "so you didn't feel too claustrophobic being in the room forever with the two characters just talking and having sex," Moore said.
"The structure of that was just brilliant," said Gabaldon of the flashback interpolations placed between the couple's conversations and sex interludes, including the stories of the dress and the ring and the wedding itself. "Jamie asks Claire, 'Do you actually remember your own wedding day?' because she's so hung-over!" Gabaldon laughed. With the flashbacks thus placed, Moore was able to "let the sex develop naturally," he said. "I had a way to break some of the tension, let the air out of it, get outside the room, and come back."
Dresbach estimated it would have taken one person 3,000 hours to make Claire's wedding dress, because the embroidery of the metal strips had to be done by hand. As it was, the dress took her team three or four months to complete, from concept to finish. One hiccup was having to re-design the dress after they locked down the filming location, because Dresbach wanted the dress to contrast with the heavy dark wood and masculine environment of the room. "You also want to feel like if you blew hard enough, the clothes would float off of her," she said. "You want to reach out and touch her, and feel the suspense of not touching. And then off it goes."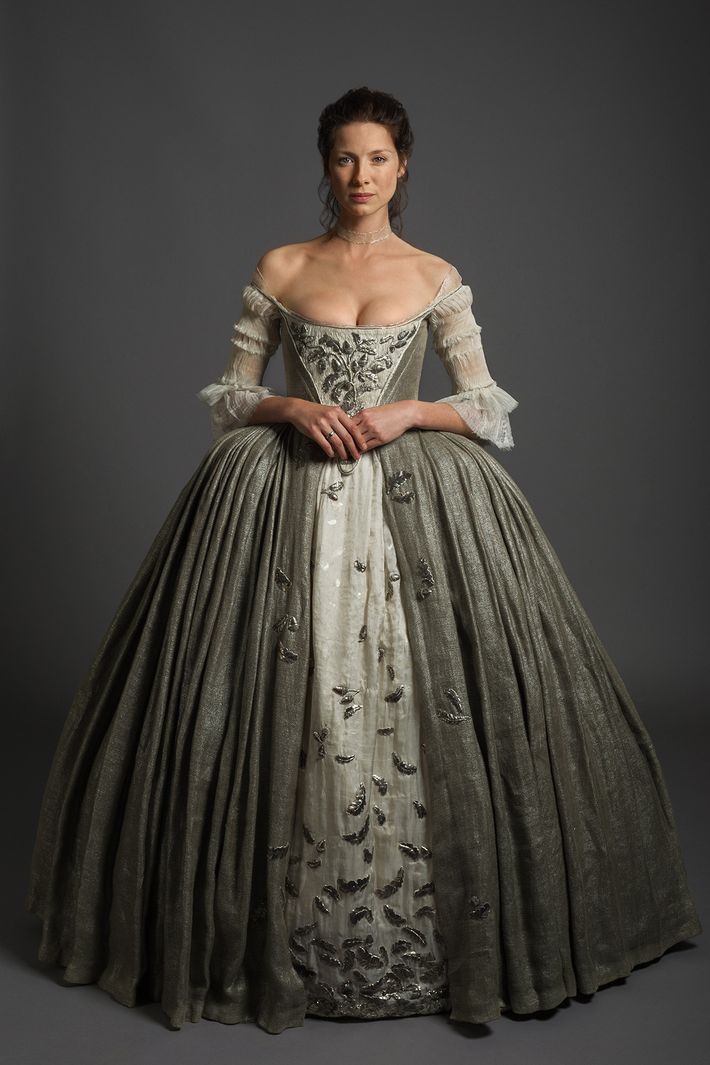 But Moore also wanted to prolong Claire's disrobing, so that more anticipation would build up to her first sexual encounter with Jamie. "The first time he touches her breast, that's a moment," said Moore. "Her touching his ass, that's a moment. The first time means something." And it was important that her dress stay on as long as possible for higher-minded reasons as well. "Ron and I watch so much TV where it's just another half-naked woman, just another pair of breasts, and it becomes furniture," Dresbach said. "The sensuality is lost. But this was romantic and sexy."
Well, except for the very first sexual encounter maybe. "It's just, 'Hey, let's just get it over with,'" laughed Moore. "It's sort of abrupt, with that Oh my god, was that it? quality to it." The brevity, of couse, had to reflect that their marriage came about for legal reasons; it also served to remind us that Jamie was a virgin. "He's never been with a woman to this extent," actor Sam Heughan said. "She's a more experienced woman, who is very strong and knows what she wants, and he's a young virgin. So the first time, of course, is going to be awesome."
While the scene marked the first time the characters had had sex with each other, the actors who play Claire and Jamie had already done a love scene together — a more intense scene that we won't see until episode nine when Outlander returns from hiatus. (This happened due to logistics regarding sets and locations.) "It was great, because by the time we got to the wedding night scenes in episode seven, Sam and I had become such good friends, and we'd really sort of built this bond together, and that really helped," Caitriona Balfe told Vulture.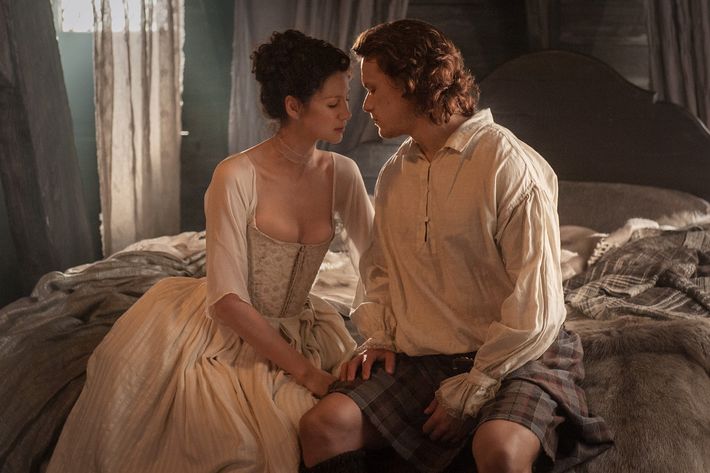 What probably didn't help, however, was how hot the room was. "It was like a sauna in there!" laughed Balfe. "Once you have all the lights going, it just heats up, and it's quite unbearable." Even when they weren't wearing a ton of clothing, or when all Heughan had on was his modesty pouch. "I think I lost it at one point in the urinal," he recalled. "It was not my proudest moment, to have to tell everyone that. But I did find another one!"
Moore decided not to have full frontal nudity in the episode, but that doesn't mean there won't be in other love scenes between the newlyweds. "It didn't feel like it was what the wedding night was about, so no full monty shot," he said. "It's more about moving to an emotional place. As they keep talking, something else starts to develop, like a more real sexual thing for the second encounter, and by the end, clearly, she's falling for him."
Still, Claire struggles to give in to her feelings for Jamie completely, because she feels like she's betraying her husband Frank. "It's a very complicated moment, because she's being forced to marry Jamie against her will," Balfe said. Consequently, the first time they have sex, she feels guilty. The second time, she's more relaxed. "And by the third time, they've really sort of pledged themselves to each other," she said. "You see how their relationship developed over the space of one night, how they allowed themselves to fall in love."
"It's the heart of the show, what happens on the wedding night," Moore said. "I think couples will enjoy it, because it's neither a male fantasy of a sex scene, nor is it a gauzy boudoir bodice ripper. It feels kind of true. It feels like, 'This is how it is.'"
One moment that made Dresbach tear up comes when Jamie describes seeing Claire at the wedding ceremony. He says that when he saw her for the first time, it was if he had stepped outside on a cloudy day, and suddenly the sun had come out. "It's so beautiful," she said, "and it's the very first thing Ron had ever said to me, outside of 'What costume are you doing next?' This was back when we were working together on Carnivàle. And when I saw it in the show, it was all over for me. I cried, it was so romantic. It was a tribute to us."