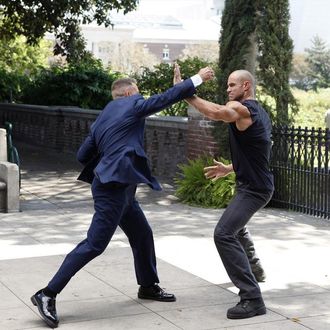 It's Premiere Week in TV land, and Vulture is serving up a detailed look at how all the new (and returning) shows did in the ratings. Here's how things played out Tuesday:
What Clicked
CBS's second NCIS spinoff, the New Orleans–based NCIS: New Orleans, went into the season as close to a sure thing as any new show could be, and it did not disappoint. With an average audience of 17 million, the Scott Bakula vehicle held onto 95 percent of the 18 million viewers who watched the season premiere of NCIS: Original Recipe at 8 p.m. And while NCIS dipped 10 percent from its fall 2013 season premiere, NCIS: Quantum Leap ended up improving on the year-ago performance of its time-slot predecessor, NCIS: Cool J. While the season is young, NCIS: QL currently stands as the most-watched new series premiere, a title it stands a good chance of holding onto. CBS also is projecting its newbie NCIS will end up with over 20 million viewers once DVR replays are tallied, a mind-blowing number for a new show circa 2014.
Elsewhere, fourth place ABC may — underline may— have found a fix for one of its weakest time slots, 10 p.m. Tuesday. Forever, a show about an immortal medical examiner (really), notched a 1.7 rating among viewers under 50 and drew 6.5 million viewers in its first Tuesday outing. While neither of those figures on its own is particularly impressive, Forever did far better than last fall's dead-on-arrival Lucky 7 (4.4 million) and matched its Monday night demo (adults under 50) performance, despite getting a notably smaller lead-in from Agents of S.H.I.E.L.D. than it did a night earlier with Dancing With the Stars. Forever also came within one tenth of a ratings point of CBS's established Person of Interest in the under-50 demo. It's a very good start for a show that went into the fall with very little buzz. And if ABC turns up the marketing on the show, it could very well end up with its own version of another Tuesday winner, NBC's Chicago Fire. The Dick Wolf drama was slaughtered by critics two years ago, but last night, its season-three debut drew an impressive 9.4 million viewers and a 2.7 demo rating. It got a boost last night from The Voice, but it's proven it can do solid numbers even without that lead-in. (Speaking of The Voice, it delivered a 4.0 demo rating Tuesday, a tick ahead of Monday's premiere. If the numbers hold in the finals, it will be the first time a Tuesday Voice premiere will have improved upon the Monday episode.)
What Didn't 
Any lingering dreams ABC execs had of Marvel's Agents of S.H.I.E.L.D. rebooting itself into a blockbuster died last night. Season two opened to just 5.6 million same-day viewers, less than half of the show's series premiere audience (12.1 million); among viewers under 50, the decline was 60 percent (1.9 last night versus 4.7 in 2013). It's true that S.H.I.E.L.D.'s performance Tuesday was on par with how it finished its first season last May, but that's cold comfort: Viewing levels are higher in the fall than spring, as is the level of marketing networks commit to premiere week. Nobody expected S.H.I.E.L.D. would come close to last September's numbers, but to show virtually no growth between spring and fall, particularly for a show with the heft of Marvel behind it, is a crushing defeat. One caveat: S.H.I.E.L.D. typically makes huge gains from DVR replays, and ABC is projecting the show will surge to 9.2 million viewers and a 3.1 demo rating after seven days of time-shifting is tallied. Still, even with such a boost, S.H.I.E.L.D. will still end up 25 percent below its season-one DVR demo average (4.0 rating).
Meanwhile, Fox's Tuesday is in tatters. The network's decision to ditch comedy at 8 p.m. in favor of the untested reality concept Utopia has blown up in its face, with Utopia falling to a 0.8 demo rating and just 1.9 million viewers. That's half the audience that watched the debuts of Dads and Brooklyn Nine-Nine last fall, and even fewer viewers watched the Friday night series premiere of Fox's short-lived comedy Enlisted (2.4 million) in January. Utopia's failure is hurting the already weak New Girl and The Mindy Project, which fell to 1.3 and 1.0 demo ratings, down from last year's premiere week averages of 2.1 and 1.5, respectively. Fox doesn't have a lot of backups in its arsenal, but it's hard to imagine Utopia airing again next Tuesday.
Instant Analysis
There weren't many surprises on this first Tuesday of the season: CBS and NBC were as strong as expected, ABC did okay, and Fox continues its bid to become a cable network at night. The equation will change in coming weeks, as ABC and NBC both introduce comedy hours at 8 and 9 p.m., respectively. The decent numbers for Forever suggest ABC might not be in quite as much trouble on Tuesdays as many analysts expected going into the season, even if its new half-hours flatline. CBS looks to be in fine shape on the night (even if Person of Interest doesn't really fit in here), while NBC has a shot of dominating in demos here. As for Fox, it can take (some) comfort in the fact that New Girl and Mindy nearly tie ABC's S.H.I.E.L.D. among women under 35, and might even beat it once DVR numbers are counted. Other than that, however, Fox's Tuesday is pretty much a disaster.