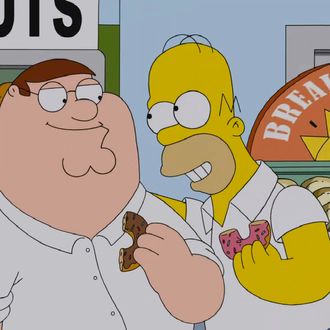 Storybrooke and Springfield were the center of the Nielsen universe Sunday, as special episodes of Once Upon a Time, The Simpsons, and Family Guy scored super-size ratings, proving once again that broadcast networks can still get viewers to watch shows in something close to real time with the right type of programming. Among the key advertiser targeted demo group of adults under 50, the special Simpsons crossover episode of Family Guy was the night's No. 1 non-sports broadcast, averaging a 4.5 rating — up 73 percent from last fall's opener and the biggest same-day number for a Family Guy season premiere in four years. Not far behind was the 8 p.m. season opener of The Simpsons, which notched a 3.9 rating by killing off (spoiler alert?) Krusty the Clown's dad. That's up 34 percent from last fall's premiere, although some of that can be attributed to Fox having a much bigger NFL game this year.
Over on ABC, the decision to capitalize on young America's Frozen obsession paid off, big time: Last night's season-four debut, featuring characters from Disney's animated smash, produced Once Upon a Time's biggest audience in two years and scored a hefty 3.4 demo rating. The ABC and Fox shows were all powered by huge gains among viewers who've been abandoning network TV in recent years: Men under 35 flocked to Fox's 'toons, while females in the same age group showed up en masse for Once Upon a Time.
Elsewhere on the first Sunday of the official TV season, Brooklyn Nine-Nine did fine in its new 8:30 time slot, scoring it best numbers since its series premiere numbers a year ago (when it aired on Tuesdays). It's hard to read too much into the Brooklyn Nine-Nine ratings, however, since The Simpsons was inflated, but on the bright side, Brooklyn likely got sampled by many viewers who'd never seen it before. Meanwhile, CBS's Madam Secretary drew a big audience in its second week (12.7 million viewers), but with no big NFL game leading into the Eye's primetime lineup, the under-50 audience for the show dropped a large 30 percent versus last week. CSI also skewed older in its first Sunday outing, though it drew a healthy 10 million viewers and will likely gain back some of its younger audience when DVR replays get tallied. Finally, despite the blockbuster numbers for Once, the rest of ABC's Sunday delivered so-so ratings. Sophomore series Resurrection drew a respectable 7.6 million viewers, but its 2.2 demo rating disappointed. At 10 p.m., Revenge did a weak 1.4 demo rating, plummeting nearly 40 percent from last fall's opener.