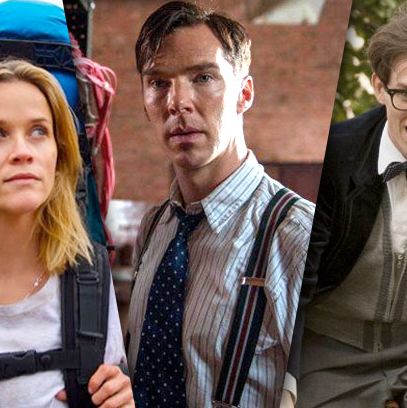 The Academy Awards have always had a tendency to reward true-life tales, and every year since 2001, either the Best Actor or the Best Actress Oscar has gone to a performer playing a real person. That bodes well for three movie stars who've been generating significant Oscar buzz at the Toronto Film Festival for their well-liked biopics: Reese Witherspoon in Wild, Benedict Cumberbatch in The Imitation Game, and Eddie Redmayne in The Theory of Everything. Could one of those three performers take home the gold next February? Let's look at how they're faring.


Reese Witherspoon, Wild
When we first meet Witherspoon as the author Cheryl Strayed in Wild, she's already in the middle of her movie-long hike along the Pacific Crest Trail, and this particular day isn't going so well: One of her hike-mangled toenails needs to be yanked off, and while she's doffing her boots, Cheryl accidentally knocks the left shoe off the cliff. She's screwed, she knows it, and she responds to the loss with bone-shaking rage, tossing the remaining boot off the cliff herself and screaming into the canyon, "Fuck you, bitch!"

That's Cheryl's m.o. in a nutshell: When things go bad, so does she. Throughout the 1,100-mile hike, Cheryl flashes back to her life before the trail, when she was so unmoored by the death of her beloved mother (Laura Dern) that she pulled out the rest of her foundations by pushing her husband away, sleeping around, and picking up a destructive drug habit. In an effort to begin again, then, Cheryl is embarking on this hike, though even she's not sure whether it's an act of self-discovery or a walk of penance. By the end, she's figured out it can be both.

Suffice it to say, this is a mode we haven't seen Witherspoon in lately; in fact, it's her best role since Election. Witherspoon won the Oscar for playing the patient June Carter Cash in Walk the Line, but Cheryl Strayed (who documented her hike in a best-selling book) is no supportive wife: She has her own demons, and she alone can solve them. Rarely do we get such a thorough portrait of a woman's journey on film, and for fully embodying Cheryl, Witherspoon has got to be considered one of the frontrunners for Best Actress.

It's a genuine pleasure to spend this kind of time with Witherspoon, giving more onscreen than we — and maybe even she — thought she could anymore. It reminds me of a small, arresting scene late in the movie, when Cheryl runs into a female hiker, one of the few she's found on the trail. Most of the hikers she's met were like Greg (Kevin Rankin), who helpfully mansplained exactly what Cheryl was doing wrong, and despite his good intentions, made Cheryl feel like the unequipped amateur she feared herself to be.

"You know he quit, right?" the other hiker tells Cheryl. Turns out, Greg couldn't hack it on the trail, after all; unknowingly, Cheryl far surpassed him a long time ago. She's dumbstruck: If she had known that Greg quit then, she surely would have underestimated herself and followed his lead, but instead, she pushed on blithely and found there was no ceiling to her abilities. Witherspoon's been hemmed in by underdelivering studio vehicles for years, but when given something expansive to play, she proves that she can go the distance, too.

Benedict Cumberbatch, The Imitation Game
Last year at the Toronto Film Festival, it was the best of times and the worst of times for Benedict Cumberbatch: He had a supporting role in what turned out to be the year's Best Picture winner, 12 Years a Slave, but the vehicle that was supposed to put his own name into awards consideration, the Julian Assange biopic The Fifth Estate, flopped hard on opening night.

This time, it has been a smoother ride, and one that will likely result in him entering the Best Actor category at last. In The Imitation Game, Cumberbatch plays Alan Turing, the genius whose interest in computerized cryptoanalysis helped the Allies win World War II. Britain has been unable to crack the secret messages they've intercepted from Germany since each is encrypted by a highly sophisticated Axis machine, dubbed the Enigma, that MI6 deems unbreakable. "Let me try," sniffs Turing to one officer, "and we'll know for sure, won't we?"

The other cryptoanalysts don't quite know what to make of Turing, who's distinguished mostly by his arrogance and Drax-like inability to understand their jokes. "Mother says I can be off-putting sometimes, on account of being one of the best mathematicians in the world," says Turing, who doesn't understand why others might find that statement off-putting as well. But he finds an ally in the clever Joan (Keira Knightley), and together, they build a machine that can decipher the Enigma and give the Allies an upper hand.

He was a hero, then, but not treated as such in his time. Turing was also gay, a crime punishable by British law in the 1950s, and when the wrong people find out, Turing's sentence is severe, outrageous, and delivered by men who might not even have survived the war were it not for his work. Turing had a gay man's innate gift for compartmentalizing — an ability that served him well for his highly classified work during the war — but in the end, he would be undone by a secret he should never have had to keep.

The Academy will be impressed by this elegantly told film, and I think they'll be particularly enamored with Cumberbatch, who's prickly, fascinating, and ultimately heartbreaking as Turing. (Some in Toronto thought Cumberbatch could suffer from comparisons to his somewhat similar work as a socially awkward genius in Sherlock, but I honestly don't think the Sherlock-watching contingent in the Academy numbers more than a handful.) He'll have some strong competition, though, from another up-and-coming British actor in a beautiful-mind biopic …

Eddie Redmayne, The Theory of Everything
I've talked already about Eddie Redmayne's strong work as the handicapped physicist Stephen Hawking in the unlikely romance The Theory of Everything, but in the days since the movie premiered at Toronto, his performance is the one I continue to hear the most buzz about. It's got some period details in common with The Imitation Game, and surely Turing and Hawking were two of the most brilliant men Britain produced in the last century, but Redmayne possesses some awards-season advantages that may help him trump Cumberbatch if the Academy ultimately decides there's scant room in the Best Actor category for two roles this superficially similar.

For one, Hawking is leagues more sympathetic. Even after amyotrophic lateral sclerosis wracks his body and confines him to a wheelchair, Hawking is a loving, warm, tolerant presence. Turing doesn't understand jokes, but Hawking cracks them frequently, especially at the expense of his own condition. And while Hawking is granted an adult romance with wife Jane (Felicity Jones) that broadens our notions of who he is, Cumberbatch's Turing has no love interest, only a platonic foil in Knightley's Joan. The Imitation Game does include a touching series of flashbacks that reveal Turing's love for another boy at boarding school, but I've already heard grumblings from gay journalists that as an adult, Turing's sexuality is soft-pedaled.

Make no mistake, though: While Cumberbatch and Redmayne are both strong contenders in their category, they'll be entering a Best Actor race that's typically stacked, and vying for that biopic vote alongside other buzz-worthy festival performers (like Steve Carell and Channing Tatum in Foxcatcher) and even another up-and-coming Brit in a period drama (Jack O'Connell in the Angelina Jolie–directed Unbroken). Reese Witherspoon's category will be easier to crack, since there are few roles out there for women as good as the one she got in Wild, but Redmayne himself will have a highly anticipated distaff role next year if Everything isn't the vehicle to bring him an Oscar: He'll next be playing Einar Wegener, one of the very first men ever to have sex-reassignment surgery, in the film The Danish Girl for Oscar-winning director Tom Hooper.