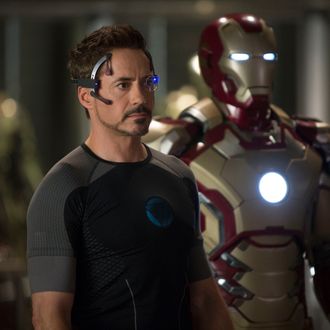 "Marvel's Iron Man 3" Tony Stark/Iron Man (Robert Downey Jr.) Ph: Zade Rosenthal © 2012 MVLFFLLC. TM & © 2012 Marvel. All Rights Reserved.
Photo: Zade Rosenthal/Marvel
In an interview with Variety, Robert Downey Jr. — whose father-son legal drama The Judge premiered at the Toronto International Film Festival last week — confirmed suspicions that there are no plans for another Tony Stark film (at least not a solo one; Downey will reprise his role as Tony Stark in Avengers: Age of Ultron and Avengers 3). "There isn't one in the pipe," he said, plainly. "No, there's no plan for a fourth Iron Man." Any word on The Judge 2?