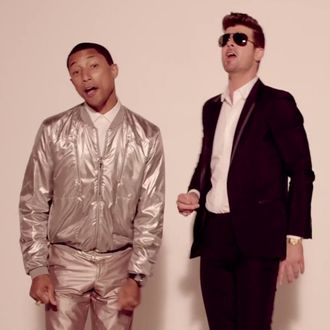 Marvin Gaye's family is threatening legal action against Robin Thicke and Pharrell, saying "Blurred Lines" plagiarizes the late soul singer's "Got to Give It Up." Chief among the Gaye estate's evidence is a series of interviews Thicke gave in 2013, in which he recalled writing "Blurred Lines" after being inspired by "Got to Give It Up," which he told GQ was one of his "favorite songs of all time."
In a deposition obtained by The Hollywood Reporter for his own preemptive lawsuit, Thicke introduces what we might call the Afroman Defense: Nothing he said during the era of "Blurred Lines" should count because he was high.
"I didn't do a single interview last year without being high," Thicke reportedly told the Gaye family's lawyer during the April deposition. According to his testimony, Thicke was hopped up on booze and pills during the composition, production, and promotion of "Blurred Lines," and should therefore be considered an unreliable narrator about nearly everything.
In fact, Thicke says, he barely wrote the song at all — that was all Pharrell.
Pharrell confirmed this in his own deposition, but gave Thicke's vocals credit for making the song a hit: "It's the white man singing soulfully, and unfortunately in this country … we don't hear that as often."