The new, official poster for Dear White People is terrific (and debuting exclusively on Vulture), but the story behind it is even better. A Sundance Award–winning satire about racial issues flaring up at a prestigious university, Dear White People was financed in part by thousands of people who contributed through a crowd-funding drive — so how perfect is it that this poster was made by a fan, too?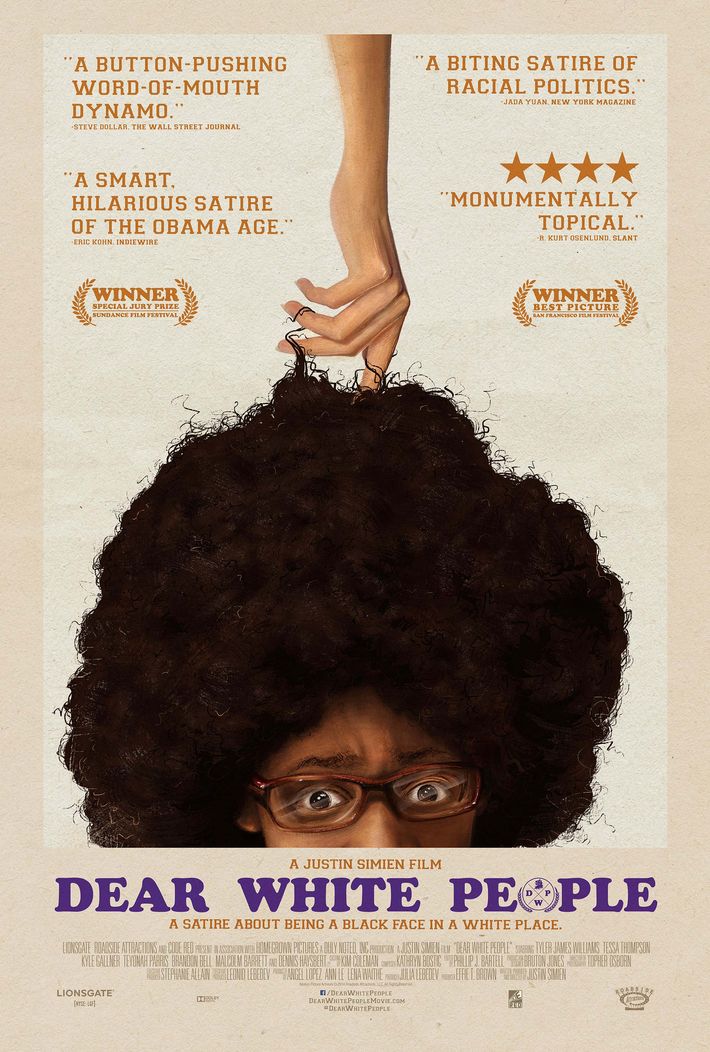 The one-sheet was designed by Nikkolas Smith, a 29-year-old architect with a day job working on theme parks and roller-coasters for Disney Imagineering. By night, though, Smith works on his own art for fun, and after he saw Dear White People earlier this summer at the Los Angeles Film Fest, he felt inspired. "As a young black male who grew up in suburban Houston," Smith told Vulture, "Dear White People is the movie I wish I had with me at all times to show to every person that threw stereotypes my way."
Smith mocked up a poster centered on one of the movie's four leads, gay nerd Lionel, who has to endure having his hair poked and prodded by curious white people on the daily. "Been there, felt that!" said Smith. "I knew if I could capture that 'gravitational pull' moment in one shot, it could be equally hilarious." Encouraged by his friends, Smith then sent his poster to Dear White People writer-director Justin Simien, who loved it; distributor Roadside Attractions agreed, and the image eventually became the film's official one-sheet in advance of its opening October 17.
"It's literally a dream come true," said Smith. "I remember being criticized by judges in architecture school because my entries 'looked too much like a Disney movie poster.' Fast-forward five years, and I find myself working as a Disneyland architectural designer and having the opportunity to meet one of my heroes, [movie-poster visionary] Drew Struzan, at work. And a few months later, I created this Dear White People one-sheet! I'm still a bit in shock."