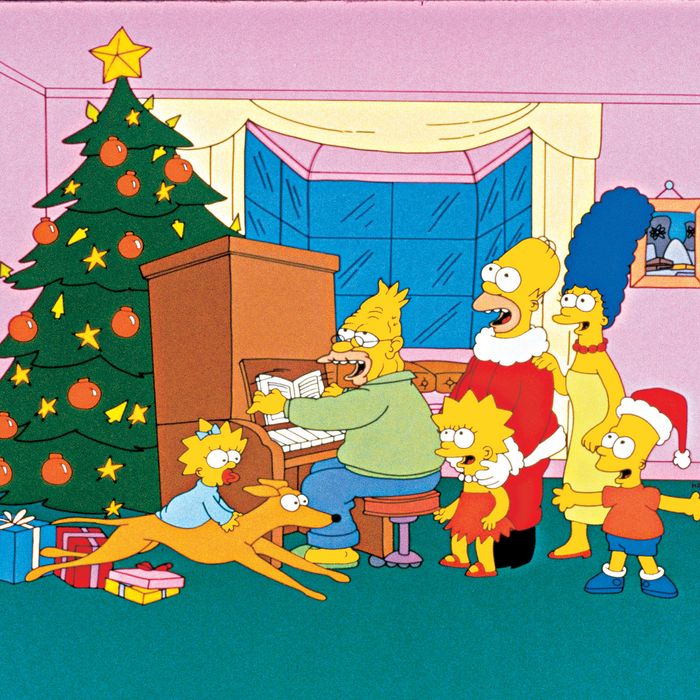 It's Simpsons Week here at Vulture, and we're paying homage to the longest-running animated sitcom on TV. Celebrating its 25th anniversary, Fox's subversive family of five has wreaked havoc in Springfield for 552 episodes. This week, we'll take a look back at the show's success and throw in our own two cents here and there. Below, we've sifted through the archives to see how Matt Groening's proponents and detractors responded to the show in the late 1980s and early 1990s.
From the Los Angeles Times, December 16, 1989 ["TV REVIEWS : 'The Simpsons' Get a Show of Their Own for Christmas"]:
They're a bickering family of five, lovable mutants with yellow skin, golf-ball eyes and absolutely no resemblance to "The Brady Bunch." … Weird … but wonderful.
From the Chicago Tribune, December 17, 1989 ["Sam Kinison Drops Into a Noel-fashioned Nightmare at the Bundy Household"]:
What the Bundys are to the Cleavers, the Simpsons are to Charlie Brown's brood.

This cartoon family, the creation of Matt Groening, is a bizarrely bug-eyed bunch and far more wicked, funny and sophisticated than what we have come to expect from cartoons.
From Newsweek, December 25, 1989 [not archived online]:
And you thought "Roseanne" was a departure from the sitcom norm. … Wild, acerbic and sometimes deeply cynical, "The Simpsons" is hardly the stuff of Saturday-morning children's programming. Its fans, like those of Fox's other shows, will probably include the young, hip viewers who have emerged as Fox's target audience. And those who go for the show will doubtless go for "The Simpsons" merchandise, which includes T shirts, sleepwear and even a Bart Talking Doll. "The only thing they wouldn't let me do is have the doll belch," says Groening with a sly smile. "But the Bart doll does get to say, 'The kids in TV land are being duped'." It's that irreverence that makes "The Simpsons" such a promising addition to prime time.
From USA Today, January 12, 1990 [not archived online]:
What's amazing about the show, an existential riot on the terrors of home, work and school, isn't that the sardonic wit that left us wanting more on Ullman can sustain laughs for a full half-hour.

The surprise is how oddly touching The Simpsons can be, especially in the relationship between put-upon father Homer and bad boy Bart. … The Simpsons is crammed with sly visual and verbal gags. It's adult entertainment that's just as hip for kids. Being a cartoon just makes it that much more exciting and unpredictable.
From the Seattle Times, January 13, 1990 ["'The Simpsons' Join FOX's Regular Sunday Night Lineup"]:
"The Simpsons" — Homer and Marge and their three children, Bart, Lisa and Baby Maggie — can best be described as a cartoon version of family life as depicted by live actors in "Roseanne" and "Married … With Children." With their garish cartoon colors and outrageous points of view, they're definitely a family for the '90s.
From People, February 12, 1990 [Picks and Pans Review: The Simpsons]:
As far as animation goes, Groening's style clearly owes more to underground cartoonist R. Crumb than it does to Hanna-Barbera. In the Simpsons' grotesque family unit, Cro-Magnon Dad works at a nuclear power plant. Mom has a blue bride-of-Frankenstein hairdo. Their three offspring are exactly the sort of low-slung predators people who hate children dread most. Watching the antics of these inveterate losers is seriously skewed and seriously funny.
From the New York Times, February 21, 1990 ["Prime-Time Cartoon of Unbeautiful People"]:
The show can fall flat. Last Sunday's episode about a family camping trip started off promisingly as a slick car dealer spotted the rubelike Simpsons approaching his camper display and murmured in fervent gratitude, "Thank you, God." But the trip itself soon became merely outlandish, with Homer covered in pond slime and being mistaken for Big Foot. There is, admittedly, a fine line between being hilarious perceptive and just plain, even objectionably, silly. While habitually teetering on that line, "The Simpsons" has shown a remarkable ability to come down on the right side most of the time.
From the Los Angeles Times Magazine, April 29, 1990 ["Bart Simpson's Real Father: Recalling the Fear and Absurdity of Childhood, Matt Groening Has Created a Cartoon Sitcom More Human Than Most Live-Action Shows"]:
No wonder, given the energy and unflagging inventiveness of this series, that "The Simpsons" has flashed through the culture at warp speed; four months on the tube, and American kids are trading Bartisms in their classrooms on Monday mornings, while American parents are seeing, sometimes uneasily, their own families reflected in the show's fun house mirror. "It's life," says one fan, Santa Monica mail carrier Bob Eisenhart. "It's the truth. Plenty of times I'll call my own son Bart for doing some bonehead thing." Another fan, a checker named Donna at Trader Joe's in West Los Angeles, says she was "absolutely shocked" by Marge's flirtation with infidelity. "And my boyfriend was shocked, too. He said, 'If Marge can do it, anyone can.' After that, I won't let my 6-year-old watch the show, even though it's her favorite."
From USA Today, April 30, 1990 [not archived online]:
An Ohio school principal is having a cow over Bart Simpson T-shirts that say, "Under-achiever and proud of it."

"To be proud of being an incompetent is a contradiction of what we stand for," says Bill Krumnow, principal of Lutz Elementary School in Ballville Township. 

He's asked students not to wear the Ts featuring the bratty, smart-aleck cartoon star of Fox Television's The Simpsons.

Krumnow also says he's no fan of the show because it "teaches the wrong thing to students."
From EW, May 18, 1990 ["The Simpsons"]:
Groening has invested Bart — and all the other Simpsons, for that matter-with a sensitive, vulnerable side that most sitcoms with human beings lack.

In the standard sitcom, kids are obnoxious, moms are long-suffering, and dads are dopes. They're the cartoons; the Simpsons are for real:

*Homer is a dad trying to do his best, putting bread on the table even if it's tainted with radiation from his job in a nuclear power plant.

*Marge is a mom who has learned to disguise her intelligence so as not to embarrass her huffily insecure husband.

*Daughter Lisa is a TV rarity — a smart, confident, sensible child.

*Bart is just as smart, but he's rude because he doesn't fit in with the world, which has already hurt his feelings a few times too many.

*Baby Maggie isn't TV-baby-cute; she's just there, all wide eyes and sucking noises, the way lots of real babies are.

A Fox press release says the Simpsons "represent the American family at its wildest!"

Not true: The Simpsons are the American family at its most complicated, drawn as simple cartoons. It's this neat paradox that makes millions of people turn away from the three big networks on Sunday nights to concentrate on The Simpsons.
From EW, August 31, 1990 ["It's Cosby's Brood vs. the Radical Dude"]:
Has Cosby felt pressured by popular but screwed-up Fox families like the bewildered Simpsons and the bitter Bundys of Married …With Children? He answers in circumlocutory terms. It's not clear precisely which shows he's talking about, but his general drift — a word that aptly describes Cosby's conversational style — seems critical of Fox. "TV should be moving in a direction from the Huxtables forward, not backward," he says. "The mean-spirited and cruel think this (kind of programming) is 'the edge,' and their excuse is, that's the way people are today. But why should we be entertained by that?"
From the Star-Ledger, January 8, 2010, (citing Cosby in reference to a 1991 interview) ['The Simpsons' hits 450 episodes]
Bill Cosby, whose "The Cosby Show" at the time represented all that was good and decent and wholesome about family sitcoms — only to see Fox pit "The Simpsons" directly against it in a Good Dad/Bad Dad showdown that worked out just fine for both series — complained that Bart was "angry, confused, frustrated."
From Variety, December 6, 1992 ["Review: 'The Simpsons Maggie's First Word'"]:
It's probably no surprise that the casting of Elizabeth Taylor as the voice for baby Maggie Simpson's first word was a publicity stunt; what Maggie said could have been spoken by any female, and Taylor's own personality was subdued by the character. No mind, episode in question delivered well-rounded view of series' multiple attractions.
From the Dallas Morning News, December 27, 1992 [not archived online]:
President Bush complained that he wanted to see an America that looks a "lot more like the Waltons and a lot less like the Simpsons.' So the cartoon character Bart Simpson retorted, "We're just like the Waltons. We're praying for the Depression to end, too.'"