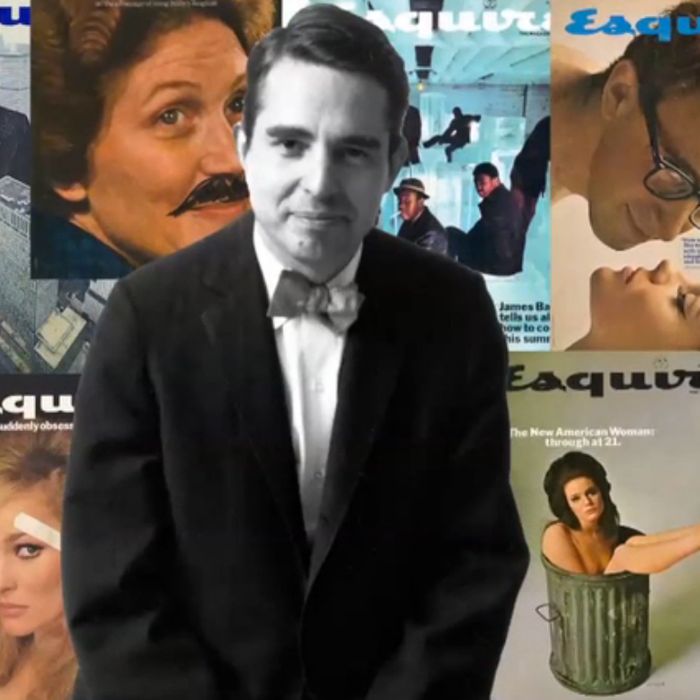 The idea of "Esquire in the '60s" — that is, when magazines really mattered — is difficult to conjure now, when Condé Nast owns Reddit and is about to move into space they got a deal on in the World Trade Center, and Time Inc. dances as hard as it can to distract from internet-bred mortality. But of course the glossy-magazine world was once convincingly glamorous, a headily influential place where, as the writer Gay Talese — himself now a legend in type and fedora — says in the new documentary about the editor of Esquire in the '60s, Smiling through the Apocalypse, out today: "We were stars. We were only 28, 30, 31 years old but … we had our names on the marquee." By which he means "magazine cover."
I learned about this Camelot-of-print through my time at what is now looked back on as "the New York Observer in the '90s," under the late Peter Kaplan, who had such a delight and dreamy respect for that era — and its available marquee — that he did his best to repeat it during the last days when it was possible to do so, before Nick Denton built his first robot army of snark stars. The "Apocalypse" in the title of the doc refers to the upheavals of the '60s — race, Vietnam, sex, the Kennedy assassinations — that Esquire's boisterous cadre of titillating, literary writers (from Norman Mailer to Tom Wolfe to Nora Ephron to Gore Vidal) explained to the world.
The film is a reverent retrospective amble through the life of Harold Hayes, Esquire's editor from 1963 to 1973, who died in 1989. It was made, on a low-key budget, by his son, Thomas Hayes. It's a wonderful reminder of a time when monthly magazines (with three- to six-month lead times) were gleaming, state-of-the-art, ad-stuffed engines of both fact and sensibility, and guides to a confident, contemptuous, and romantic new postwar cosmopolitanism. It was a time of rapid change and heedless prosperity, of a new culture emerging, and men (mostly men) in crisp white shirts in Manhattan, confident in their liberalism, there to both shock and show the way. Hayes's first cover was of the heavyweight champ Sonny Liston in a Santa hat. An uninteresting idea today, but such a loaded image in 1963 that the cover's designer, George Lois, says in the documentary that his goal with it was to rub white America's "nose in shit." (Listen, Vice does the same thing today, if in a somewhat different way.)
What has been long since derided by technologists as "the legacy media" was at the time as central to the culture and its development as the atomized blizzard of things we read on our feeds today. Clay Felker — Hayes's longtime rival, and founder of New York Magazine — once explained to his wife, Gail Sheehy, that reading Esquire in his Missouri hometown gave him his New York fantasy life: "I pictured the editors going out dressed in black tie with beautiful women on their arms. They would walk into '21' and into the corridor of glamour and power of New York. Much later, when I actually went to work at Esquire, I realized the world it created in its pages had come out of the imagination of its original editor, Arnold Gingrich. I wanted to become part of that world, too. I wanted to be a New York editor." (For more on their scene, Sheehy has a memoir, Daring: My Passages, out this week.) Especially during this past week of targeted, branded fashion parties, that idea now seems nearly comical, another charismatic notion of how to succeed — of Making It — trampled by history. These days, maybe he'd try for a whole lot of Instagram followers. Or create an app?
The documentary itself is a parade of graying talking heads, usually ensconced domestically — often, I imagined, somewhere like Water Mill; they bought their places back when magazine types could buy out there — as they chat about the good old days. (There's something especially intimate and disquieting about John Berendt's pose with a painting of a man's hovering foot, and the single piece of fruit positioned on the table in front of it.) Several people interviewed during the filming, which took five years, including Vidal and Ephron, have since died.
Clay Felker, a rival to Hayes ever since they were both collegiate magazine editors in North Carolina in the late 1940s, died in 2008, or he would no doubt have been present too. Nonetheless, he's a lively character throughout, reminding you of the stakes of this editing game back then. Felker was at Duke, Hayes at Wake Forest; Thomas Hayes told me that his dad beat out Felker for a statewide magazine editing prize. Eventually they both landed at Esquire, under longtime editor Gingrich, with Felker in a slightly more senior position. They were battling to take over, and in the end, Hayes — after a yearlong sabbatical as a Neiman Fellow at Harvard — arrived recharged and with ideas like the Dubious Achievement Awards (adapted from a similar device in the Harvard Lampoon) and took the prize. These two clips show how Felker, having subsequently left Esquire, started New York and peeled off some of Hayes's top talent, and then how Hayes clumsily attempted to pull them back. One of the writers Felker hired away was Tom Wolfe, whose "Radical Chic" so filled Hayes with competitive fire that he, in the second clip (again clumsily, at least from today's perspective), attempted to respond with his own Black Panther feature.