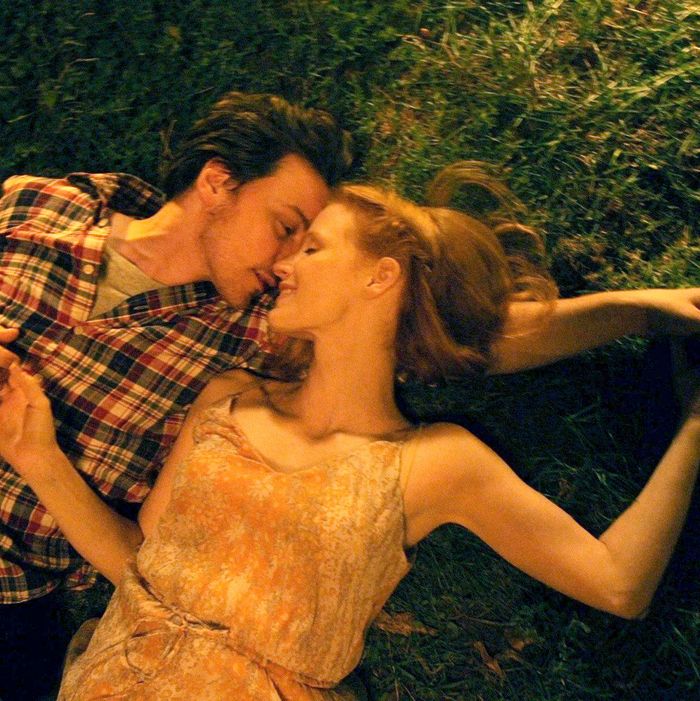 Photo: The Weinstein Company
If you see writer-director Ned Benson's The Disappearance of Eleanor Rigby in theaters this weekend, you'll experience a version called Them, A distilled version of two other films — titled Him and Her — which clocks in at 122 minutes. All three films tell the story of a disintegrating relationship between Jessica Chastain and James McAvoy, but Him and Her show the relationship from the perspective of their respective title characters. If you're intrigued by The Disappearance of Eleanor Rigby: Them and also might want to see Him or Her, is it better to skip the first version? Good question. Here's what you need to know about the films and a breakdown on how (and where!) you might want to watch it (or them!).
So it's three movies?
That's right: The entire The Disappearance of Eleanor Rigby "experience" is actually three different full-length films: Him, Her, and Them. Respectively: from Conor Ludlow's (James McAvoy) perspective, from Eleanor Rigby's (Jessica Chastain) perspective, and an edited-together mix of the two.
Do I have to watch all three films?
No, but if you're a big fan of Them, there's a good chance you'll want to. The backstory here is that, according to various reports, Harvey Weinstein was interested in the film after its Toronto Film Festival premiere, but only if Him and Her were combined and it was "whittled down" to a normal feature-length film. Thus, Them. It wasn't an easy decision to combine the films, according to Jessica Chastain (who also served as producer): "We never intended for the film to be seen like that … To me, the most important thing was that Him and Her would not disappear."
Which one(s) can I see?
Well, there's a good chance you'll only have the opportunity (at least, at first) to see Them. It is released wide tomorrow (September 12), while Him and Her will get "limited rollouts" on October 10 in New York and Los Angeles. (It seems like VOD would be a perfect option for both Him and Her, but that's just our opinion …)
Which one(s) should I see?
Variety says Her unspools in a "more elliptical, dreamlike fashion, punctuated by flashbacks to happier times," while Him "plays more straightforwardly." But it definitely seems like seeing both Him and Her back-to-back might be a better option than seeing them spliced together (no matter how expertly it's spliced). Chastain told the Daily News, "It was like creating two different characters. In Her I play Eleanor Rigby, but in Him I play Conor's perception of Eleanor Rigby." Her co-star McAvoy all but confirms that by adding, "I say that if we use the Them movie as a tool to bring audiences to the Him and Her movies, then it's a worthwhile thing."
And in what order?
This one is still up for debate: Indiewire claims that while it really doesn't matter, "Most of the people who caught the movie early in the festival saw the subdued Him first and felt that was the appropriate start to a story completed by the emotional turmoil the Eleanor character endures in Her."
Wait, is her name really Eleanor Rigby?
Yes. According to Salon's review of the film: "Her parents met at a false-alarm Beatles reunion, not long before John Lennon's death."