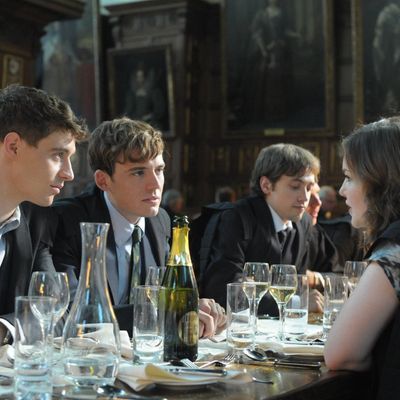 The Queen ought to give out medals for movies like The Riot Club, which does humanity the great service of gathering virtually every hot, young British actor of the moment on screen at once.
Then again, I can't imagine the Queen sitting all the way through this film — based on Laura Wade's play "Posh," and directed by Lone Scherfig (An Education) — which may at first look like a romp about an elite Oxford undergraduate dining society but is at its core an effective skewering of upper class privilege.
Gird your loins, ladies and gents of a certain persuasion, because what we have here is a similar but far better movie than that Joshua Jackson's Skull and Bones thriller, The Skulls populated with the buff, British 2014 version of the casts of Dead Poets Society or Young Guns 2. The Riot Club, we're told in flashback, was founded to honor a legendarily libidinous Oxford student, Lord Riot, who died in the act of screwing his professor's wife. Ever since, the club has culled ten members from the best families and best schools to wreck mayhem daily, but especially in an annual debauched dinner where they engorge on a ten-bird roast; imbibe on as much alcohol as they can stomach, before vomiting and imbibing more; and tear to shreds the luckless establishment that has been foolish enough to host them. At the start of this school year, though, the club finds itself short two members, and starts secretly scanning the incoming first years for recruits.
Alistair, played by Sam Claflin (Finnick in The Hunger Games), is an obvious choice: His older brother was Riot Club president. Alistair, though is a giant prick, the kind of underlooked, angry sod who will correct a mugger's use of acronyms while he's getting mugged. Miles, played by Max Irons (hunky son of Jeremy Irons and star of The Host), is the more sympathetic audience stand-in. Add to the lineup Douglas Booth (Noah), Ben Schnetzer (The Book Thief), Matthew Beard (An Education), Freddie Fox (the upcoming Frankenstein with James McAvoy), Olly Alexander (God Help The Girl), and newcomers Jack Farthing and Josh O'Connor. It's hard to tell the difference between The Riot Club movie poster and a British GQ spread.
I won't say much more, except that it goes a lot darker than you think it will. And that during one of Claflin's several impassioned speeches about how much he hates poor people you may find yourself muttering, "Damn, Finnick is such an asshole!" Some British friends who've seen the movie tell me it's a very accurate depiction and indictment of the wankers who run their country. Cultural understanding is gravy; it's worth the price of admission just to see the next generation of British pretty boys in action. Thank me later.