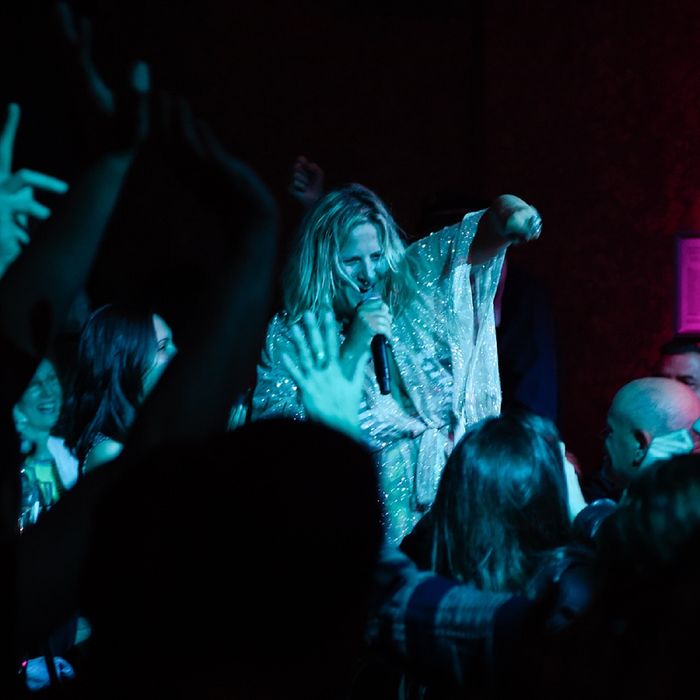 To judge from the grainy videos on YouTube, Bette Midler's shows at the Continental Baths in 1971 were not especially vulgar. She mostly stuck to double entendres and generic ribaldry. What does seem shocking, even now, is the venue, that orgy palace of men in white towels — and the common cause Midler made with them as fellow outsiders. Bridget Everett delivers something of the same shock in her tornadic and polymorphously perverse cabaret act Rock Bottom, even though the polarities are reversed. The venue — Joe's Pub — is more salubrious now, but the vulgarity, even accounting for inflation, is far greater. It amounts to the same thing, though: a complicated and often brilliant love offering to the emotionally dispossessed.
The character Everett has been honing in alt-cabaret land over the past decade is a handful, and not just because she's a proudly big gal. Her main interests are sex and Chardonnay, and you sense that it's the latter that has helped her embrace the former. "Embrace" is too mild a word for her sex-positivity, though: She's a one-woman liberation movement for anyone with genitals. Shame is not in the tunestack. She introduces one number by saying, with approximately the same breezy intonation as Florence Henderson introducing a salute to the American flag, "Every show I do, I like to dedicate a song to everyone with a pussy." Another song, "A Man So Fine," is a jaunty tour of her supposed scatological experiments with an English movie star:
When does the maid come
To mop up your place?
Cause you missed when you tried
To go wee-wee on my face.
Everett wrote that number and four others with Marc Shaiman and Scott Wittman of Hairspray fame; most of the rest were written with the cabaret pianist Matt Ray and Adam "Ad-Rock" Horovitz of the Beastie Boys. Whether thanks to her collaborators or because of her own maturing as a performer, the result is far slicker than At Least It's Pink, her 2007 breakthrough. Proper rhyming does a lot for a sex joke, and in the shaping of the material you sense the hands of musical comedy masters. (As tradition dictates, the second number is even a charm song, albeit one called "Tell Me (Does This Dick Make My Ass Look Big?).") The big rock sound is dense and chewy. More important, there's more of a coherent show here than in the past. The tick-tock alternation of patter and song and audience interaction, a cabaret cliché, is deployed more flexibly and to greater cumulative effect, befitting a production that is offered as part of the Public Theater's regular theater season. 
But with whatever imprimatur or guidance, this is Everett's own thing. Her stage persona hasn't really changed, with its mille-feuille of aggression and warmth that's tough to pull apart. The first layer is a kind of forced complicity in her invented traumas:
Remember when you were little and your mom would get real shitfaced and she would sit in her chair listening to Manilow and cry while you brushed her hair? Remember that? And just before she passed out, she'd say, "Get in the car, we're going for a ride." Now this was back when drinking and driving was still cool. Remember?
In the next layer she offers herself as an icon of victory over those traumas, having become the fabulous creature you see before you, proudly falling out of her shower-curtain dresses and enjoying every kind of sex to the fullest. But then comes a layer of doubt, for surely none of this is true. Which means you've been hoodwinked into a carthasis; well, that's what theater is. For all her ecstatic raunch, Everett offers herself mostly as a vehicle for our own journeys. Her real ones are not revealed, except that deep underneath the diva you sense a kind and possibly even somewhat prim girl, a classically trained singer from Manhattan — Kansas.
Such a complicated and ultimately touching stance could hardly be sustained by anyone who was actually like the character. When Everett wanders into the audience, all jaguar-eyed in search of prey, she may seem like a dominatrix, ordering red-faced men around; the night I saw the show she brought one guy onstage and sat on him, and she made my partner sing "Put it, put it, put it, put it, I put my dick away." But all this requires delicate calculation, even as she rocks the house with her fantastically strong Janis Joplin belt. It doesn't always work, and certainly won't work at all for some people. One older gent she did everything in her power to loosen up adamantly refused to engage with her in any way; she eventually gave up, sailing away and calling him a "cunt." Perhaps it was a compliment. 
Rock Bottom is at Joe's Pub through October 16.