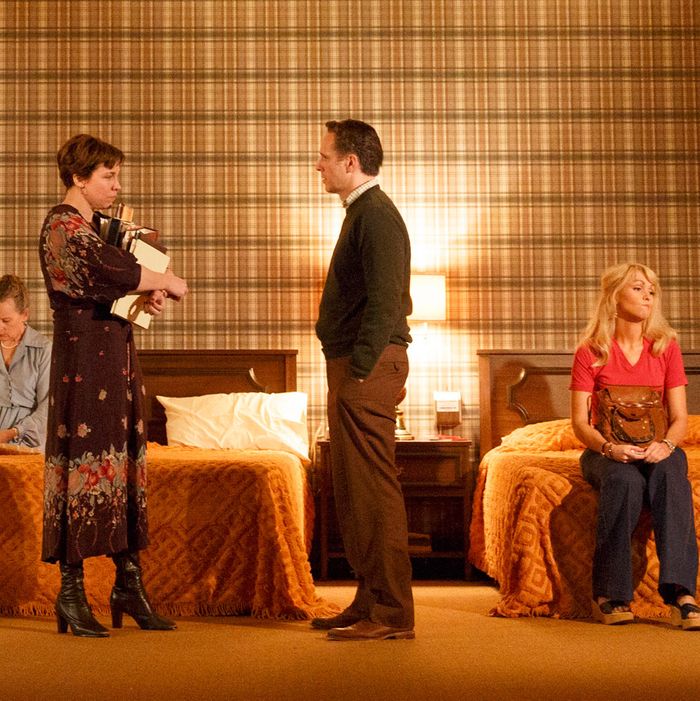 The organizers of A.R. Gurney's yearlong "residency" at the Signature Theatre Company did not lack for options to honor him, even with Love Letters already spoken for. (It opens on Broadway in two weeks.) No problem; there were still nearly 50 others to choose from. Among living playwrights of note, Gurney, now 83, is outrivaled for prolificacy only by Alan Ayckbourn, who is eight years younger and 30 works greater. I say "greater" advisedly. The two men share a taste, or perhaps because of their output a need, for narrative novelties and structural tricks, but Ayckbourn's are always showier and, counterintuitively, more expressive. They are a means to an end; Gurney's are, too often, a means to a means.
Such is the case with The Wayside Motor Inn, the 1977 drama that begins his Signature season. In the titular motel, just outside Boston, five unrelated subplots play out in identical rooms. An ambitious working-class father has brought his reluctant son for an interview at Harvard. An undergrad has brought his reluctant girlfriend for a night on the Magic Fingers bed. (He has The Joy of Sex in his knapsack; she has Jane Eyre.) An older woman has dragged her reluctant husband to visit their married daughter, who lives nearby. So much reluctance! And not just onstage. In each subplot someone stuck in the room gets restless; because there is no superplot, so did I.
The stories are, in themselves, banal, even for 1977. (Story four involves a salesman on the make with the ex-hippie maid; story five, a doctor and his estranged wife fighting over family photos.) If played seriatim, each would barely make a skit. The trick is that all five are instead chopped up, interspersed, and played at the same time on one set — a dramatic expediency permitted by the expediency of motel design. It's cleverly done: The action in one plot is timed to the holes in the others so that the stage is never too noisy or crowded, and each story, though frequently interrupted, plays out neatly and unambitiously through the two acts. Occasionally the arcs are tangent, if not exactly touching. The ambitious father ends up knocking on the door of the older woman's room in search of a needle and thread; the maid shares her opinion of the room-service apple pie with more than one of the guests: "Crap in a crust."
I will resist the temptation to borrow that phrase, but it's true that what mild frissons the play does offer come from its externalities. It's the jamming together of the stories, not the stories themselves, that allows us to reflect on the way lives are happening around us, with only our narcissistic tunnel vision preventing us from noticing their myriad pains and hopes. Gurney somewhat hazily connects this idea to the soullessness of modernity, with the motel itself serving as a rather low-bar example. The thought is put most explicitly into the mouth of Jessie, the older woman, who is befuddled even by the need to dial 9 on the room phone and is shocked by the idea of people stealing hangers. When her husband Frank suggests that Americans (including their own children) no longer wish to be closely connected, she trumpets Gurney's theme:
JESSIE: I don't care. We're all in this thing together.
FRANK: We're all on our own, in the end.
JESSIE: That's not true. I don't believe that. I believe the most important things in the world have to do with other people. I don't like what we've done — selling the house, moving into an apartment, getting rid of the dog. I don't like it. I don't like sitting around watching television and fussing with the burglar alarm. I hate that. It's just like this. Waiting around in a strange motel room. What are we doing here? We should be with our family. No wonder you're flat on your back, feeling perfectly miserable. You've asked for this, Frank. You've turned away from life. You've painted yourself into a corner. This is what you get when you do that.
So motels are evil places that rich Wasps should not embrace; good to know. For the rest of us, the inherent classism of this cri de coeur may suggest an unfortunate Gurney blind spot. Likewise, his women: The four in this play are a ditz, a kook, a priss, and a scold. With those failings in mind, I'm almost reluctant to report that The Wayside Motor Inn nevertheless plays like gangbusters; if Gurney does not write profound stories, he writes profoundly actable dialogue. Under the traffic-cop direction of Lila Neugebauer, the cast of ten does a mostly excellent job of humanizing clichéd characters and maintaining their stories even, as is often necessary, on deep background. Jon DeVries (late of the Apple Family plays at the Public) is especially fine as Frank, whose illness, which he tries to hide, amounts to a background within the background.
The history of The Wayside Motor Inn features a similar wrinkle. The original production, a 20-performance workshop at Manhattan Theater Club, was directed by Tony Giordano, who, in a self-published memoir, claims to have been the source of the play's distinctive concept. In the original script, he writes, the five stories took place separately in front of five separate flats. Giordano not only combined them, but told Gurney that if he didn't rewrite the dialogue, it "would be no match for the dangerous theatricality of my staging." I'm not sure what "danger" Giordano refers to; the simultaneity of the stories wasn't then and surely isn't now a shocking novelty. Gurney, without ever mentioning Giordano's putative contribution, admits as much, citing Ayckbourn's How the Other Half Loves from 1969 as the kind of influence to which The Wayside Motor Inn "succumbed." Perhaps Ayckbourn's plays "work so well because his characters learn to deal with the restrictions he puts on them," Gurney surmises on his website, "whereas Americans, whether playwrights, actors, or audiences, may be more interested in breaking through restrictions than in playing with them."
That's a sweeping generalization. And it seems a shame to blame actors and audiences, who are giving The Wayside Motor Inn every chance in its current incarnation. But as a bit of self-criticism, it's apt. Gurney does seem unwilling to jump into the bed he's so neatly made. And if you don't jump in, how can you enjoy the Magic Fingers?
The Wayside Motor Inn is at the Signature Theatre through October 5.